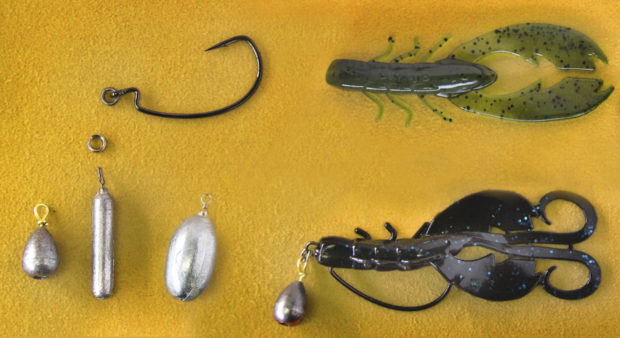 During the last decade, Japan has revolutionized the way we bass fish. Fluorocarbon lines, drop-shotting, lifelike jerkbaits, ultra-slick swimbaits, supercharged reels and rods, and even a new world record bass all have their roots there. New from the land of the rising sun is the Jika rig. Amalgamating key components of drop-shot and Texas rigs, it can be used in almost every situation.
Shigenobu Sugito of Japan adapted it from the popular Korean Ebi shrimp rig. The Jika consists of an elongated tear-drop drop-shot weight linked to a welded O-ring worm hook with a split ring. It doesn't look revolutionary until it hits the water.
Jika, in Japanese, means direct; a direct link to the hook. Currently, Owner Hooks in Japan with Sugito (GetNettv) are the only manufacturers of the rig. It was only brought to attention late last fall and debuted at the Osaka fishing show this February. So, for now, you will have to make your own Jikas from scratch here.
The components
The only suitable hooks for a Jika rig to date on this side of the Pacific are Gamakatsu EWG Superline ringed.
The welded O-ring is key to allowing the hook to swivel and dance. Next, a split-ring is linked to the O-ring on one end and a cylinder shaped drop-shot weight on the other. The fishing line is tied directly to the welded O-ring. It looks somewhat like a drop-shot with no dropper.
Drop-shot weights come in ball, bell, or cylinder shapes. All are fine, but for my money, I stick to the original cylinder. They slip smoothly through grass and don't snag easily.
The Jika works best with weights sporting a round line tie, though.
Unfortunately, most drop-shot weights here have a piano-wire line-pinch system, which doesn't work well for Jikas. Luckily, standard bell sinkers are affordable substitutes. However, expect a wave of Jika-specific weights to hit the stores in the next 18 months.
For the best results, stick to a 2/0 to 4/0 off-set round or off-set wide-gap worm hook. In the heaviest cover, to keep soft-plastic baits rigged correctly, try a hook with a rebarb or bait keeper. Weight depends on fishing conditions. Always err on the heavy side. The weight won't interfere with the bait's action.
The setup
A Jika works equally well with light line or heavy casting equipment.
For typical largemouth waters, try one of the many newer feather-weight rods, such as Abu Garica's Vendetta, Daiwa's Zillion, Duckett's Micro Magic, E21's Carrot Stix, G. Loomis' NRX, Kistler's Z-Bone, Okuma's Citrix, Pinnacle's Pertecta, Quantum's Smoke, Rapala's Shift or R-Type, Simax Energetic, Shimano's Cumara, or St. Croix's Xtreme. They all have good backbones yet are light in the hand, and are a great match for Jika presentations.
No special line is required, but the debate between fluorocarbon versus braid continues for this application, too. Each has its strengths and weaknesses.
The most awkward element is the hit. With a Jika rig, don't wait for a distinct twang, or you will miss a lot of bites. Expect a more mushy sensation, since the weight is detached from the bait. Fluorocarbon better telegraphs a slack-line bite, but bright braid easily allows for line watching.
A good starting point with fluorocarbon is 20-pound test. Move up to a 25-pound line if you're dealing with gnarly cover, or down to 15-pounds if needed. Braid can be kept as low as 30-pound test.
Best bets for action
Rocky areas are bass havens, but notoriously snaggy, so pick just enough weight to make a Jika rig work.
Bounce it over rocky points, isolated boulders or rip-rap. Mixing in some weeds makes a spot even better. Dropping down a size or two in bait selection might make it more appealing to smallmouths. Luckily, this weight won't wedge between rocks like a jig.
You can use proven baits or be inventive. Almost anything will work. The original Jika setup is with Sugito's own GetNet creature bait or the Yuki Bug by Owner, but the options are limitless. I've stuck to craws in the limited time I've used the rig, but larger drop-shot baits, worms, creatures, soft jerkbaits, senkos, and even 3- to 5-inch swimbaits can all be good.
Punching weed mat is a hot technique, but the giant weights used are expensive and bulky.
With a Jika rig, you will get equal penetration through the weeds with half the weight. With the hook separated slightly from the weight, it falls vertically, easily piercing the heavy stuff. Then, jigging the bait in place transmits a lot of action, without moving it out of the strike zone.
Adding it all up
Having the weight dangling below the hook has many pluses. First, hook-sets are always solid. Pegged Texas-rig weights, especially larger ones, act like forcing cones, knocking open a fish's mouth on the hook-set. This won't happen with the Jika rig. On the hook-set, the line is in direct pull with the hook, with the weight swinging below.
Jika provides the same action as a drop-shot rig, without complicated rigging. It's compact enough to snap into tight cover, yet works equally well over zebra mussel beds for smallmouths.
Fall anglers have kept the use of ultra-short drop-shot rigs a secret for years, but Jika might replace it for fishing lazy late-fall giants.
Last year, we had an amazing day on a weedline in 14 feet of water that ran along a limestone strip of lake bottom. Smallmouths were cruising the rock flat parallel to the thick weedline.
Finesse methods only made us curse, as the bass would tangle in the grass and pull free. We beefed up to 17- and 20-pound lines, casting rods, and watermelon red and Texas craw-coloured craws rigged on 1⁄2-ounce Jikas. That did the trick. There's nothing quite like blasting 3-pound smallmouth on heavy tackle.
The true genius of the Jika is its versatility. It has a balance between the great action of a drop-shot rig and a Texas rig.