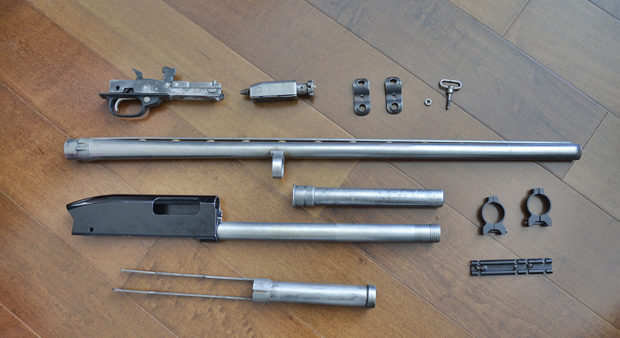 Finding a gunsmith can be difficult these days. Fortunately, because our firearms are reliable, most of us seldom need one. But accidents happen, parts wear out or get damaged, or we decide upon modifications on a favourite shotgun.
I never foresaw the hoops I would have to jump through to find someone to fix the safety of my .280 Winchester Model 70 after I dropped the bolt on a concrete floor during a cleaning session.
Not only did I have a hard time finding a local gunsmith, Winchester was not prepared to let just anybody do the job. In fact, it would only send the required part to two gunsmiths in Canada. Luckily, one was in Leader, Saskatchewan — a mere three-hour drive from where I was going to be hunting for mule deer.
Who is qualified?
Believe it or not, "gunsmith" is not recognized as a registered trade in Canada.
However, if deemed qualified, a person can obtain a business licence for gunsmithing through their provincial Chief Firearms Office (CFO).
Wes Winkel, the owner of Ellwood Epps Sporting Goods store near Orillia, where two licensed gunsmiths and an apprentice are on staff, says the CFO decides on applications for a business license to practise gunsmithing on a case-by-case basis.
His experience indicates the CFO requires at least one of three following qualifications before approval is considered:
experience in the military as a trained weapons technician;
the completion of an apprentice program under a licensed gunsmith; or
a valid gunsmith certificate from a country where the trade is recognized and licenced.
The problem with the last qualification is that there are no certificates or degrees in gunsmithing issued by Canadian educational institutes.
Inspector Tony Cooper, deputy chief firearms officer for Ontario, confirms that each application to the CFO is judged on individual merit. He adds C-68, the Firearms Act, significantly changed how the CFO deals with gunsmiths.
He says the CFO has really "ramped up" its involvement in regulating and licencing firearm businesses (including gunsmiths) in the last three years, to the point where Ontario now leads the country with respect to the business of firearms licensing, which includes gunsmithing.
As he explains, a gunsmith knows more than just how to clean and maintain firearms or perform relatively simple tasks like mounting scopes or replacing and refinishing stocks.
A bona-fide gunsmith is a jack of­ all trades, capable of taking on tasks that require a high degree of skill and expertise, such as re-chambering, re-boring, adding chokes, or even building a custom-made firearm.
Not all gunsmiths can do all things gun related, and this is reflected on the conditions of their CFO-issued business licence. A gunsmith who works with law-enforcement agencies will likely have conditions and restrictions on his licence considerably different from one who specializes in hunting rifles and shotguns.
Highly skilled gunsmiths capable of doing almost anything with firearms have always been a rare commodity.
Why aren't there more?
Because there always seems to be something going on in the evolution of firearms that requires a gunsmith, you'd think finding one would be relatively easy. So, why isn't it?
It might be partly due to the nature of the market. Many hunters needed choke work done on their shotguns when the switch to steel shot came, but I think many chose instead to buy a new shotgun — partly because finding a trusted, qualified gunsmith was a pain. And, in what has been a far from standardized environment, many consumers were likely unsure of the capabilities of their local gunsmith.
Another problem is the commodity itself — meaning mostly guns and gun parts.
Guns make some people nervous. Not everyone wants to live a life subject to careful and even intense public scrutiny. Plus, it requires dedication to do a job that's not, as a rule, going to make you a fortune.
A parting shot
The demand for gunsmiths is not going to go away. This is why I was heartened to hear the CFO is taking gunsmithing seriously and seems to be doing sensible things to help gunsmiths and the firearm industry operate their businesses in a friendly, safe, and regulated environment. If this is true, gunsmiths will soon find themselves in higher demand and with newfound respect.