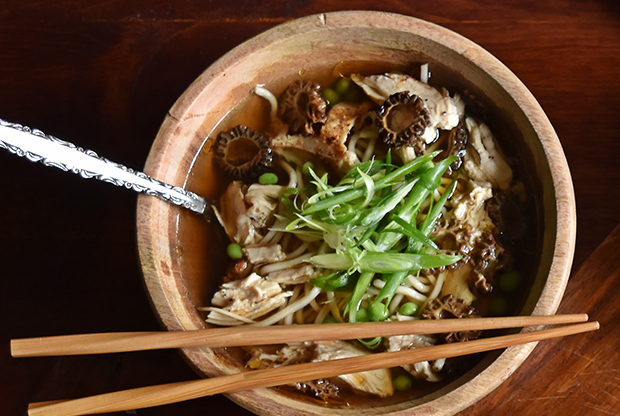 This Asian-flavoured soup is a mouthwatering way to kick things off as a starter or serve it as a meal unto itself.
Ingredients
• 6 cups grouse (or chicken) stock
• 2 cups grouse breast, cubed (or chicken breast)
• 2 garlic cloves, minced
• 1 tsp. ginger root, grated
• 1/4 cup rice wine
• 4 tbsp. soy sauce
• 1/2 cup dried morels, rehydrated, sliced crosswise (or dried shiitakes broken into small pieces)
• 2 tbsp. sesame oil
• 1 tbsp. chili oil
• 2 cups cooked Chinese-style soup noodles (or vermicelli)
• Green onions, finely sliced
• Pinch of black pepper
• 2 cups frozen baby green peas
Directions
1. Combine cubed grouse, garlic, ginger root, rice wine, and one tablespoon of soy sauce in a bowl, marinate in fridge several hours.
2. Heat stock in soup pot. Add grouse and marinade, cover and simmer until meat is tender, about 20 minutes.
3. Add morels, remaining soy sauce, sesame and chili oils, pepper, and peas. Simmer five minutes.
4. To serve, place a nest of noodles in the bottom of each bowl, ladle soup over top and garnish with green onions. Serves up to eight as a starter.
Get the recipe for Jerk grouse here.