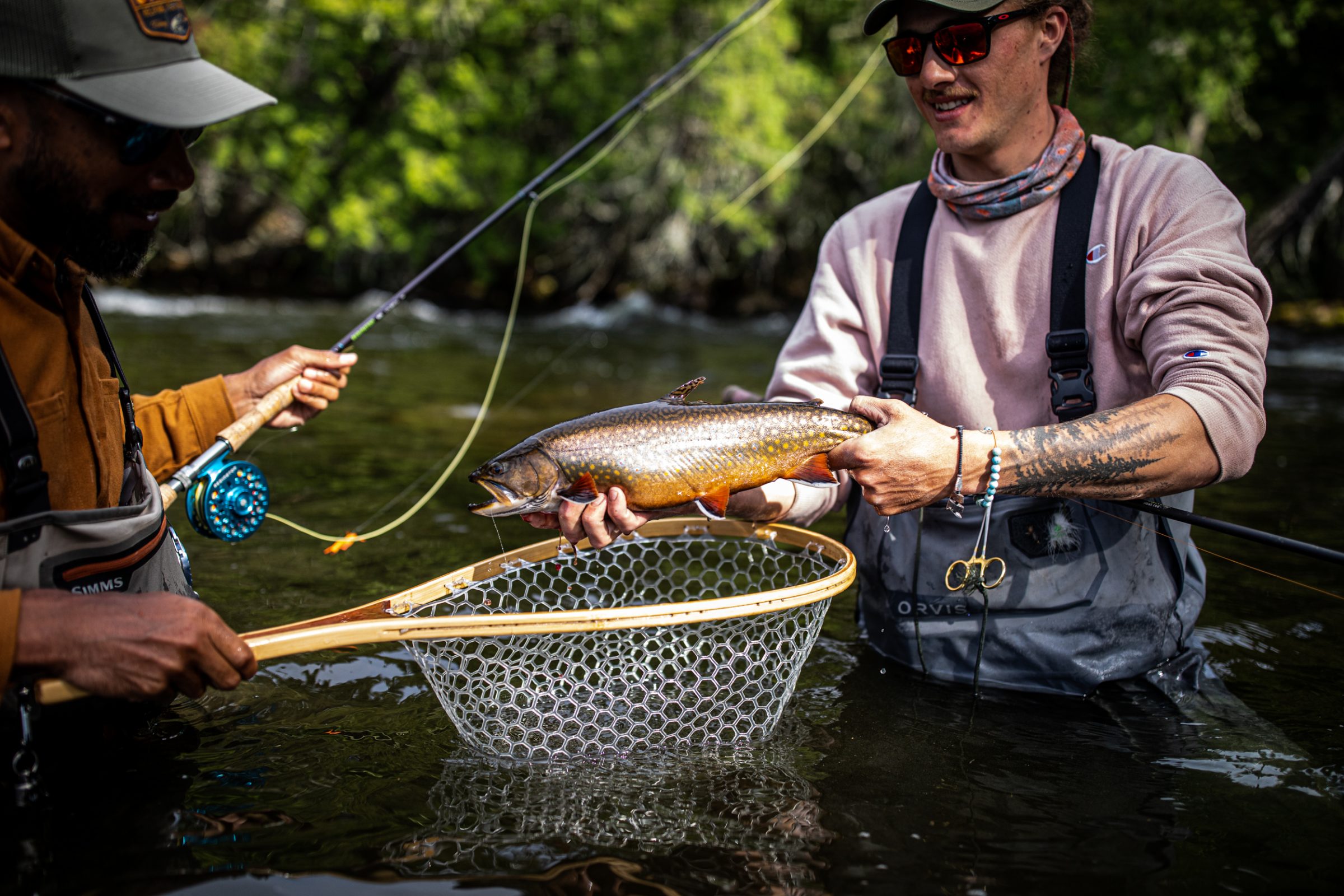 I was shocked awake by my phone's cringe–inducing alarm at 3 a.m; I showered, grabbed my gear, and rode the elevator 11 stories down from my tiny downtown Toronto apartment. Standing on the curb when the guys pulled up, I could see Yilma was tired but excited. Aidas helped me load my gear, as Aldo held the camera he would use to document our adventure. We were officially setting off on a 13-hour journey to Esnagami Wilderness Lodge.
I co-host a fly fishing podcast called So Fly. We had other trips planned abroad, but the pandemic quickly crushed our dreams of catching Montana trout and Texas redfish. Fishing in 2020 was indeed destined to be close to home.
We had planned the trip to Esnagami the previous fall and were desperately hoping it would work out. Thankfully it did. Oh, and they had tons of toilet paper. Turns out we were super far from the panic shoppers.
First impressions
Nakina Air flew us to the lodge, where we were greeted by owners Eric and Sue, and their kids Rowan and Liam. Eric has been running the lodge for 30 years, and has the elite guest experience down to an art.
"We're going to hit the water and have a shore lunch," was the first thing Eric said to us as we watched his crew load our gear onto ATVs.
The cabins have comfortable beds with linens, a living room, eating area, kitchen and bathroom with a shower — a spectacular place to rest after a day on the water. A server brought coffee and muffins right to our door. This year, the main dining lodge was closed, but the door service was a seamless way to enjoy top-quality food from the chef.
Catch-and-release
We soon found out why guests return to Esnagami Lodge year after year. Eric's been running a catch-and-release program at the lodge for decades. It encourages visitors help grow the fishery. That's not to say you can't keep a few walleye. We sure did. After heading out, we caught lunch within 15 minutes — four perfectly-sized, golden Esnagami walleye. Eric cleaned and cooked them up on a small island soon after we caught them. After months of lockdown, that meal was the perfect way to kick off the week.
Catch-and-release has done wonders on the lake. All of us were fishing on the fly, and having tremendous luck catching fish after fish. Yes, walleye on a fly. And pike. The first day on the water was something else. I watched pods of walleye follow my fly underwater. I'd seen nothing like it before.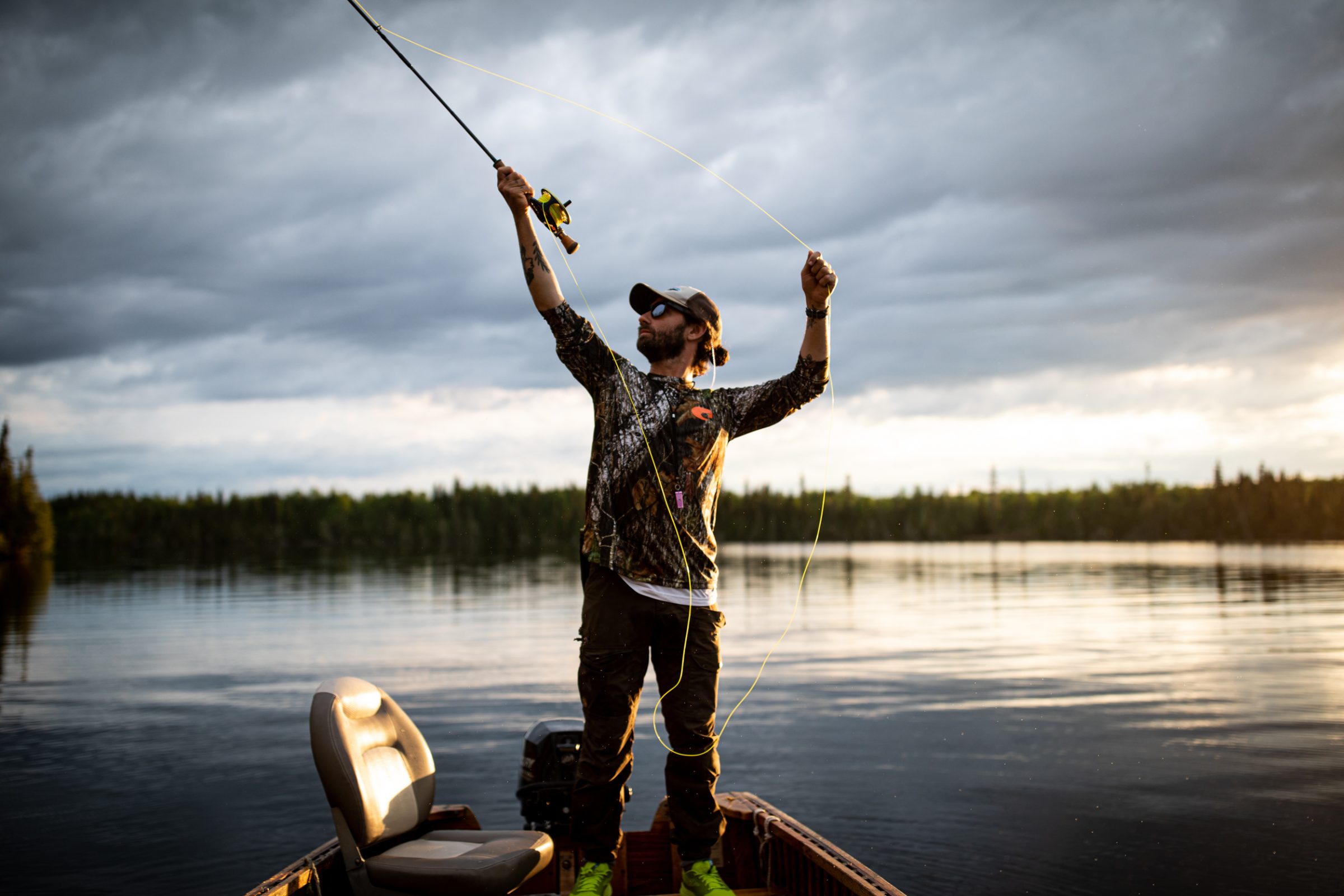 Boating, exploring, and catching
The next few days were picture perfect. We enjoyed exceptional fishing and wild exploration in cedar-strip fishing boats with casting platforms. The boats make travelling the rough waters of Esnagami a walk in the park. We zipped all over the lake, following a provided map. There's no cell service in these parts, so the group was relying on my map-reading abilities, although guides joined us most of the time. They were solid, able to take us into some fantastic water. From Zipper Bay to Betty Falls, there is no shortage of fishing holes here.
Esnagami River brook trout
Then came "river day." Guides boat you across the lake, and into the river. After a few portages, you'll be enjoying some of the most ridiculous brook trout fishing you've ever seen. We're talking tannic water, 18- to 24-inch brook trout in high numbers, and so many walleye the guides refer to them as "golden plague."
Because the lodge runs these trips, you have it all to yourself. It truly is wild, and flows into the Albany River and eventually, James Bay. At the first pool, I made a couple casts and immediately hooked into a beautiful 18-inch trout on a hopper dry fly. The fish sported deep greens, fiery orange bellies, opaque white fins with harsh black outlines, and blue spots dotted along their sides. We caught more than a dozen beautiful brookies that day.
I'll be back
Esnagami Lodge is the perfect place to go if you're looking for a comfortable lodge and world-class fishing. It's a fly-in experience that includes the amenities that make kicking back and relaxing easy. The food is amazing, the staff are friendly, knowledgeable, and helpful, and the fishing is like no other. Esnagami is well worth the waders full of stories you're surely to return with.
---
Getting there: From Longlac, drive an hour north to Nakina on Blueberry Road. Then fly north with Nakina Air Service for 15 minutes to Esnagami Lake.
Cost: Plans start at $1,740 per person for a 6-day fishing trip. The American Plan includes all meals for $2,025 per person for 6 days. They also offer 3-, 4-, and 5-day trips for lower costs.
Accommodation: Private cabins have a full bathroom with hot running water, and a kitchen. Generator power in cabins runs until about midnight.
Contact:
Esnagami Wilderness Lodge
Winter: 519-474-6988
Summer: 807-329-5209
www.esnagami.com
---
Originally published in the 2021 Fishing Annual of Ontario OUT of DOORS magazine.
Click here for more travel stories