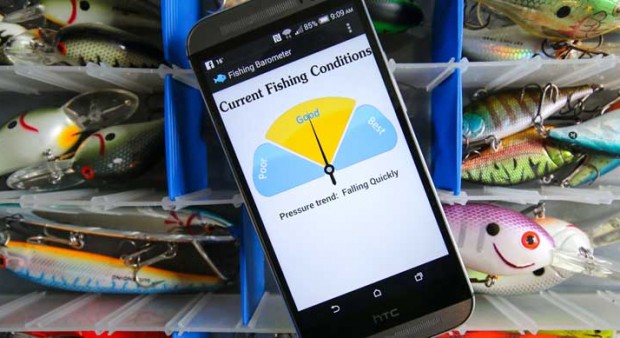 Fish behaviour and activity levels are dictated by a variety of environmental forces. Lunar phases, temperature shifts, and wind are a few common and recognized predictors. Barometric pressure, which simply put is the amount of weight the atmosphere is exerting down on the surface of the earth, is believed by many to be an additional factor in the appetite levels in fish.
It is thought the air bladder responds to these pressure changes, either positively or negatively, which will then dictate whether fish are more prone to bite.
Garret Kielburger, an avid angler from Ottawa has developed the Fishing Barometer smartphone app that gives real time readings of the barometric pressure, in turn indexing the fishing period as poor, good, or best.
"I designed this application as a hobby in regards to a science I had a personal interest in," said Kielburger. "I develop enterprise projects almost exclusively and have had this idea in the back of my head. It was completed this past spring, prior to bass season beginning. I had been using it for a month before I decided to put it on the market."
"Barometric pressure changes are calculated by recording pressure measures over a 3-hour period, at specified intervals. Often a 30-minute interval is used to determine a trend with 6 periods. For example, a 3-hour period might see the pressure rise 0.1kPa in the first hour, drop back down 0.1kPa the next hour, and rise by 0.1kPa during the final hour. As a result, there is a 'dip' in the middle of the chart," he explained. "There are 8 possible combinations for measuring pressure trends in this manner – dips, rises, and flats. Taking them into account, I decided to take my measurement every 15 minutes for additional accuracy."
In terms of looks and functionality, the 99-cent app. has a clean interface and is very user friendly. I downloaded it effortlessly to my new HTC One M8 phone through the Google Play Store. Currently, it's only available on Andriod devices. The app requires a barometric pressure sensor, and only Andriod phones are being built with them at this point. Although not all Andriod phones have this sensor the most popular ones—Samsung Galaxy S3 and higher, Samung Note, HTC One, and Sony Experia—all have them.
One helpful function that has been integrated into the software is the ability to set your own trends. For instance, if your on-the-water experience dictates that a steady barometric pressure equates to the best fishing (as opposed to the default setting of poor) you can easily change these settings to reflect your own successes.
"When I first designed this application, I tested several trend patterns — recommended by fishing experts. The default trend settings are the ones I found gave me the best success when fishing for shallow species such as bass. Deep water fish, such as trout, may react differently to barometric pressure, hence why I wanted the user to also have control and the ability to interpret their own findings," said Kielburger.
I found the notification tab another neat function. Instant alerts can be received, during user specified times, when current fishing conditions are listed as best.
The day I tested the Fishing Barometer the pressure trend was rising quickly, indicating a good period of fishing. The shallow water largemouth bite was definitely on that afternoon and I found success on the water body I was fishing.
Although I believe any day is a good day to be on the water, this app offers a fun and interactive design that had me constantly checking for updates throughout the day — even on the days I was stuck in the office.
For under a buck, this is a worthwhile investment for those that are interested in the science behind fishing — and for the extra bites a positive barometric pressure can possibly provide.