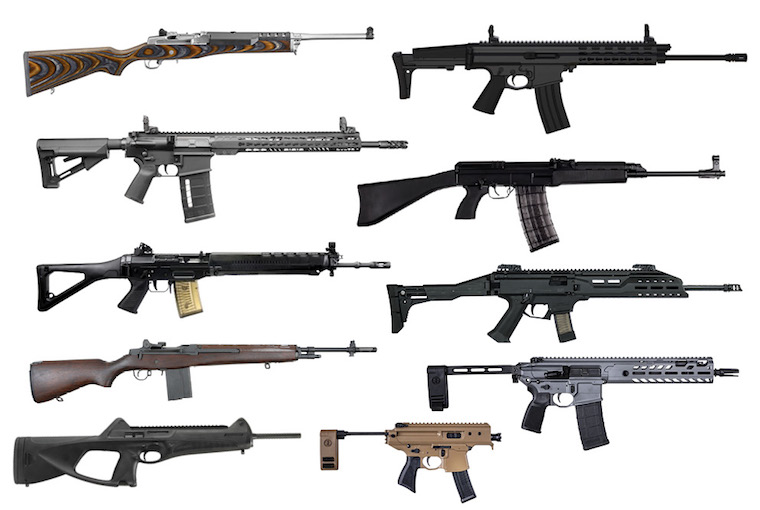 The federal government prohibited the purchase, sales, transport, import, or use of more than 1,500 models of "military grade rifles" during a nationally televised press conference led by Prime Minister Trudeau on May 1.
Most (1,050) were variants of nine styles of military assault-style rifles that were previously classified as restricted or non-restricted. These include the M16, AR-10, AR-15 rifles, and M4 carbine, Ruger Mini-14 rifle, US Rifle M14, Vz58 rifle, and CZ858 rifle, Robinson Armament XCR rifle, CZ Scorpion EVO 3 carbine and pistol, Beretta Cx4 Storm carbine, SIG Sauer SIG MCX and SIG Sauer SIG MPX carbines and pistols, and Swiss Arms Classic Green and Four Seasons series rifles. All current and future variants of those rifles are also now prohibited. The government estimates there are 105,000 affected firearms in Canada.
Firearms chosen
According to the government's Technical Briefing, those firearms were chosen because they were semi-automatic with sustained rapid-fire capability and a large magazine capacity, of modern design and present in large volumes in the Canadian market. The Technical Briefing also notes "The Government has concluded that these firearms are not reasonable for hunting or sporting purposes."
New restrictions of muzzle velocity and bore diameters were also announced, a measure meant to prohibit .50 calibre firearms and grenade launchers. Firearms affected by these restrictions account for 450 of the firearms now prohibited. The government concluded that the potential power of these firearms exceeds safe civilian use.
In addition, upper receivers of M16, M4, AR-10 and AR-15 type firearms have been deemed prohibited devices.
Amnesty, grandfathering, and compensation
To implement the prohibition, the government has announced a two-year amnesty, in effect until April 30, 2022, for existing owners. During that time, an affected firearm may not be used for hunting or sport shooting, either at a range or elsewhere, unless provided in the amnesty. Nor may one be bought, sold, lent, imported or transported unless provided in the amnesty.
They must be stored in accordance with regulations for the firearm class prior to prohibition. The firearm can be exported with proper authorization, however. The owner may also contact police to arrange for disposal without compensation, but must not bring the firearm to a police station until a prior appointment is made.
The government will offer the option of grandfathering or "fair compensation," if the firearm is surrendered. Details of both options will be announced at a later date.
Exceptions exist for sustenance hunters or in exercise of Constitutional rights until a replacement can be found.
The Canadian Firearms Program will communicate with affected licence holders once details on grandfathering and compensation have been decided. Owners will then have to comply through grandfathering or surrendering for compensation, before the amnesty's expiration.
The former Bill C-71 provides for prohibition and grandfathering of four named variants of CZ858 rifles, and 16 named variants of Swiss Arms SG-550 rifles. Owners who were in lawful possession on June 30, 2018, will eventually be eligible for grandfathering as provided in C-71 when those provisions take effect, or they may choose to surrender for compensation instead. As of now they may not use the firearm.
The government also committed to other measures meant to reduce firearms-related crime during that press conference.
OFAH doesn't support approach
Though the Ontario Federation of Anglers and Hunters strongly supports measures that would eliminate gun violence in Canada, it does not support the approach taken by the government in this case, feeling that the prohibitions target law-abiding gun owners rather than criminals and the root causes of gun violence in Canada. To get a detailed summary on the OFAH's position visit https://www.ofah.org/2020/05/government-ban.
For a list of prohibited firearms visit Canada Gazette, Part II, Volume 154, Extra Number 3 www.gazette.gc.ca. More information can be found at The Canadian Firearms Program www.rcmp-grc.gc.ca/cfp-pcaf/index-eng.htm.
For more on what's happening with firearms, click here
Click here for more outdoors news