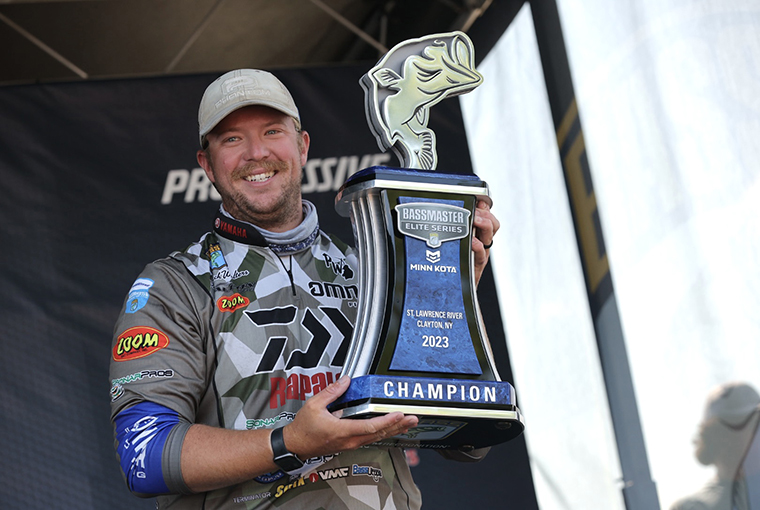 All four Canadians on the BASS Elite Series Tour qualified for next year's Bassmaster Classic after competing in the season-ending Minn Kota Bassmaster Elite at St. Lawrence River in Clayton, New York from August 24 to 27.
Two of them finished in the top 10 of the tournament. Otonabee's Chris Johnston placed second, edged by Patrick Walters of South Carolina. The fifth-year pro caught 105 pounds, the heaviest 20-fish total of smallmouth in Bassmaster history.
Johnston, who won the event in 2020, caught 103 pounds, 12 ounces.
"It's getting harder and harder to win this event," he stated. "I had a huge advantage seven or eight years ago. I used to catch them all shallow. They were my pets; I basically named them…Now, they've changed and gone offshore. Then Garmin LiveScope (forward-facing sonar) came out and it really leveled the playing field."
Classic berths
Johnston's brother Cory, and fellow Canadians Cooper Gallant of Bowmanville and Jeff Gustafson of Kenora, finished 6, 18, and 51, respectively. Each earned berths in the 2024 Academy Sports + Outdoors Bassmaster Classic taking place in Tulsa, Oklahoma from March 22 to 24, 2024. Gustafson was the first Canadian to win the event earlier this year.
Kyle Welcher of Opelika, Alaska, won the Progressive Insurance Bassmaster Angler of the Year title with 752 points. Brandon Cobb of Greenwood, South Carolina, finished second with 728, followed by Walters with 717. Gallant, Chris Johnston, Cory Johnson, and Gustafson finished 17, 18, 26, and 52, respectively.
Joey Cifuentes III of Clinton, Arkansas, who finished fifth in the Angler of the Year standings, won the Dakota Lithium Bassmaster Rookie of the Year title with 698 points.
Visit www.bassmaster.com for more information.