with spicy mustard sauce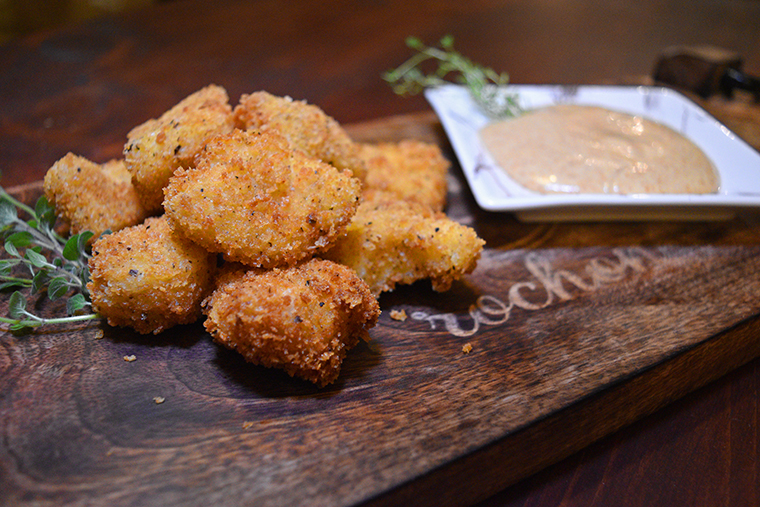 My friend took me fishing for burbot (also known as freshwater ling and eelpout) and now I'm hooked. Not only do these creepy looking fish put up a heck of a fight, they are also amazing table fare. They don't call it poor man's lobster for no reason. The sweet, firm meat makes tasty little fried nuggets.
Ingredients
• 1 lb. burbot loin, cut into 1-inch cubes
• 1 tsp. Cajun seasoning
• 1 cup panko bread crumbs
• 1 cup flour
• 2 eggs, beaten
• 1 litre canola oil
Mustard Sauce 
• 1/4 cup mayo
• 2 tbsp. honey mustard
• 1/2 tsp. cayenne pepper
• 1 tsp. cider vinegar
Directions
Heat oil to 365˚F. Cut burbot loins into 1×1-inch pieces. Mix panko with Cajun spice. Put panko, flour, and beaten eggs into 3 separate bowls. Coat each piece of burbot in flour, then egg, then panko mixture. Once all pieces are breaded, fry until golden and crispy. For spicy mustard sauce mix mayo, honey mustard, cayenne, and cider vinegar in a bowl. Dip burbot nuggets in spicy mustard sauce and enjoy!
If you enjoyed this recipe, try Andrew's perch tacos.