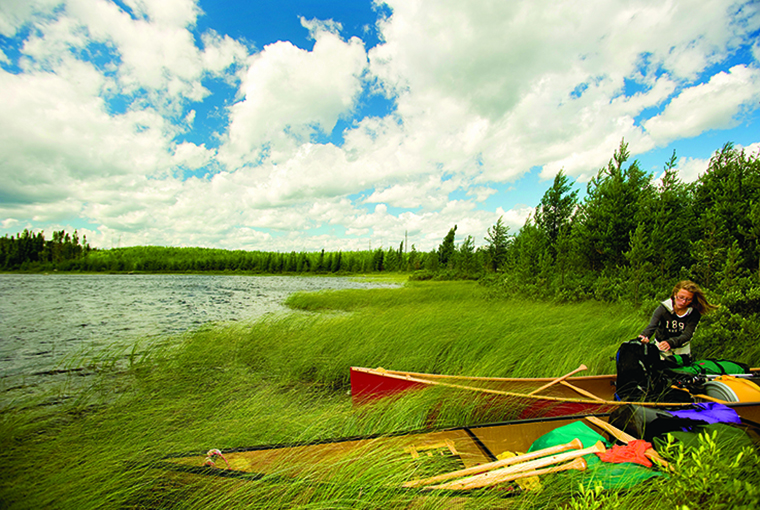 Rounding the rocky point into a blistering headwind, Francine and I are paddling as hard as we can, but a glance at shore shows virtually no forward movement. I look back at the other two canoes and shake my head. Kathy and Neil Simpson understand and retreat into the lee of the point with their three daughters, Jenna, Kiri, and Grace, along with my wet and hungry offspring, Islay and Lillian.
"Good place for lunch," Neil yells. Francine and I heartily agree as we pull our canoe onto sloped granite.
We'd packed wet tents and ate a hasty breakfast about four hours ago. Paddling and portaging ever since, it seems the elements are testing our will and our gear. Earlier, I'd given silent thanks to canoe barrels and waterproof packs resting in several inches of rainwater sloshing around at my feet. Spirits were flagging, but the rain has stopped, food barrels are breached, and the fierce wind is helping us to dry out on the round rock under a steel-grey sky.
Fortunately, years of canoe trips have fostered an acceptance and resilience. While soup is heating, the girls and even the three dogs take to the fruit-laden blueberry bushes, as Neil and I look at the map for our next campsite at the south end of Mountairy Lake.
We're into day two of our family paddling trip in the Graham Canoe Area northwest of Thunder Bay. It's a southern extension of the vast landscape of interconnected waterways of Wabakimi and Brightsands Provincial Parks. Choosing a route is difficult because the options are endless. We pick a 30-mile loop that will bring us back to our waiting vehicles after four nights, but judging by our wind-buffeted progress so far, we're going to have to hustle. After a rest and food, we press on to the next campsite.
To maximize horsepower, we put four of the five girls in one canoe. The new paddling configuration will see Islay, 14, and Jenna, 15, take turns in the bow and stern, while two of the three younger girls take turns pairing up for added propulsion from a makeshift middle seat. The foursome-powered craft cuts into the wind with surprising speed. While the adult canoes are silent and straining, singing and laughter from the girls' dances across the waves, displaying the power and attitude that would soon prove valuable.
Prevailing wind
The next morning breaks sunny. We get respite from the howling wind as we navigate a meandering wetland creek into Hard Dog Lake. Like Mountairy, its shores had been stripped of mature forest by fire more than a decade ago. Once back on open water, it's a headsdown paddle. Portages are now seen as a break from the hard paddling, as the crew moves canoes and gear through narrow, weedy lakes.
In spite of the gusty wind, I toss out a jig and plastic grub to troll. Within 30 seconds, my rod is bending over a thick 18-inch walleye. When I look up to show the others my catch, they're motioning toward other distractions. I quietly pick up my paddle and we glide to within 75 yards of a large bull moose knee deep in lily pads.
With the afternoon well spent, we're under pressure to find a campsite. As we portage into Metionga Lake, the laughter of the children is replaced by long faces.
"Morale is low," I say to a perpetually cheerful Neil Simpson. "Yeah, but Metionga should be nice and calm," he says with a hint of sarcasm.
Famine
Once out on 5- by 4-mile Metionga, our worries are confirmed, with large waves accompanying strong wind. We head for a narrows between a large island and the mainland, where we find a strip of sand in a protected bay. Unfortunately, it's too narrow to camp on, but we fall on a meagre feast of the single walleye and a pasta dish that disappears with alarming speed.
The wind is still strong at 8 pm, but we have no choice but to press on to find a campsite. The girls put on a brave face and get back into the canoe for their eighth hour of paddling. Fortunately, we find a flat rock point a few miles down the lake and strike camp before a rain squall drives us to our tents.
It's grey and windy at 7 am. We pack wet tents, scarf down bagels and peanut butter, stuff our pockets with granola bars, and paddle west. As we poke out of the narrows on to the main lake, the waves are about three feet and building. We need to make our way south for about 21⁄2 miles before we can veer east toward Brightsands Lake.
The erratic waves terrify my wife. The girls don't share her fear. From behind, I hear them singing and laughing as they paddle. However, they're not moving very quickly. I wait for them to catch up and I explain the threat of building waves and the need for a concerted effort to get to calmer waters.
Several hours pass before we put the wind behind us and surf into calming waters. It's a milestone in our family paddling journey. While there's a sense of relief all round, the children's display of strength, skill, and fortitude in the face of rough conditions ellicit a strong sense of pride.
Feast
As if to reward our efforts, a slow current begins to push our flotilla past boulders and deep, swirling pools. Neil is first to get a fish, but eventually all rods are out and fat 14- to 18-inch walleye are being plucked from the dark water.
After running a narrow chute into Brightsands Lake, we beach canoes on sandy shores for a monumental lunch. I man the frying pan, steadily producing walleye fillets, while the others assemble noodles, pesto, soup, bread, honey, and tea.
The rejuvenated crew continues downstream, with the wind at our backs. Late in the afternoon, the rounded, rocky shoreline narrows into a canyon. We line our craft past a few tricky spots to find a multi-tiered, smooth rock campsite at the base of a rapid.
It's been a tough trip, but adversity builds character and our collection of characters spills out onto the campsite and straight to the business of having fun. The girls, who seemed so grown up hours earlier, are positively childlike as they scoop handfuls of blueberries and jump from a rock ledge into the slow current. Even the adults display a childish delight as we cast from shore to catch walleye after walleye from the deep run at our feet.
We have indeed reached a good place – the kind that only a wilderness family canoe trip can deliver.