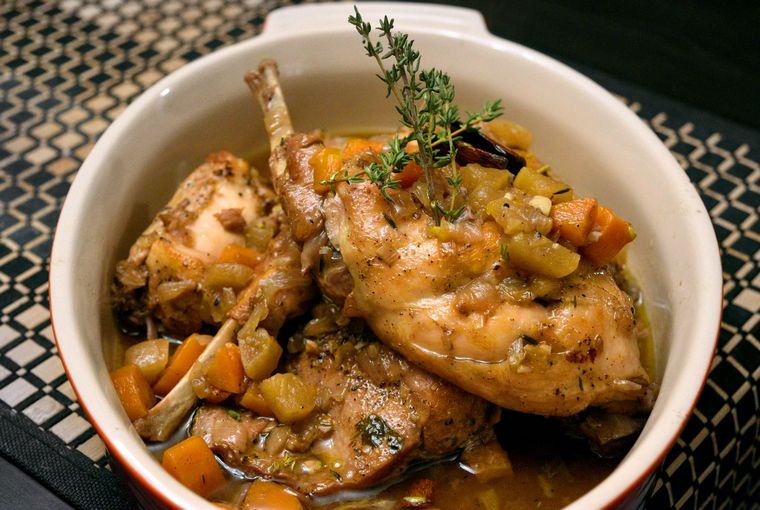 When waterfowl and deer season come to an end, I love to pursue wild rabbits in the snow. They are challenging to hunt and make a tasty stew.
Ingredients
Serves 2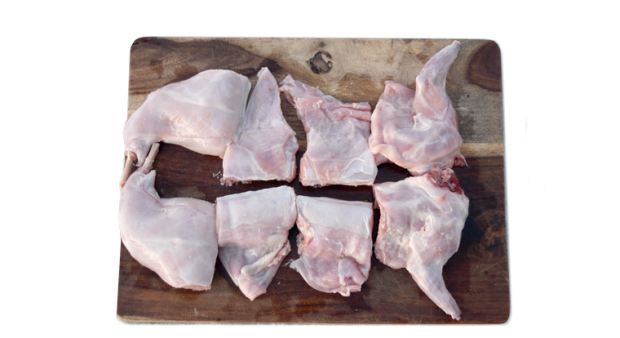 • Salt and pepper
• ¼ cup olive oil
• 1 whole rabbit, cut into 8 pieces as shown
• 1 large onion, diced
• 4 cloves garlic, chopped
• 1 large carrot, peeled and diced
• 1 apple, peeled, seeded, and diced
• 1 cup dry red wine, merlot or chianti
• 2 cups chicken stock
• 3 sprigs fresh thyme
• ½ cinnamon stick
Directions
1. Season rabbit pieces on both sides with salt and pepper.

2. Heat oil in heavy-bottomed dish with lid, on high heat.

3. Heavily sear rabbit on both sides, about 2 minutes each.

4. Remove from dish. Add onion, garlic, carrot, and apples.

5. Sautée for 5 minutes. Add red wine and cook down by half.

6. Pour in chicken stock. Add thyme and cinnamon.

7. Place rabbit back into the dish, cover and simmer for 1½ hrs. on medium-low heat.

8. Season with salt and pepper to taste and serve with toasted bread.
Originally published in the Jan.-Feb. 2020 issue of Ontario OUT of DOORS magazine.
Click here for more recipes

For more small game stories, click here