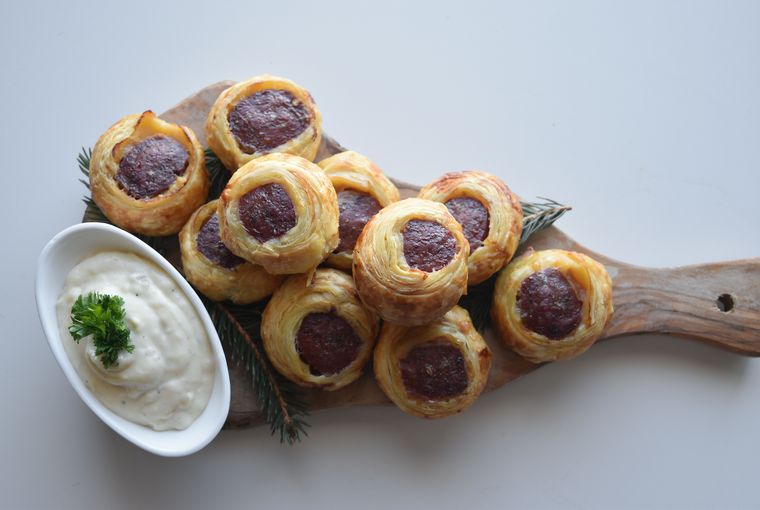 These crispy little bites are addictive, and make a great pass-around snack at a dinner party or hunt camp.
Ingredients
Makes 16-20 pieces
1 sheet puff pastry, cut lengthwise in two
4 bear sausages (1⁄2 lb), casing removed
2 eggs, beaten
Dipping sauce
1 cup mayonnaise
1 tbsp Dijon mustard
1 head of roasted garlic, removed from skin
1 tbsp lemon juice
Cracked black pepper, to taste
Directions
Preheat oven to 375˚F
Make sure puff pastry sheet is defrosted. Place uncased bear sausage horizontally at the lower edge of pastry sheets
Curl the edge over the sausage and keep rolling until the whole thing is a tight tube
Pinch the seam of the roll together with your fingers to keep the pastry from opening up when baking
Brush the roll with beaten egg
Freeze for 30 minutes. This will make it much easier to slice
Slice rolls in 8-10 pieces about ½-inch thick
Place onto a baking sheet lined with parchment paper
Bake for 15-20 minutes until pastry puffs and turns golden brown
With a hand blender, mix mayo, Dijon, roasted garlic, lemon juice, and pepper
Spoon a small amount of dipping sauce on top of each piece or serve on the side for your guests to enjoy
Originally published in the June 2020 edition of Ontario OUT of DOORS magazine.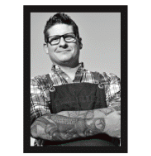 Andrew Rochon is OOD's food editor. You can follow more of his culinary adventures on Instagram: @wilderness_chef
For more hunting stories, click here