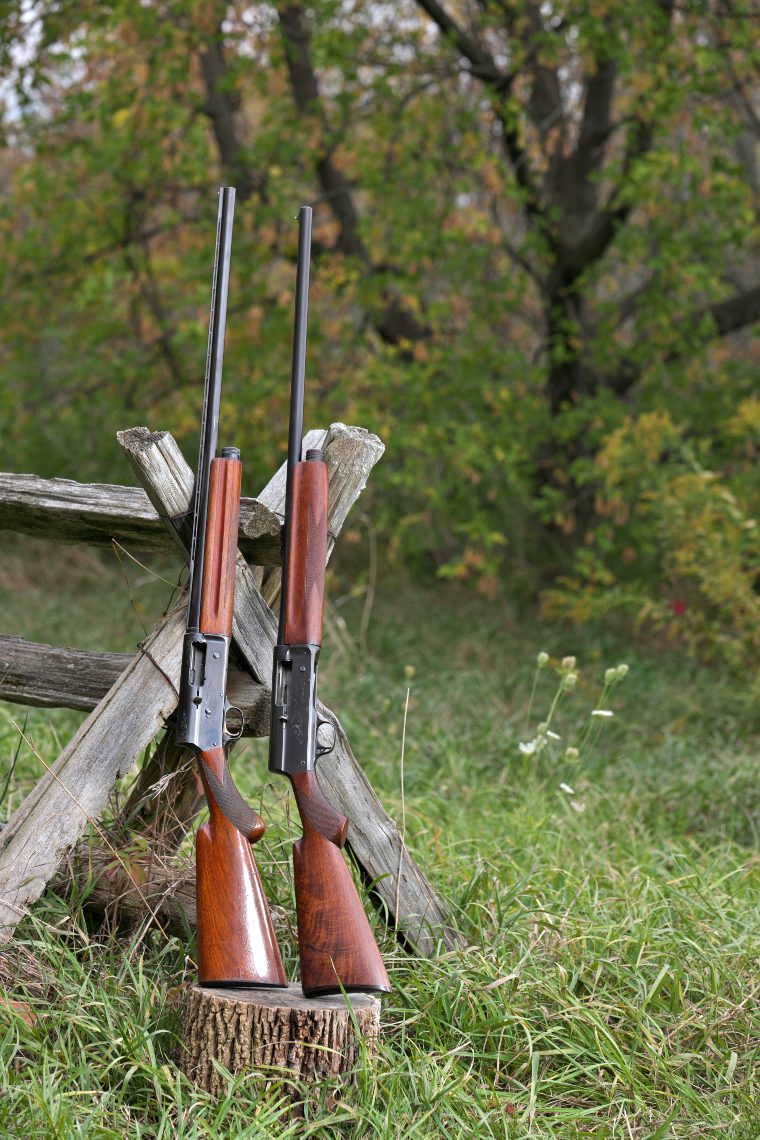 AKA: Sweet sixteen, Remington Model 11
Made: 1903-1998 (Browning), 1905-1948 (Remington Model 11)
Variants: 12, 16, and 20 gauge, Standard, Light, Magnum, Sweet Sixteen, Special, and Superlight; Remington Model 11, 11-48, Sportsman; Savage: Models 720, 726, 745, and 775; Franchi AL-48; Yamamoto Auto Pointer
Production: 2.7 million (850,000 as Model 11)
Original price: $139 in 1929, ($42.50 for a Model 11 in 1930)
Current value: Model 11 $500, Light/Magnum $750-$1,000, FN Sweet Sixteen or Light 20 $1,000-$1,500+
Design and craftsmanship
The first time I hunted cottontails with my father-in-law, he let me try out his son's 20-gauge Auto-5. I was impressed with the design and craftsmanship, and appreciated its fit, ruggedness, and reliability. It's no wonder that the Auto-5 became the most enduring shotgun and the second most popular semi-automatic ever.
John Browning completed his design in 1898. His Auto-5 is based on along recoil action. After each shot, the entire barrel and bolt recoil to eject the spent shell, cock the hammer, and return forward to chamber another round. The distinctive-looking receiver accommodates this action. Browning also invented adjustable friction rings on the magazine tube to handle different loads. He later added a magazine cut-off on the left side of the receiver.
Production proved to be challenging. When Browning presented Winchester with a royalty proposal instead of lump sum payment for his design, they refused, ending years of collaboration. He then approached Remington, but the firm's president died before a deal was signed.
Finally, Browning turned to Fabrique Nationale (FN) Herstal in Belgium. FN started production of 12-gauge Auto-5s in 1903, but stopped shipping to the U.S. for the next 20 years due to restrictive tariffs. Except during the two world wars FN continued to produce Auto-5s until 1975. Production moved to Miroku, Japan in 1976 and ceased in 1998.
The American market
Browning sidestepped the tariff by licensing the design to Remington, which introduced an autoloading shotgun in 1905. In 1911, they renamed it the Model 11 and produced it without the magazine cut-off. The Model 11 quickly won the hearts of the American market and waterfowl hunters, skeet shooters, military, police, and even gangsters. Remington continued production of the Model 11, including wartime "American Brownings," until 1948 when it introduced its refined version, the Remington 11-48. From 1930 to 1949, Savage also produced a line of affordable Browning clones under licence.
Prior to introducing the Standard 16 gauge in 1909, Browning shortened the receiver to reduce weight. His son, Val, lightened it further to debut the Sweet Sixteen in 1936. This light sweet-handling gun, with its gold-plated trigger, became Browning's premier Auto-5. As a result of its success, Browning did not even introduce a 20-gauge until 1958.
I now have three Auto-5s: a 1937 Model 11, 16 gauge; a 1965 FN 12-gauge Standard; and my pride and joy — a 1958 Sweet Sixteen. I also have my eyes on an FN Light 20 gauge and maybe even a Savage — just, don't tell my wife.
Notes:
Steel shot should not be used in FN-era Auto-5s. It can only be used in later Miroku barrels.
Browning's news A5 introduced in 2011 resembles the shape of the Auto-5, but not the action.
Ken Doherty is a retired teacher, curator, writer, and a long-time resident of Peterborough. He enjoys collecting, target shooting, and hunting with vintage firearms. Contact Ken at: mail@oodmag.com
Originally published in Ontario OUT of DOORS' 2020 Hunting Annual.
For more guns and gear, click here