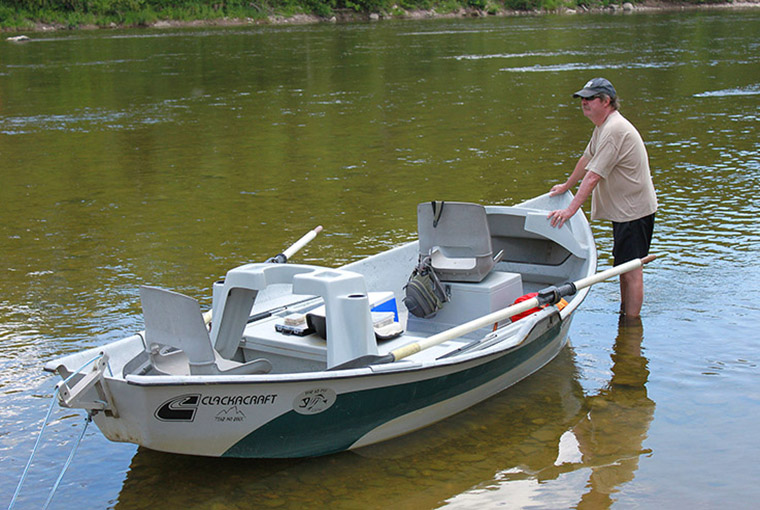 "You will be into a fish within five minutes," says John Valk, as he launches his drift boat into the Grand River. I love his optimism and quickly get my fly rod ready for action. My fishing partner, Stan Pilarczyk, makes the first cast and hooks a spirited smallmouth. The fish is landed and quickly released. I catch Valk with a smile on his face – a sign of things to come, I'm thinking.
A direct approach
It's late June and we're on the Grand River fishing for rainbows, browns, and smallmouth bass from a 16-foot drift boat capable of holding our guide and two anglers. Valk, owner of Grindstone Angling, is recognized as one of the best river guides in Ontario. This is his 16th year using drift boats to access some of Ontario's premier rivers. In fact, he was the first river guide to introduce West Coast drift boats to Ontario.
The first thing that impresses me about the Grand is its size. The river averages 100 feet wide and ranges from 6 inches to 10 feet in depth.
Manning the oars from the bow of the double-ended boat, Valk carefully reads the holding areas. "Put your fly just in front of that big boulder and let the current sweep your line past it," he says.
Two fish dart out and I miss the hook-set. Pilarczyk, using a spinning rod, casts his small spinner to the same area and hooks a smallmouth.
Spinning gear is allowed in this section of the Grand River, but the hook must be single barbless. "These smallmouth are extremely slow growing; a fish of 17 inches could be 20 years old," Valk says, releasing the plump 14-inch fish.
We catch a few more smallmouths, then Valk shows us a bend in the river. "In front of you there's a 10- to 12-pound brown that we haven't been able to land yet," he says. "We've hooked it three times, but it's broken off each angler."
Suddenly, my casting rhythm is totally out of synch. We make a dozen casts each throughout the pool without any sign of the brown, so we move on.
Grand by all measure
The Grand, the largest river in southern Ontario, is designated as a Canadian Heritage River. From its source near the Bruce Peninsula, it flows 174 miles south to Lake Erie. From Grand Valley near the upper end, the river f lows through Fergus, Elora, Kitchener, Cambridge, Paris, Brantford, Cayuga, Dunnville, and Port Maitland.
The upper Grand near Elora is primarily brown trout habitat. The area we're fishing from Kitchener to Caledonia is the middle section and home to smallmouths, browns, resident rainbows, and steelhead. The lower Grand extends from Caledonia to Lake Erie. Over 57 species of fish are found in the river.
Valk is helpful in giving me advice about my fly-casting technique and it's starting to pay off. My distance and accuracy are improving. I'm using a 9-foot 5-weight rod with a floating line. For smallmouths, poppers and streamers are popular. For browns and rainbows, streamers and match-the-hatch flies are the order of the day.
Elusive rainbows
As we move farther down our drift, I lose what's probably a small rainbow. We continue downstream and enter an area of high-density trout. There isn't any stocking, so these fish are all home grown. "The usual pattern for these rainbows is late afternoon and evening dry-fly fishing during hatches," says Valk.
I cast to three different rising trout, but can't attract interest. The fly is a perfect imitation, Valk's choice, but I know the problem is my inability to hit the spot. I tell Valk it's his turn to show me the way.
His presentation is flawless and he soon has a rise and a miss. The next rainbow rises and Valk makes contact, followed by a huge swirl. The fly breaks off. "That fish is much larger than I'd thought," he says.
An educational experience
The problem we're encountering is that the rainbows are feeding on ultra-small caddisflies, size 26 to 36, and matching the hatch is extremely challenging. On a positive note, I learn an incredible amount about fly selection by the time darkness starts to close in and we approach our exit point.
Valk's home base is his Grindstone Angling store in Waterdown. He carries a wide selection of fly-fishing equipment and offers f ly-fishing courses for beginners. For drift fishing, he has five boats and nine guides.
Other rivers of choice are the Saugeen, Niagara, Nottawasaga, Maitland, and Beaver. The season runs from the second week in April to the end of December. "My mission is to provide accessibility for anglers to the beautiful wilderness of Ontario rivers," Valk says.
My day on the water allowed me to fish a new river, experience driftboat fishing, and improve my f lyfishing technique. That's a great triple-header.
CONTACT INFO
John Valk, Grindstone Angling
Waterdown, Ont.
www.grindstoneangling.com
905-689-0880
Grand River Conservation Authority
Cambridge, Ont.
1-866-900-4722
www.grandriver.ca