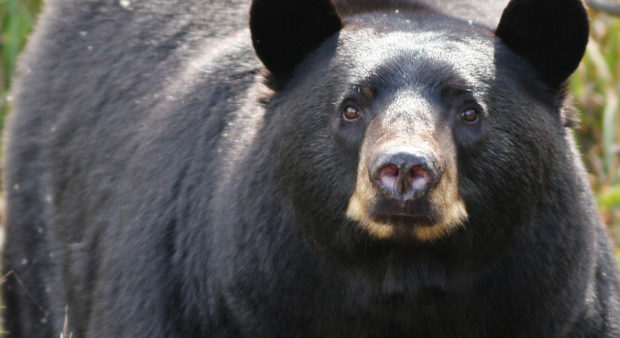 A woman killed by a black bear at one of Canada's major oilsands sites was with several workers who tried in vain to scare the animal away.
The 36-year-old Suncor employee was an instrument technician who was doing electrical work at a job site near Fort McMurray, Alta., when the bear attacked her Wednesday.
"It was … seven people that were working in a group area and she was attacked by this bear out of that group and dragged off," Scott Doherty, a spokesman for Unifor, told The Canadian Press on Thursday. "People tried to stop it and do everything they could. Obviously they are fairly horrified at what they saw and witnessed."
Suncor said the employees were working in a busy industrial area and were not carrying bear spray. Another union official said the woman's co-workers blasted air horns to startle the animal, but to no effect.
Investigators spent the day interviewing people who witnessed the attack.
"It was a large male black bear. She was coming back from the washroom and there were other workers that tried to drive the bear away," said Brendan Cox, an Alberta Justice Department spokesman. "It appears the attack was predatory and doesn't appear to have been provoked. There doesn't appear to be any evidence of bear attractants like garbage at or near the site of the attack."
RCMP later killed an adult black bear and tests were being done to determine whether it was the same animal that mauled the woman.
Alberta occupational health and safety said companies that operate in the region have protocols to try to prevent such attacks. Doherty said there needs to be a full review of what happened.
"We need to be part of the investigation and review what took place there," he said. "If there needs to be a revision or some additional procedures and policies in place to ensure the safety of workers from wildlife attacks, we are definitely going to do that."
Friends identified the woman as Lorna Weafer, and many people commented on her death on a Facebook memorial page.
Actor Alan O'Neill who has appeared on the popular TV show Sons of Anarchy, wrote in a tweet: "Heartbreaking & devastating news for all my family at the very tragic passing of my beautiful vivacious cousin in Canada. #RIPLornaWeafer."
Alberta Environment estimates there are more than 40,000 black bears in the province. At this time of year the bears are coming out of months of hibernation and are looking for food. Average adult males can weigh as much as 200 kilograms.
Prior to Wednesday's attack, the last time a black bear killed someone in Alberta was on May 26, 1991, when 12-year-old James Waddell was killed at a campground near the community of Slave Lake.
Bear expert Stephen Herrero said fatal encounters with the bears are exceedingly rare. One or two people are killed each year in North America, which has a black bear population of almost one million.
Herrero said attacks almost always involve hungry, predatory males. He said the best way to deter an attack is to use bear spray.
"They should always carry accessible bear spray with them," said Herrero, a University of Calgary professor. "Our studies have shown bear spray to be 80 to 90 per cent effective in all sorts of different circumstances with black bears and grizzly bears."
Sneh Seetal, a Suncor spokeswoman, said employees who work in the bush carry bear spray, but staff in busy industrial areas such as where the woman was attacked usually only carry air horns to scare away aggressive wildlife.
Employees are trained to avoid bears, to report any sightings and to remain vigilant, she said.
"I can confirm that an air horn was sounded and workers immediately came and tried to intervene," she said. "Despite their efforts, our employee was unable to be saved."
Black bears have been a problem in northeastern Alberta in the past. In 2011, wildlife officers destroyed 145 black bears, including animals attracted to garbage near work camps.
For the last few years an oilsands industry group has been holding an annual seminar on bear safety in Fort McMurray. The next "BearSmart" workshop is scheduled for June 4. It involves Alberta government bear experts and includes talks on the best way to prevent encounters between bears and people.
People who have attended the meetings have included work camp managers and officials with oilsands companies that operate in the area, including Suncor.
An Alberta government document on bears says the animals are attracted to the smell of human-produced garbage and other waste, including petroleum products.
Some of the tips taught in these workshops is that a bear's sense of smell is seven times greater than a bloodhound and can detect scents three kilometres away from the source.
The course warns that managing the smells of potential bear food is an essential part of preventing problems.
By John Cotter