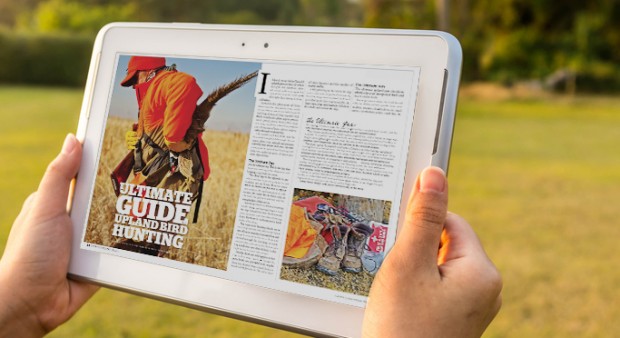 One of the country's longest running and most successful outdoors magazines has gone digital.
Ontario OUT OF DOORS has added an enhanced digital edition to its print offering, which has been publishing for nearly 50 years. Subscribers can choose print only, enhanced digital only, or the fully connected option, which includes both editions.
"The way we communicate and access information is going more mobile every day. We felt it was time to offer outdoors enthusiasts another way to get their hunting and fishing fix," said Editor-in-Chief Lezlie Goodwin.
Ontario OUT OF DOORS is Canada's best read outdoors magazine, according to the Print Measurement Bureau's 2014 2-year spring readership and product survey. It's published 10 times annually. Digital and fully connected subscribers have access to every issue in the 2014 archive, as well as the digital special interest publication, Deer: The Master Guide to Hunting Whitetails.
"Hunters and anglers don't have to wait until they get home to enjoy the latest issue of Ontario OUT OF DOORS. An email alerts subscribers to its release, and they have immediate access, whether they're in a fishing boat in the middle of a lake or 10 feet up a tree stand," said Goodwin.
Unlike many digital editions, Ontario OUT OF DOORS offers extra photos, plus embedded videos and sound clips. "The multi-media aspect really brings the woods and waters to life, and it works on computer, tablet, or smart phone, with no need to install an app," Goodwin added.
Ontario OUT OF DOORS is owned by the Ontario Federation of Anglers and Hunters (OFAH), the province's largest fish and wildlife conservation organization.
Visit www.oodmag.com/subscribe for more information.