Test your trout lure knowledge with this fun quiz. Are you an expert? How well do you know the difference between a spoon and a spinner? Guess the lures in the photo above (we've given you some hints) then check the answers. Good luck!
Hints
Use different sizes of this lure, depending on the body of water. It can be worked speedy or slow, or trolled.
Braided or fused superlines work well with this lure.
This lure is characterized by its slow wobble. A slight increase in speed gives it a frantic action.
This lure shares its name with an eating utensil. Popular makes include the Hopkins, Swedish Pimple, Gibbs Minnow, Zzinger, and Crippled Herring.
This unscented bait is best in fast current, where trout strike based on its appearance. Use scented versions in slow water.
These lures are versatile for all trout. They're especially deadly over rock reefs and off points where trout ambush minnows.
These can represent any minnow, nymph, or crayfish that fish are feeding on.
---
Click image for answers.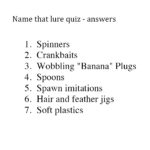 ---
Think you have what it takes? Click here to test your bass knowledge.
---
To learn more about the different types of lures, read Gord Ellis' 10 Great trout lures.