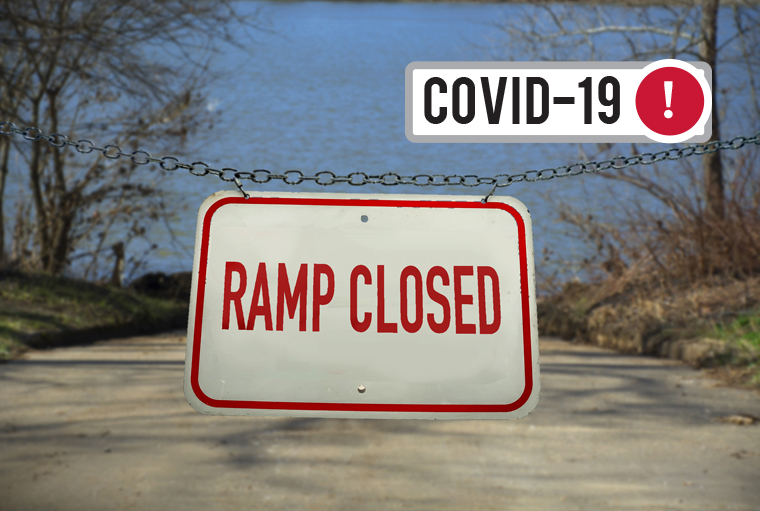 April 8 update: The City of Kawartha Lakes, Blind River, Collingwood, Owen Sound, South Bruce Peninsula, and Tiny Township have now also closed their boat launches, OOD has learned. The Ontario Federation of Anglers and Hunters (OFAH) has an updated list here.
Many Ontario boat ramps were closed after provincial emergency measures were extended on Tuesday, March 30 to also include the closure of outdoor recreational amenities to help curb the spread of COVID-19.
Georgina Township on the south end of Lake Simcoe in Simcoe County and Scugog Township, which includes Port Perry on Lake Scugog, are among the municipalities that have closed ramps, staff confirmed.
Complaints lodged
Scugog made the decision after getting multiple complaints of boaters congregating at public docks and boat launches, as well as not maintaining appropriate physical distancing, Municipal Law Enforcement Officer Denise Stephenson said.
"To limit these instances and keep our community safe, the township decided that the public boat launches needed to be included in our closures," she wrote via email.
While the provincial order does not specifically mention boat ramps, it states that it closes "all communal or shared, public or private, outdoor recreational amenities everywhere in Ontario."
Closure extends
That includes, but is not limited to, playgrounds, sports fields, basketball and tennis courts, off-leash dog parks, beaches, skateboard and BMX parks, picnic areas, outdoor community gardens, park shelters, outdoor exercise equipment, condo parks and gardens, plus other outdoor recreational amenities.
"The Township's boat launches are part our outdoor recreational amenities and as such are included in the Provincial Order," Stephenson wrote on Thursday, April 2.
Many ramps still open
However, water access in other municipalities remains open.
The nearby City of Kawartha Lakes has not closed its parks, just amenities in them, such as playground structures, Mayor Andy Letham said Wednesday.
"People need something to do," he said, noting that fishing in groups, however, would not be in keeping with provincial guidelines.
Access in northern Ontario remained open at the end of March, but ramps there were still blocked by ice, Ontario OUT of DOORS Senior Editor Gord Ellis said.
No changes from MNRF
Some marinas allow customers to launch for a fee – boaters can check with local marinas to confirm what services may be available.
While some US states, including South Carolina, have merely closed public boat ramps, others, like Washington, have suspended recreational fishing entirely.
The Ministry of Natural Resources and Forestry has not indicated plans to delay, postpone, or close this spring's open fishing and hunting seasons.
The Ontario Federation of Anglers and Hunters (OFAH) is reminding everyone they can still get outdoors and enjoy these opportunities while following proper physical distancing guidelines.
Moreover, access to green spaces, trails, and walkways remain open.
Fish ladder closed
The Ganaraska Fishway, also known as the Fish Ladder, was closed to the public by the Municipality of Port Hope on March 31.
The 11,000-acre Ganaraska Forest, however, was closed by the Ganaraska Region Conservation Authority on March 24.
Simcoe County Forests remain open, although the county is asking users to respect social distancing and those who are self-isolating not to use the more than 150 different forest tracts that combine for 33,000 acres.
OOD has also been advised of the following closures, but is aware there are many more:
Belle River Marina
Chewitt
Colchester Harbour and boat ramp
Kincardine Marina and Boat Launch
Lasalle Marina
Leamington Marina
Mitchell's Bay Marina
Port Glasgow Marina
Queenston Docks
-With files from Steve Galea
Click here for information on COVID-19's impact on marinas
Do you have information about closures you'd like to share? Provide info by clicking here
Click here for more COVID-19-related stories
For more outdoors news, click here