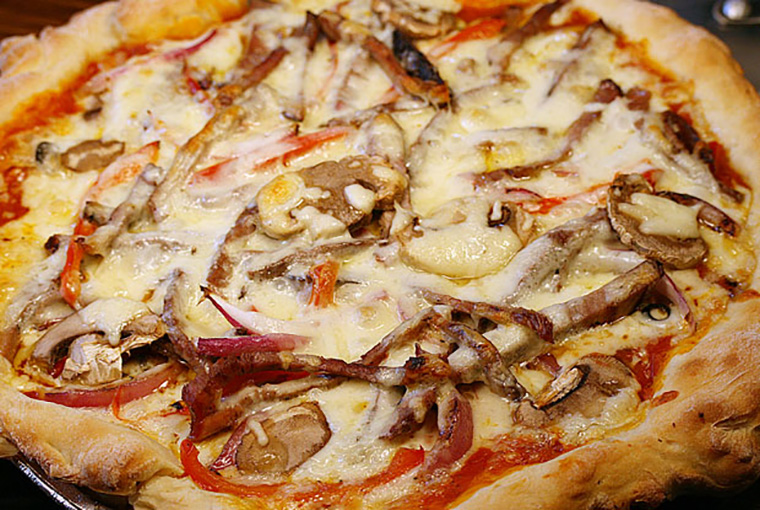 This recipe turns a venison steak into a meal for four. I use homemade pizza dough, but you can simply buy it.
Make the dough
Stir yeast and sugar into warm water and set aside. Mix flour, salt, and olive oil in a large bowl, then pour in the yeast mixture. Stir until dough forms. Spread flour over a working surface and knead dough for about 10 minutes, working in up to ½ cup of flour, as needed.
Roll dough into ball and place in bowl; cover with cling wrap. Let rise for 30 minutes, until dough roughly doubles in size. Flatten with a rolling pin into a large circle, until you can almost see through it. Place on an oven tray brushed with olive oil.
Prep meat & veggies
Lightly coat one venison steak with olive oil, salt, and pepper. Pour ½ cup olive oil into a plastic bag. Add 1 tsp. salt and 1 tsp. pepper. Cut one red onion and one seeded red pepper in quarters and toss in olive oil mixture. Remove. Grill vegetables and steak. Cook meat to medium rare. Grill vegetables until sear marks appear, but remove while still crisp.
Assemble pizza
Top pizza dough with thin layer of sauce. Add light coating of both cheeses. Top with steak and vegetables. Add a second layer of cheese. Sprinkle with salt and pepper, as desired. Bake pizza for 15 to 20 minutes in a 425˚F oven or until crust is cooked and cheese bubbling.
For more great fish and game recipes, subscribe to Ontario OUT of DOORS today.