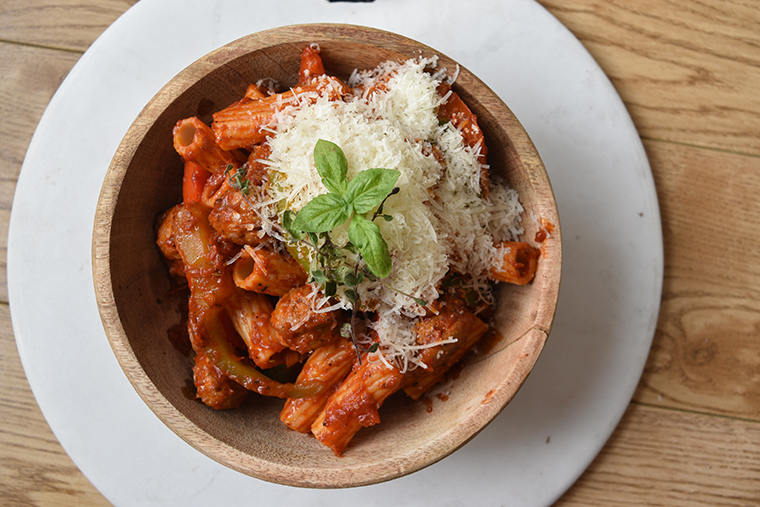 Nothing beats hearty, savoury pasta, especially with the addition of bear sausage. Feel free to add your favourite veggies to this dish to give it your own twist.
Ingredients
Serves 2
• 4 cups water
• 3 tbsp. kosher salt
• 2 cups rigatoni pasta
• 3 tbsp. olive oil
• 1/2 white onion, sliced
• 4 cloves garlic, minced
• 2 bear sausages, sliced into rounds, still in casing
• 1/2 green and 1/2 red pepper, cored, cut into strips
• 1/2 small can crushed tomatoes, about 400 ml
• 1/2 tbsp. Italian spice mix
• Salt and pepper
• 1/2 cup grated Parmesan cheese
Directions
1. Bring water and kosher salt to a boil. Add pasta and cook until al dente, approximately 12-14 minutes. Strain and set aside.
2. Heat olive oil in a large saucepan. Sauté white onion, garlic, and bear sausage for 5 minutes on medium-high heat.
3. Add peppers and sauté for another 3 minutes.
4. Add crushed tomatoes, lower heat, and simmer for 15 minutes on low. Season with Italian spice, salt and pepper.
5. Add cooked rigatoni noodles and toss.
6. Top with grated Parmesan cheese and fresh basil (optional) and serve.
Watch it here:
For a recipe on game meat tourtière, click here