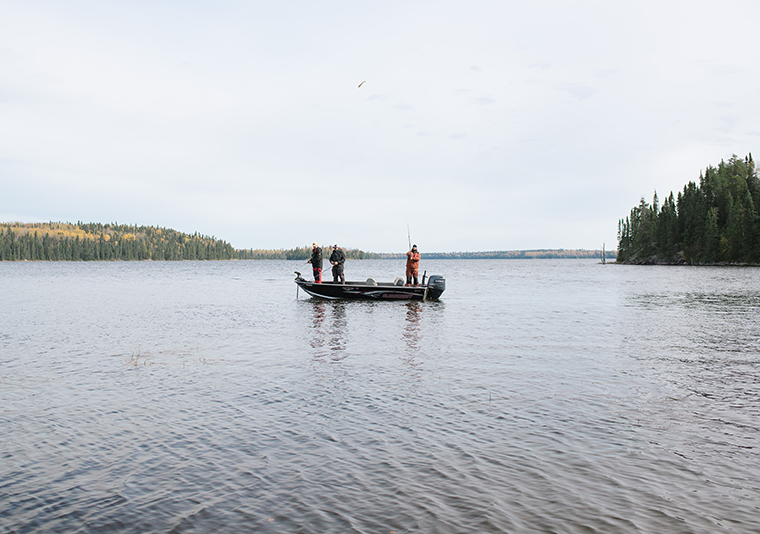 Learn more about our fishing rigs and why we love them
We use our rigs for tournaments, guiding, fun fishing, and even for writing content for this magazine. Find out what makes our boats work for us and how the upgrades and modifications we've made could work for you and your boat.
Ben Beattie
OOD's muskie/pike columnist, guide
Uses it for muskie and walleye fishing.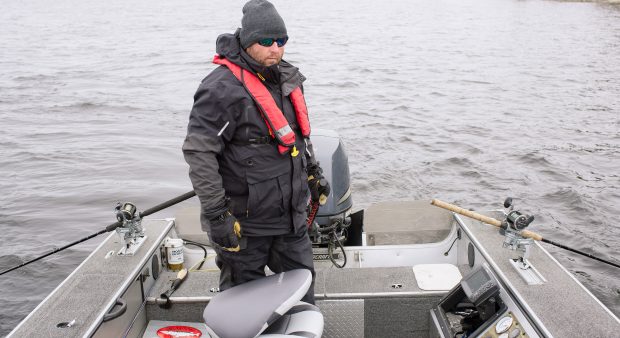 As a full-time guide, I'm on the water from ice-out in the spring to ice-up late in the fall. My T-Pro 185 is a big, wide, and solid tiller that handles the large, often rough waters of Lac Seul well.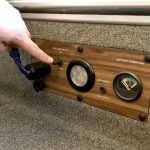 It features two livewells (front and back), centre and side rod lockers, a large casting deck, and ample storage compartments.
A tiller boat really shines when trolling for muskie. It allows for faster and more precise turns compared to a wheel boat.
Operating from the stern also keeps everything I need at arm's reach, including the graph, the motor, and the rods, which are mounted in holders on each side.
The absence of a windshield leaves the boat and passengers more exposed to the elements, but for fishing, the boat is wide open and fishes much larger than an 18-foot windshield boat.
My Terrova trolling motor also gets a workout when casting for muskie. The foot pedal has a long cord so I'm able to operate the trolling motor from the back of the boat.
The biggest advancement on my rig has been the addition of AutoChart Live on my Humminbird Helix 9 sonar/GPS unit. When activated, it generates a contour map live on the screen as I scan structure below the boat.
The detail created by this mapping feature removes any doubt about what the structure looks like. I use AutoChart Live to map out every piece of structure I fish, whether jigging for walleye, casting, or trolling for muskie.
It's a total game changer.
Luigi De Rose
OOD Bass columnist, tournament angler
Uses it for chasing bass.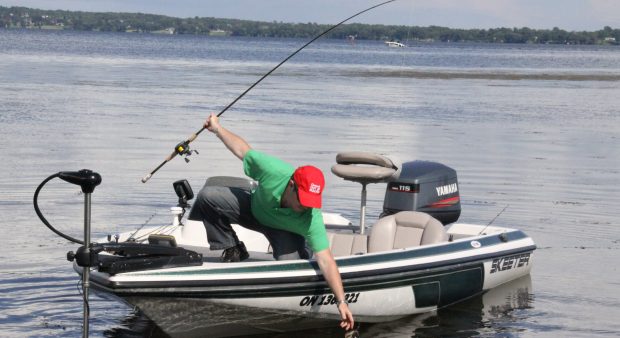 My Skeeter SX180 is a great fit for an urban guy like me.
A larger boat is not practical with driveway space at a premium. It's very economical to run compared to a full-size boat, too. This Skeeter is super stable.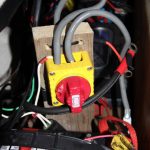 My 80-lb. Maxxum Minn Kota trolling motor offers plenty of power for chopping heavy weeds or keeping things steady in a stiff wind.
A Humminbird 858 is at the bow and a matching unit is on the console, both secured with extra-large Ram Mounts.
The trolling motor is locked in place with a TH Marine Troll Mate stabilizer lock.
Keeping the electronics and trolling motor secure is solid insurance for years of flawless use.
My boat is clean and devoid of any unnecessary accessories. I keep rods neatly piled using Velcro wraps along the driver's side seat, tucked under the cockpit.
Tackle storage is ample, except when guests overpack.
The coolest feature on-board is the Minn Kota Talon shallow-water anchor. At the launch I never have to worry about scratching against the dock while the Talon is deployed.
Gord Ellis
OOD Senior Editor, tournament angler, guide
Uses it for multispecies fishing, downrigging and tournaments.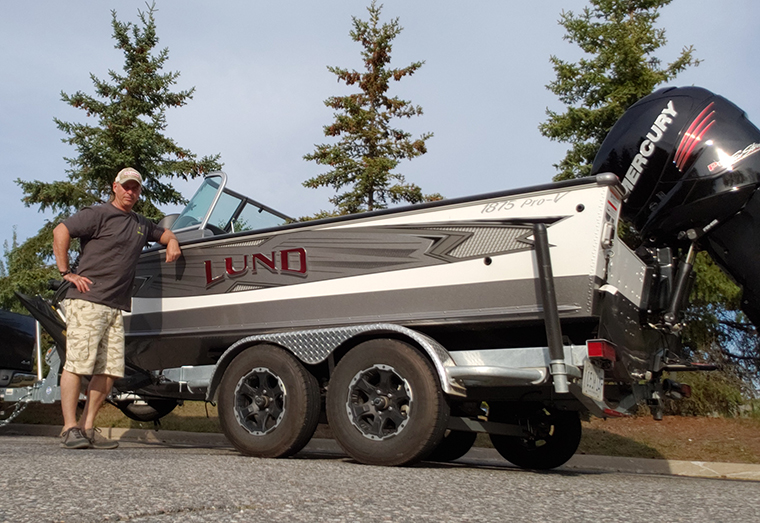 I've run several Lund Pro-Vs over the years — both tiller and wheel — and it remains my favourite multispecies boat.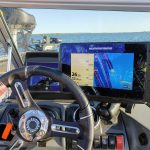 It features a built-in aerated baitwell, two livewells, in-floor rod storage, tons of compartments to hold gear, and even a built-in fish-measuring stick.
It's a beautiful boat for all types of fishing.
The layout is family-friendly with two seats that fold down for more deck space.
The windshield model is great in bad or cold weather and lots of storage is built into the console.
I rarely use the full top, but I do like the partial top in late fall when muskie fishing, for getting out of the rain, sleet, and snow.
The 36-volt Minn Kota Terrova iPilot trolling motor gets a lot of use, as there is no kicker. The 120- pound thrust moves this big boat even in stiff wind and waves.
I drive from the back using the wireless remote control to steer it.
The electronics at the console and bow are Humminbird Helix units, complete with the AutoChart Live feature that has changed my fishing world.
Jeff Gustafson
OOD contributor, tournament angler, guide
Uses it for tournament fishing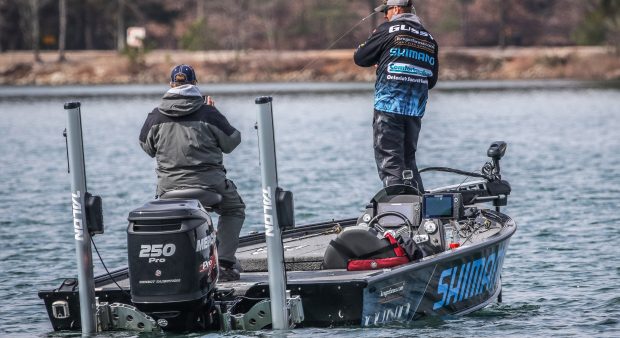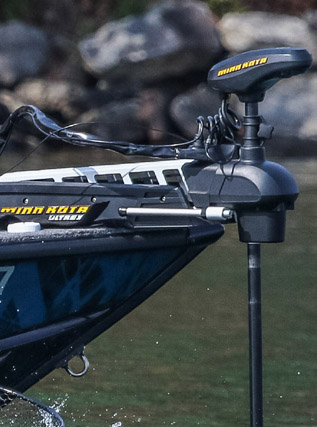 I travel all over North America with my rig. In 2018, I spent over 150 days in this boat, so you really could call it my office.
When I'm home on Lake of the Woods, I use it for guiding and multispecies fishing.
It's rigged with many great products, but a couple that stand out for me are the jack plate and the Minn Kota Ultrex trolling motor.
This boat is unique in that it is a big, aluminum, bass-style boat.
It's also wide and heavy and it really shines in rough water. It's perfect for an angler who fishes on the Great Lakes a lot.
Where I live in northwest Ontario, we often cook shore lunches on guide trips, and because this boat is aluminum, pulling it up on shore isn't a problem, as it would be with fibreglass.
The boat has a large deck, making it comfortable for three people.
It also has tons of storage, which is important for me because of all the different bodies of water I fish.
I can load all the gear I want into my boat so I'm prepared for any situation.
Mike Miller
Host of Angler&Hunter Television, tournament angler, OOD contributor
Uses it for fishing all over fresh waters of Canada and the U.S.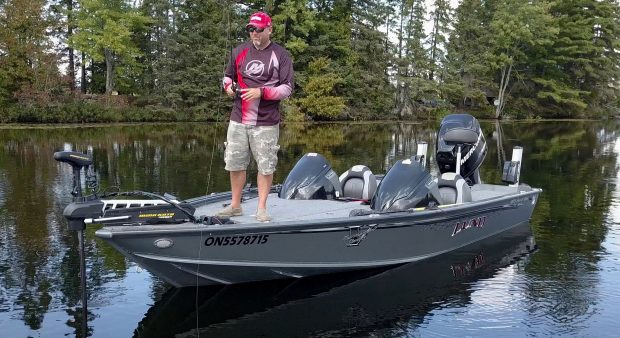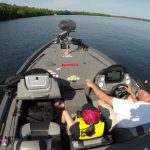 I love to target largemouth and smallmouth bass, so the Pro-V Bass is the obvious choice for me.
This mid-size boat can do it all, whether casting for bass, muskie, or pike. It has ample storage for 15 rods, and massive under-floor, dry, lockable compartments for gear storage.
Lund has one of the best rides in the business and the Pro-V Bass can handle the roughest conditions while still being nimble enough to sneak into shallow backwaters where big largemouth hide.
With Lund's sport track feature I can also mount rod holders and downriggers, which makes it a versatile rig if you like trolling for other species.
The Pro-V has massive front and rear decks that can easily accommodate three to four anglers.
I love this boat because it serves as both a fun user-friendly, multispecies fishing boat and a hard-core tournament fishing machine.
Ashley Rae
OOD contributor, guide
Uses it for multispecies adventures on rivers, lakes, and the Great Lakes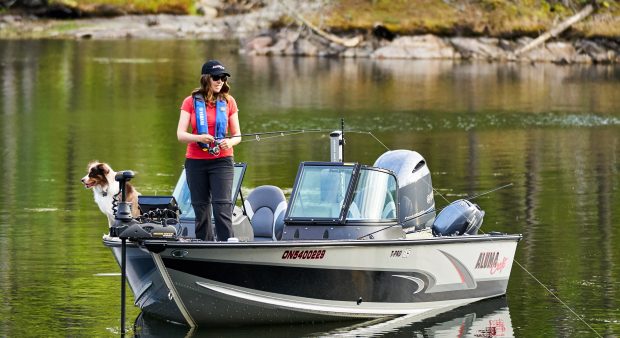 After a couple of years in a deep-V, I cannot imagine going back to another style of boat.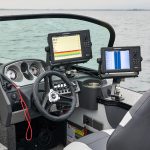 The quality, layout, spaciousness, and storage are some of the key features that drew me to the T-Pro.
The extra wide gunnels on this boat provide a great vantage point when sight fishing and are helpful when my guests are boarding or de-boarding.
It has two 18-gallon livewells and two rod lockers that hold rods up to 8 feet.
The AlumaTrac system allows me to quickly and easily mount rod holders for trolling and disassembles easily when it's time to switch to another fishing style.
I selected vinyl flooring without any regret. It's simple to clean and doesn't hold moisture like carpet.
I chose snap-in carpet for the cockpit for those late fall adventures that are sometimes icy.
I have a three-transducer set-up with dual side-imaging transducers that provide an unobstructed side view with either motor trimmed down.
A dedicated high-speed transducer gives me depth readings even while on plane at higher speeds.
To ensure my batteries don't drain when parked, I have a dedicated fuse block and buss bar connected to a master shut-off switch.
James Smedley
OOD travel editor, tournament angler
Uses it for hunting walleye on inland lakes and rivers.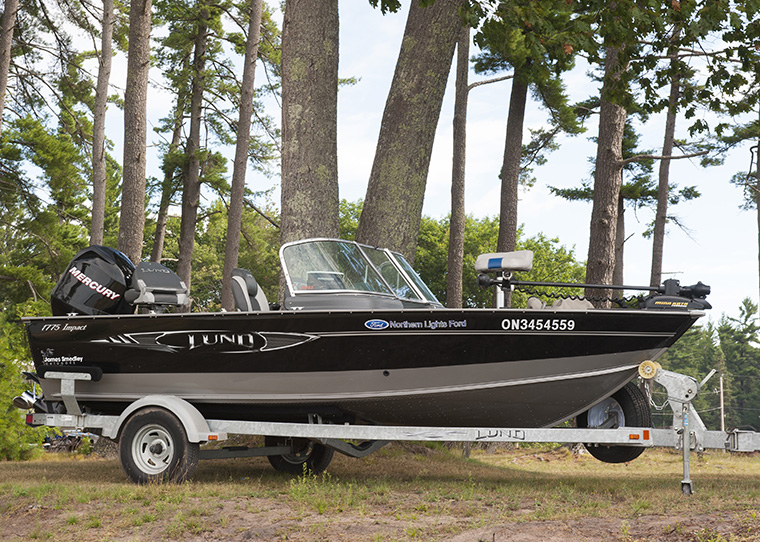 At 96 inches, it's a pretty beamy boat.
A rear-flip seat folds down to create a huge casting deck at the stern. Up front, a centre rod locker under the floor of the bow casting deck makes for easy access to 10 rods.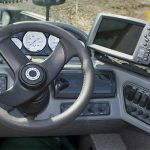 Side rod storage, tackle compartments, and a glove box that will fit a small dog make it easy to keep things organized, whether competitive angling or out with my wife and daughters.
As OOD Travel Editor, my boat visits a variety of diverse destinations each season, so it's important that it's small enough to trailer and be launched successfully at sketchy ramps, but still large enough to handle big water.
A full windshield, shock-absorbing AirRide pedestal seats, and solid IPS hull make for a comfortable ride.
The boat does 44 mph and after seven seasons, the Lund/Mercury combo is proving to be economical and durable.
I use the main motor for downrigging lake trout and salmon, or casting in current for brook trout or steelhead, but most of my walleye, pike, and smallmouth angling is done with a Minn Kota Terrova trolling motor.
Originally published in the 2019 Fishing Annual (March) edition of Ontario OUT of DOORS magazine.