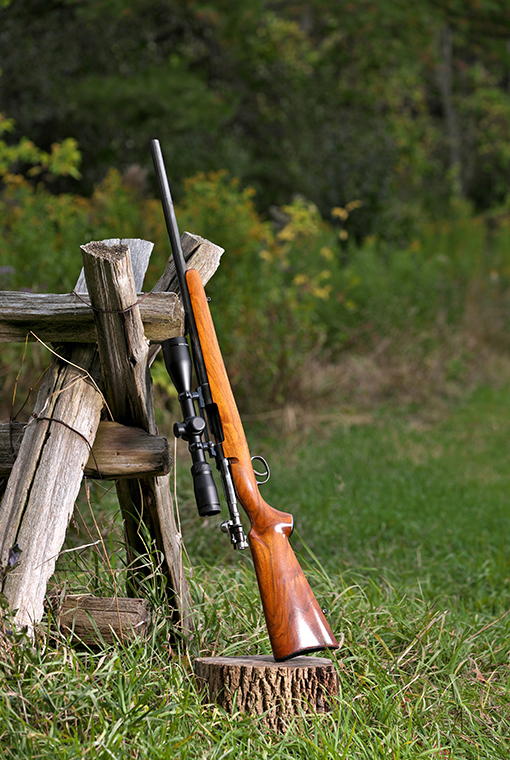 Made: GEW 98: 1898-1918; K98k: 1935-1945; new M98s: 1999-present
Variants: Wide range of calibres from .22 to .450 Rigby, and 20 gauge shotgun
Production: More than 110 million
Original price: GEW 98 cost 65 Marks ($15.48 US) in 1914
Current value: Original ERMA WWII K98k $1,399-$2,450 U.S.; Sporterized $400-$2,400
German designer Paul Mauser perfected his renowned bolt-action design over three decades. He and his brother Wilhelm started with the single-shot Model 1871 Mauser (Gewehr 71). A confusing progression of Mausers in various calibres and action configurations followed. Models like 1889 Belgian, 1891 Argentine, 1893 Spanish, and 1894 Swedish Carbine reflected the year those countries adopted Mausers for their armies. Ironically, the German Army adopted a refined Gewehr 71 as the Gewehr 88 in 1888, without consulting Mauser.
A decade later, they replaced it with the Model 98, aka Gewehr, GEW or M98. Mauser's masterpiece featured a large receiver ring, straight one-piece bolt with front locking lugs, controlled-feed, one-piece firing pin, five-round stripper clip loaded internal magazine, three-position bolt-end safety, thumb hole loading aid on left side rail, Lange Visier rear sight, unit mark disc on the butt stock (replaced with stock hole to disassemble firing pin), and a flat metal butt plate.
It was modified in 1903 to accommodate the lighter faster spitzer 7.92 x57 mm (8 mm Mauser) bullet. In 1907, all German front-line troops were equipped with the shorter lighter Karabiner (carbine) 1898 AZ.
Mauser 98: service rifle
The GEW 98 remained the dominant German service rifle throughout the First World War, with some refinements, including a shorter version for the cavalry, the Karabiner 98a. After the war, the Germans introduced the full-length Karabiner 98b as a "carbine" as allowed by the Treaty of Versailles.
In June 1935, the Karabiner 98 kurz (short) or K98k was adopted as the standard German Army Infantry rifle. It featured upgraded sights, a turned down bolt, which made it easier to operate and to mount a scope, walnut stock, and flat butt plate. Later versions had laminated stocks with cupped butt plate to prevent delamination.
In 1944, the last Model 98, the Kriegsmodell, simplified production even more. It eliminated the bayonet lug, cleaning rod, and stock disc. It featured stamped not milled metal parts and fewer serial numbers. Metal and wood finishes became even cruder as the war progressed. After the war, many countries and insurgents around the world continued to use Mausers for decades. The Mauser 98 is the most produced military rifle ever made. Its robust and reliable action became the basis for most modern bolt-action rifles including the 1903 Springfield and Winchester Model 70.
Ken Doherty is a retired teacher, curator, writer, and a long-time resident of Peterborough. He enjoys collecting, target shooting, and hunting with vintage firearms. Contact Ken at mail@oodmag.com.
Originally published in the Nov.-Dec. 2020 edition of Ontario OUT of DOORS magazine.
For more guns and gear, click here