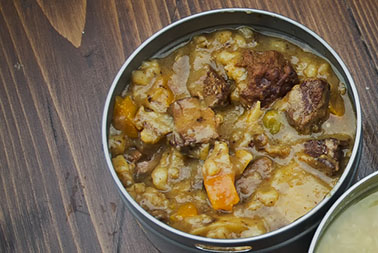 This was Dad's favourite stew to make in his logging and hunting camps. I cook it in a crockpot on low setting overnight and in the morning it's ready for ladling. Leftovers can be frozen and reheated for another day or the recipe can be cut in half.
Ingredients
1 pound venison (or beef) cut into pieces the size of sugar cubes. (Smaller pieces won't sink to the bottom of the container.)
2 tablespoons seasoned flour
2 tablespoons oil or shortening
1 chopped onion
3 cloves garlic, minced
6 (more or less) cups venison or beef stock
1 cup barley
4 cups mixed diced vegetables (carrot, turnip, parsnip, potato)
1⁄2 cup frozen green peas
Heat oil in Dutch oven. Dredge meat in flour and brown lightly in oil. Add onion and garlic and cook until soft. Transfer to crockpot or leave in the Dutch oven if stovetop cooking. Add remaining ingredients, adjusting stock for thinner or thicker stew. Cook on low setting overnight or cover and simmer on low burner until meat and barley are tender, about two hours.
Makes about eight cups.
This recipe first appeared in the Fall 2014 edition of Ontario OUT OF DOORS. Subscribe now.