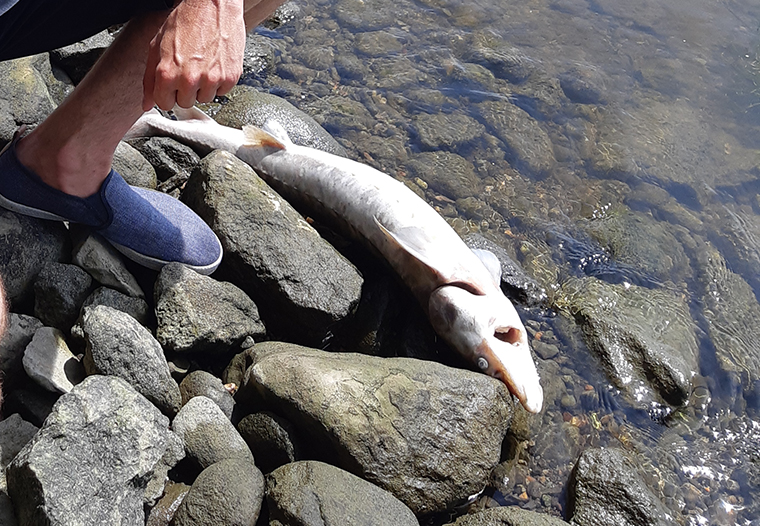 A hydroelectric dam may be responsible for the deaths of thousands of fish that washed up on Ottawa River shorelines this summer, according to local media.
Last week, the Québec government began investigating a plant on the Lièvre River in the east Gatineau community of Masson-Angers after a fourth wave of fish turned up east of the nation's capital.
A spokesman for the province's environment ministry told CTV News Ottawa that the most recent test results are still being analyzed and nothing more will be said about the hydro dam "hypothesis" to avoid tainting the investigation.
New direction
This new direction comes after necropsies done on the first wave of dead fish suggested they died from a toxic spill.
"We don't understand on what basis they are able to rule out chemical spill. In fact, the government's own lab data shows that the dead fish were most likely dead from an acute intoxication," Ottawa Riverkeeper executive director Patrick Nadeau told CBC Ottawa.
The charitable watershed protection group has received reports of dead perch, smallmouth bass, rock bass, walleye, muskie, channel catfish, longnose gar, and protected species including American eel, sturgeon and river redhorse.
The Québec Ministère de l'Environnement et de la Lutte contre les changements climatiques and le Ministère des Forêts, de la Faune et des Parcs has lead the investigation after the source was confirmed as the Lièvre.
A federal investigation is also ongoing.
"Environment and Climate Change Canada's (ECCC) enforcement officials are aware of the situation with the Ottawa River and are gathering information to determine whether there has been contravention of environmental law," spokesperson Jenn Gearey told Ontario OUT of DOORS previously.
For more outdoors news, click here