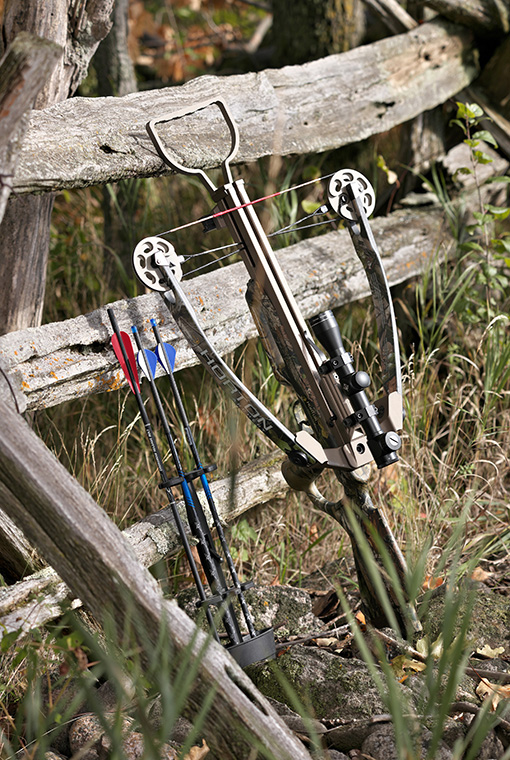 Made: Late 2008-early 2012
Variants: ReCon 175, 2008-2009; Havoc 175 (refined Vision), 2012- 2013; Fury, 2012-2013; Havoc 150, 2013
Original price: ReCon, $1,499; Vision 175, $799
Current value: Vision 175: $400
I seldom buy on impulse. But, when I spied this cool, weird-looking crossbow in 2013 for only $599, I had to have it. I didn't know that this unique reverse-draw crossbow helped revolutionize the industry and played a pivotal role in Horton's fortunes.
Unlike most crossbows, its risers are at the back of the rail with the limbs facing forward. The bowstring comes off the top of the cams back to the trigger latch, providing a longer power stroke, lighter draw weight, and faster speed. It also creates a shorter, narrower, quieter, and better-balanced crossbow. (Cocking sled required.)
Slow by today's standards, at 300 to 325 FPS, its accuracy is also impressive. I have hit other arrows at 30 yards and have shot one-inch groups at 40.
It is not clear who made the first reverse draw. James Kempf applied for an American patent in 2005 and finally received it in 2008. Meanwhile, Armcross introduced its Leopro model in 2007. Horton unsuccessfully negotiated with Kempf before launching its own in 2008. Several lawsuits later, Kempf formed Scorpyd Crossbows and also introduced his Scorpyd RDT 125 Crossbow in 2009.
Horton history
As for Horton's history, Bernard Horton founded the Horton Crossbow Company in 1963. He started making his recurve crossbows in Wales, but relocated to Scotland in 1977. With most of his sales in North America, he created the Horton USA brand in 1985. Two years later, he moved the entire operation to Akron, Ohio. The new Horton Manufacturing Company enjoyed two decades of prosperity with its recurve and compound crossbows.
Then things began to unravel. In 2007, a private investment company, Anderson Group, and existing shareholders bought the company. They released their first reverse draw crossbows, the ReCon 175 in 2008 and the Vision 175 in 2009. To meet demand, expand product line, and reduce costs, they outsourced all production to China.
Wild Communications and TVG partners bought the company and re-named it Horton Archery in 2009. By 2011, the Vision 175 was their best seller. Unfortunately, supply chain chaos, quality control issues, recalls, and tariffs forced Horton Archery's closure in April 2013.
Rick Bednar, founder of TenPoint and Wicked Ridge, and former COO of Horton Manufacturing, purchased all Horton assets on July 1st, 2013. Two years later, he resurrected the company as Horton Crossbow Innovations. He premiered their next generation of reverse draw crossbows with the Storm RDX, which included many TenPoint refinements. Now all major crossbow manufacturers include reverse draw models.
Enough history — it's time to get ready to try my Vision 175 on turkeys in the spring.
---
Ken Doherty is a retired teacher, curator, writer, and a long-time resident of Peterborough. He enjoys collecting, target shooting, and hunting with vintage firearms. Contact Ken at: mail@oodmag.com
Originally published in the Jan.-Feb. 2022 issue of Ontario OUT of DOORS
For more guns and gear, click here