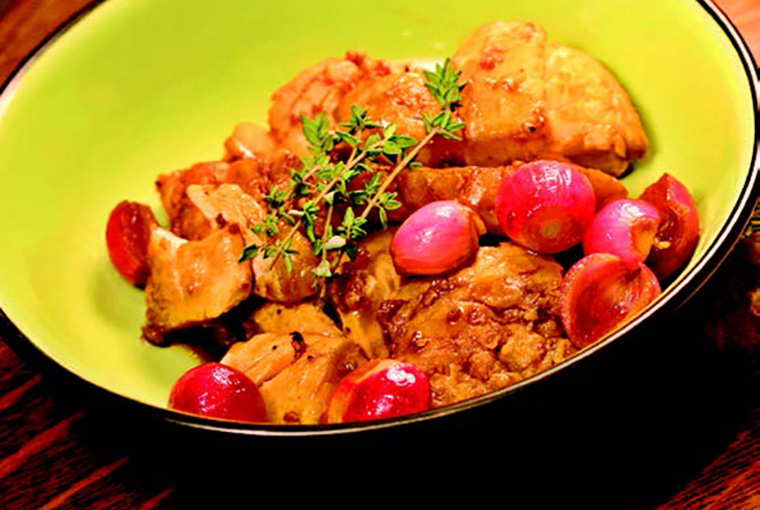 I love fish that has been simmered, so I recently purchased a Dutch oven. It's just what this recipes calls for. You can make this walleye dish up to two days ahead and refrigerate it. The longer it sits in the brine, the more pickled it will taste.
Ingredients
6 thin slices ginger root
4 garlic cloves, minced
4 whole cloves
4 bay leaves
1⁄4 tsp. pepper
1⁄2 tsp. salt
2 lb. walleye fillets, skin on
1 cup red pearl onions, peeled and halved
2⁄3 cup of rice or cider vinegar
1⁄4 cup soy sauce
2 tbsp. extra-virgin olive oil
4 fresh thyme sprigs
Instructions
1. In a large, shallow Dutch oven or deep skillet, bring onions, vinegar, soy sauce, oil, thyme, ginger, garlic, cloves, bay leaves, salt and pepper to boil.
2. Meanwhile, cut fish into 3-inch pieces. Add to pan, reduce heat, cover, and simmer. Baste fish occasionally, until it flakes easily (about 10 minutes). Using slotted spoon, transfer fish to platter. Cover and keep warm.
3. Bring sauce to boil, and reduce until you have about a 1⁄2 cup of sauce and onions are softened (two to three minutes). Pour over fish.
4. Serve hot or cold, with crusty bread or rice. If refrigerating, store in an air-tight glass or plastic container.
This article originally appeared in the Ontario OUT of DOORS 2013 Fishing Annual. To get more recipes like this, subscribe to OOD today.