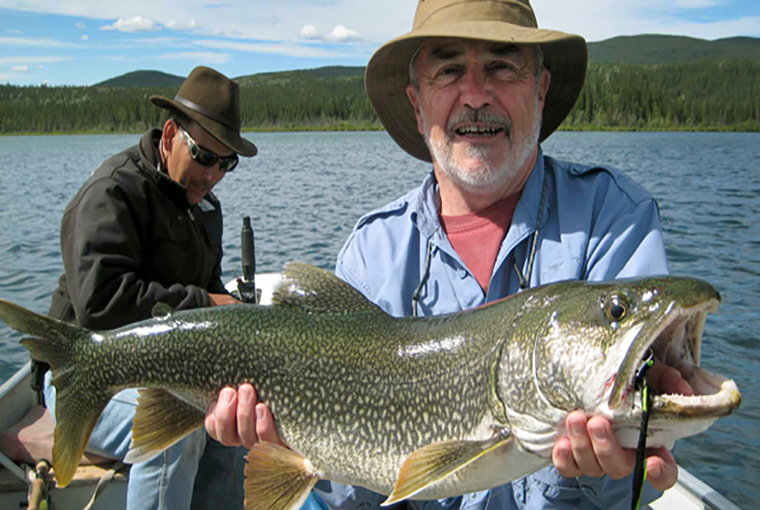 Angling's holy grail has always been that mythical water that's never seen a wet line. I've come close on a canoe crossing of the Ungava Peninsula, casting into pothole lakes along a 2-day portage over a height of land – waters thick with exquisite landlocked char. But, imagine an entire lake and river system that has a luxurious lodge, yet is virtually unfished by the paying public. It's rare, but one exists deep in the hills and dense bush of the southeast Yukon.
Skanse's Grizzly Creek Lodge on the Toobally Lakes has an interesting history, amazing presence, and a future rich in promise. The Tooballys are 90 air miles over rugged country from the Alaska Highway town of Watson Lake. This makes Grizzly Creek one of Canada's more remote lodges, in terms of air distance from a civilized centre. This alone would lure me, but the fishing, ambience, and wildlife surpass expectations, for a combination that hooks you deeply.
In the beginning
To say there are large numbers of big lakers, enormous pike, and Arctic grayling would be to give truth the short stick. But first, the background story. Grizzly Creek was built 20-some years ago by a wealthy American businessman for the exclusive use of his family and a few select friends. The remoteness ensured exclusivity and the family's stringent fishing ethics protected the pristine stocks. Log builders were flown in to help erect superb cabins and a main lodge on Lower Toobally Lake. Then, a second smaller lodge and log cabins were built on the upper lake. The 11-mile jet-boat ride from the main house, up the grayling-rich Smith River to the upper lodge, is an adventure in itself.
From the start, lodge manager David O'Farrell and his wife, Reggie, were involved in every step. They maintained the establishment for the owner, who is now stepping back, and the O'Farrells, with their children, James and Katie, run the lodge. Last year was the first summer Grizzly Creek was open to a handful of paying guests.
The period of operation is limited to about four or five weeks in June and early July, when lakers prowl the upper levels of the clear, cold lakes. The clincher is that guests will usually be restricted to a total of four at one time; perhaps only 16 in an entire summer. Compare this to some northern lodges where there are that many guides, never mind sports.
Swinging a fly
While all legal styles of fishing can be accommodated, the emphasis is on fly rods, and if you've never handled a 20-pound lake trout on a 9-foot 8-weight, be prepared for a treat. I took only fly tackle on my visit. Hooks must be single and barbless.
The two lakes are each about 10 miles long and up to 11/2 miles wide. Numerous shoals come close to the surface, providing structure and habitat.
Early after ice-out in June, lake trout can be caught by casting on or near the surface, but trolling a sinking line and a large weighted streamer is most productive. The fish hit like runaway moose, boring deeply while peeling backing, and will test the muscles of any arm and shoulder.
Pike can be caught in the open water, but the big girls lurk in shallow bays. Sight-casting to 45-inchers is common, so is having several big fish compete for the fly. As with lakers, the strength and speed of these pike seem beyond the norm.
The Smith River, which connects the lakes and then eventually runs into the fabled Liard River, is a worldclass grayling haunt with vast stocks. I saw fish in the 18-inch range, but they will go over 22 inches. All hit dry flies with gusto.
I also saw 16 moose during my stay, without specifically looking for them. You will also almost certainly see trumpeter swans and bald and golden eagles. For domestic beasts, the O'Farrells have a Karelian bear dog among their extensive canine roster. This is grizzly country.
Well-armed hike
Want more? There's a hike-in lake that guests typically visit during a week's stay. It has an unbelievable population of uniformly huge pike. The hike from lower Toobally Lake into Jack's Lake takes an honest 45 minutes. Some slopes are better than 60 degrees, thus conversation, like the forest trail, is uneven.
When dialogue does break out, it touches on the big Yukon pike we hope to find, but keeps returning to bears. Beside the trail, a ravaged poplar's bark shows where a big bruin climbed. There are overturned deadfalls. Dave O'Farrell carries a pack containing lunch for six, a radio, and a .35 Whelen. James rides rearguard with a .375 Ruger. Skanse's Grizzly Creek Lodge is aptly named.
Done right
The lodge owners had high standards when they built the place, and the array of amenities reflects this. The main lodge is a gorgeous structure, its living room like the inside of an old Tzarist hunting lodge, but with quietly generated electricity from 7 a.m. until late evening, wi-fi, wine with meals, and Reggie's exceptional cooking. The rod shack has a good array of tackle for guests' use, if they need it, and there are also rubber boots, waders, and the like. If need be, the O'Farrells can totally outfit a guest. The shower cabins have unlimited hot water, a wide selection of toiletries, heaters, and squeaky cleanliness. Oh, and oak flooring. Martha S. would be impressed!
Given the distance from the civilized world and that everything has been flown in 90 air miles, the comfort and quality are outstanding. Perhaps the most important aspect, however, is the competence of Dave and James O'Farrell as guides and as real outdoorsmen. Both also run Yukon trap lines and guide hunters each fall. Dave, 47, was a horse wrangler at 15, a guide at 16, and, as a musher, ran the torturous Yukon Quest sled-dog race and finished ninth in 1997. The O'Farrells live and breathe a wilderness life that few others do or can. To spend time with these delightful people is to immerse yourself in the real north.
Traveller info
The trip
Incredible fishing for big lake trout, pike, and grayling at a remote, luxurious lodge.
Transportation
Spectacular 90-mile float-plane flight over rugged terrain to main lodge on Lower Toobally Lake. Travel to fishing by 30-hp jet boats and aluminum boats with 15-hp outboards. Overnight stay in Whitehorse, rental car to Watson Lake, and float-plane flight are included in package.
Accommodations
Comfortable log structures with electricity, wood stoves, superb shower cabins, and a gorgeous lounge to relax in, as well as use of canoes and kayaks. Package includes breakfasts, packed or shore lunches, and large supper with wine. Expert guide service, with one guide for every two anglers. Four nights at the main lodge and two nights at the upper lodge for $4,900 CAN per person.
Getting there
From Whitehorse, Yukon, drive 500 km along the Alaska Highway to Northern Rockies Air in the town of Watson Lake.
Checklist
Hat, sunscreen, warm fleece, and rainwear.
Comfortable rubber boots.
Nothing more dressy than jeans.
8-, 9-, or 10-weight fly rod, sinking and floating lines, 80-pound fluorocarbon for leaders, flies, strong reel with lots of backing for pike and lake trout.
4- or 5-weight rod and dry flies for grayling.
Pack light; the float-plane weight limit is 50 pounds per person.