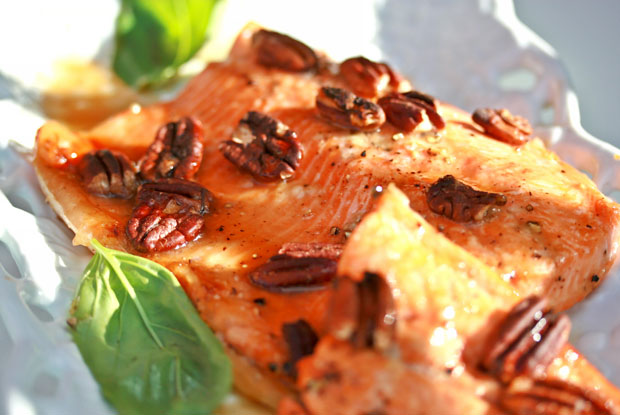 Salmon is a great fish to bake in the oven. This recipe combines the sweetness of maple syrup with the crunch of the pecans and blends it with the supple salmon to create the perfect bite.
Ingredients
• 4 tbsp. maple syrup
• 1 1/2 tbsp. soya sauce
• 1/4 tsp. horseradish
• 1/4 tsp. ground ginger
• 1 pound salmon fillet, with skin on
• 1/3 tsp. fresh ground black pepper
• 1/2cup pecans
Instructions
Preheat oven to 450˚F. Mix together the syrup, soya sauce, horseradish, and ginger. Place the salmon, skin side down, in a greased shallow pan. Pepper the fillet. Pour glaze over fish. Top with pecans and bake for 15 to 17 minutes or until the fish flakes easily.
Watch the pecans, as they tend to burn if too close to the heat.
This article originally appeared in the July 2015 edition of Ontario OUT of DOORS. For more recipies like this, subscribe today.