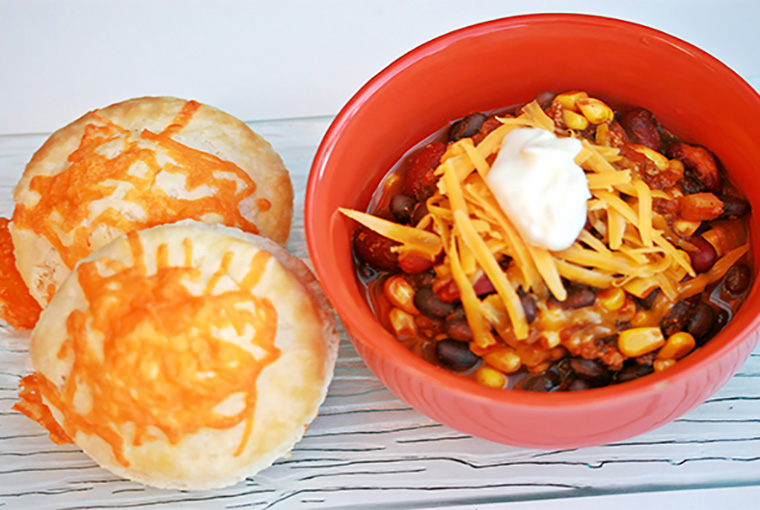 There is nothing simpler or better than a steaming bowl of chili. This recipe has a Mexican edge to it, freezes well, and these cheese buns are a delicious complement to the chili. Moose or even venison make a great substitute for the elk.
Chili ingredients
-1 1/2 to 2 pounds ground elk
-1 can kidney beans (15 ounce)
-1 can niblet corn (11 ounce)
-1 can black beans (15 ounce)
– 1/2 cup onion, chopped
-1 cup celery, chopped
-2 jars tomato sauce (15 ounce each)
-1 tsp. tomato paste
-1 tsp. Mexican chocolate, grated (If you can't find, a bitter chocolate will do.)
-2 tsp. chili powder (or to taste)
-1/4 tsp. red chili flakes (or to taste)
-1 cup shredded old cheddar cheese
-1/2 cup sour cream
Chili instructions
In a large pot, brown elk meat, then add all other ingredients except cheese and sour cream. Stir and bring to boil, reduce to a simmer for 30 minutes. Simmer longer if desired, but be sure check liquid content and add more tomato sauce if needed. Serve in bowls and top with cheese and sour cream.
Cheese bun ingredients
-1 3/4 cups all purpose flour
-4 tsp. baking powder
-1 tbsp. granulated sugar
-1 tbsp. dried parsley
-1/2 tsp. salt
-1/2 tsp. garlic powder
-1/4 cup butter, frozen
-1 cup cheddar cheese, shredded
-1 cup milk
-1/2 cup shredded cheese to top buns
Cheese bun instructions
In large bowl, whisk together flour, baking powder, sugar, parsley, salt, and garlic powder. Grate frozen butter into flour mixture. Toss with fork until mixture resembles coarse crumbs. Add cheddar cheese and milk, mixing with fork until ragged moist dough forms. Drop by 1/4 cupfuls, 1 1/2 inches apart, onto greased baking sheet. Top with shredded cheese. Bake in centre of 425°F oven until lightly browned, 13 to 15 minutes.
Get the recipe for elk and Guinness pie here.