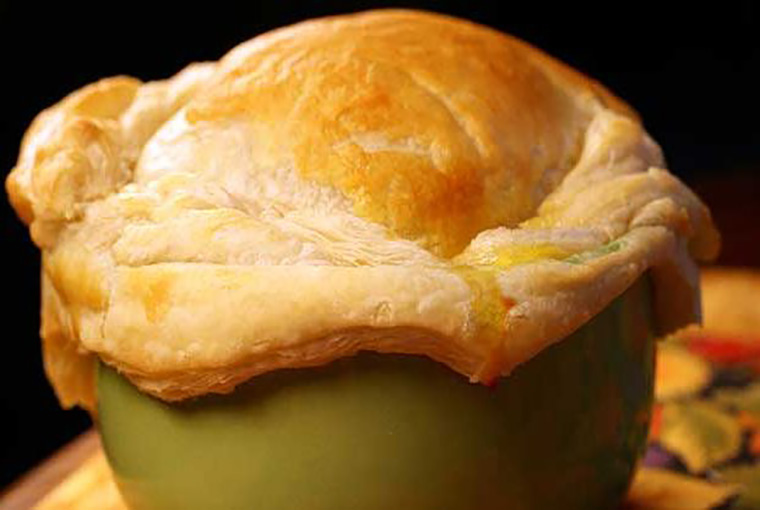 I love to blend recipes to come up with a special one that everyone enjoys. I also look for shortcuts that don't make a taste difference to the end product, but save time, effort, and mess. This recipe is a combination of these. I use elk, but try it with moose or deer, too.
Ingredients
2 lbs. elk steak
1 tsp. steak spice
2 tbsp. vegetable oil
1 large onion, coarsely chopped
2 garlic cloves, chopped
½ lb. cremini mushrooms, quartered
3 tbsp. water
1½ tbsp. tomato paste
1½ cups beef broth
1½ cups Guinness
1 tbsp. Worcestershire sauce
2 tsp. drained, brined green peppercorns, chopped
2 fresh sprigs thyme
1 package frozen puff pastry
1 egg, beaten with 1 tsp. water
Instructions
Preheat oven to 350˚F. Heat barbeque to high. Coat steak with steak spice on both sides. When grill is hot, place elk on grill and cook for 3 minutes, flip and cook for another 2 to 3 minutes. Remove from grill and cut into 1-inch pieces.
Heat oil in a 5- to 6-quart ovenproof heavy pot over medium heat until oil is shimmering. Add onion, garlic, mushrooms, and water to pot and cook until onion is softened, about five minutes. Add tomato paste, stirring for about one minute. Stir in elk with any juices on plate, broth, beer, Worcestershire sauce, peppercorns, and thyme. Bring to a simmer, then cover and transfer to oven. Braise until elk is tender and sauce is thickened, about 75 minutes. Discard thyme and cool stew uncovered for 30 minutes.
Turn oven up to 425˚F. Divide stew into two to four bowls (or make into one large pie). On a lightly floured surface, roll out puff pastry into a 13-inch square (it should be about 1⁄8 inch thick). Cut dough into quarters. Brush a 1-inch border of egg wash around each square. Invert one square over each bowl and allow to drape over sides. Press lightly to help adhere to bowl. Brush the tops with the remaining egg wash.
Bake pies in preheated pan until pastry is puffed and golden, about 20 minutes. Reduce oven to 375˚F for 5 more minutes to fully cook dough.