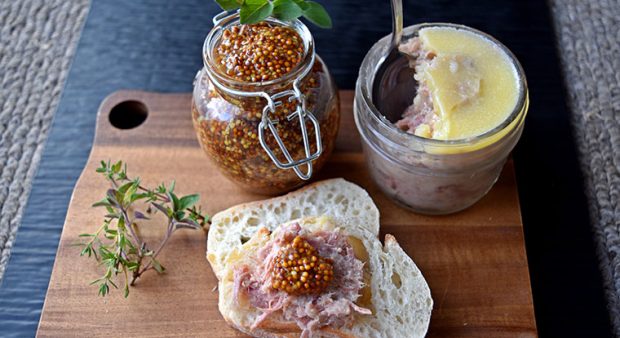 This rich, creamy duck rillette (think paté) pairs perfectly with sweet, homemade maple and beer mustard.
I love to make my own condiments, whether it's homemade ketchup, relish, or mustard. But you could easily substitute a good store-bought mustard.
Makes Two Mason jars of rillette and just over a cup of mustard. 
Directions
1. Rub duck legs with salt and fresh thyme. Cover and refrigerate overnight.
2. Preheat oven to 300˚F. Rinse off duck legs with cold water and place in an ovenproof casserole dish.
3. Add garlic cloves, bay leaves, black peppercorns, and port wine. Cover with chicken broth.
4. Cover baking dish with tinfoil, and place in oven for 1½ hours, until meat falls from the bone. Remove from liquid and allow to cool.
5. Save 1/3 cup of braising liquid. Discard the skin and pull meat from the bone. Using two forks or your fingers, pull apart the meat until nicely shredded.
6. In a bowl, mix duck meat, braising liquid, Grand Marnier, allspice, and 2 tbsp. of melted butter. Season with salt and pepper if needed.
7. Pack duck rillettes into 8 oz. Mason jars, making sure no air is trapped inside. Melt butter in a small pan, and cover the top of the duck-filled jars with enough melted butter to be flush with the top. Affix lid and refrigerate for up to a month.
Mustard
1. Mix mustard seeds, beer, and vinegar in a bowl. Cover and let sit overnight (about 10 hours).
2. Place contents of bowl into a food processor. Add maple syrup, salt, and pepper.
3. Blend for 20 seconds, until ingredients are mixed well, but mustard seeds are not pureed. Spoon into a clean jar with tight-fitting lid. Store in refrigerator.
4. To serve, spread a small amount of rillette on a slice of baguette and top with a touch of grainy mustard.
Check out how to make your own venison jerky here.