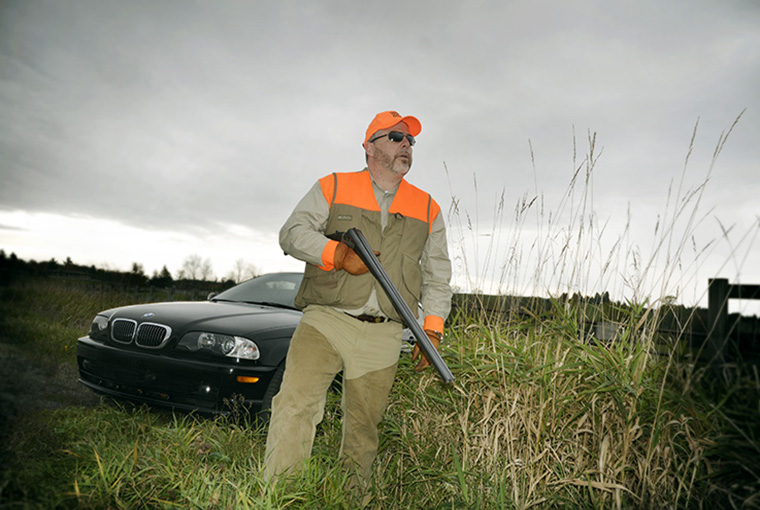 Upland hunting is an active pastime. During a typical outing, hunters will walk for hours, often through thick cover and slick, uneven terrain. They will risk getting pierced by thorns and sticks, turning ankles, and falling – all for a shot at their favourite game.
Anyone can step afield wearing street clothes and a bit of hunter orange, but serious upland gunners know that the right gear protects and helps you get into those places where game resides.
Footwear
Start with a comfortable pair of quality boots. "A hard-core upland hunter spends a lot of time on his or her feet," said Justin Behnke, product line manager for Danner Boots. "Good boots let you focus on the hunt."
"Weight is an important consideration," said Brett Ference, hunting product development specialist for Orvis. He says Orvis determined the average upland hunter takes approximately 2,000 steps in a typical two hour hunt.
"If each boot weighs 1.5 pounds, you're moving 3,000 pounds with your legs over the course of a short hunt," he said. "Heavier boots wear you out quicker."
Looking to truly minimize weight? Rocky's Athletic Mobility 1 is hard to beat at less than one pound apiece. "This boot is lightweight, rugged, and great for the early season," said Joe Lublin, sales manager for Rocky Canada.
Before snow, treads should be midrange in aggressiveness. Too deep, and they collect mud and stones; too shallow, and traction suffers.
Your boots will be in constant contact with abrasive terrain, so they must be durable, too.
Two classics, Danner's Grouse and Orvis' Kangaroo Upland boots are fine examples of upland hunting boots. Rocky's 9-inch Outback Moc Toe is another stylish boot that will provide good traction through the thickest cover.
If you prefer footwear lower on the ankle, Irish Setter's Wingshooter Upland model with 7-inch height is a good choice.
Pants
Hunt through hawthorns once and you will be thankful for upland pants. The best are durable, lightweight, and breathable with tough facings designed to protect your legs. They deter thorns and repel burrs and water.
Filson's shooting ambassador, Bill Simmons, says the fit should be relaxed. Behnke advises to examine construction and stitching, especially at high-wear areas, such as knees and crotch. Orvis' Missouri Breaks Briar pants and Filson's Shelter Cloth Brush pants with twill binding are among the best.
Shirts
Comfortable long-sleeved shirts, loose enough to allow you to swing a shotgun, are ideal in the uplands. In early season, mesh panels keep you cooler. Later, warmer fabrics, such as wool or fleece, are more appropriate. Hunter orange is required if that shirt serves as your outer layer. Otherwise, it's a matter of personal preference.
Vests
A vest is a must-have to carry shells, snacks, game, and other essentials. Traditional vests keep you warmer and strap vests allow more freedom of movement.
A quality vest is breathable, water repellent, and accessible – you shouldn't have to take it off to put a bird in the game pouch or access an item. An easy-to-clean game pouch is also a plus.
Browning's Bird'n Lite vest is a great example of a modern vest with traditional styling. Its front-loading bloodproof game bag provides excellent accessibility on the move, and it's designed to distribute weight for less fatigue afield.
Coats
Durable, warm, well-constructed, and water repellent – these are the qualities to look for in upland coats. They should also allow uninhibited movement for wing shooting.
Filson's Shelter Cloth hunting coat, with its five-point game bag, fits the bill. Likewise, Orvis' Wet-Weather Upland shell, meant to be used in conjunction with a strap vest, is tough as nails – the company tested the fabric on dog vests first.
Hats
An upland hat should keep you comfortable and dry, yet be highly visible and protect your head and eyes from injury and harsh sunlight.
In early season, a hat should be vented or designed to wick away moisture. I prefer a ball cap with a sweat band. Later, wear something warmer that will protect your ears. A good option is Filson's Tin Cloth insulated cap with blaze orange.
Gloves
A good pair of properly fitting leather gloves will keep your hands from looking like you tried petting a wildcat. They should also allow enough dexterity for gun handling. Simmons likes deer-skin models for these reasons.
Eye protection
Protective glasses are essential eye protection in thick upland cover. Buy two pairs, one for open cover and one that allows you to see in dark, shady spots. The first time your glasses deflect a thorn, you will be thankful you did.
Each hunt in the uplands takes you through terrain that's tough on your clothes and boots, so quality apparel is well worth the cost.
If only all of our investments were this smart.