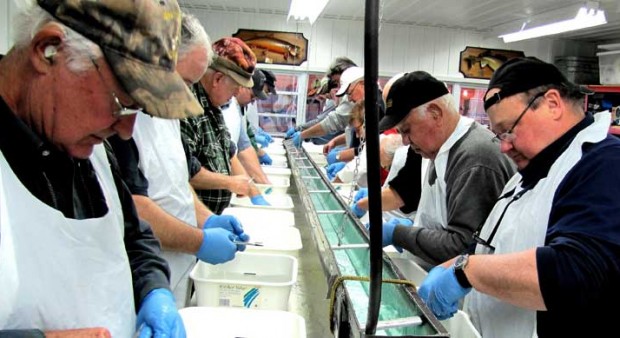 The Community Hatchery Program (CHP) is providing greater funding than ever before to community hatcheries raising public fish for public waters in Ontario.
Some community hatcheries would find it challenging to remain operational without the support of a new funding partnership program between the Ontario Federation of Anglers and Hunters (OFAH) and Ontario Ministry of Natural Resources and Forestry (MNRF).
The MNRF has committed $250,000 annually for 3 years to allow the OFAH to administer CHP, which allocates funding and provides technical support to community based fish culture and/or fish stocking programs. CHP also assists community hatcheries to fulfill government requirements with respect to fish health, proper egg collection and the rearing and stocking of fish.
More than 1,400 dedicated volunteers donated nearly 70,000 hours operating community hatcheries in 2013.
Raising fish is not only time consuming, but the high costs of energy bills, fish feed and equipment can make hatcheries very expensive to operate. This year, CHP provided $151,513 to 41 different community hatcheries in Ontario that stock about 13 million fish annually throughout the province. This is more than double the amount of funding that has been available to community hatcheries in the past.
"We have been very pleased to receive the much needed increase in funding from the Community Hatchery Program, which will allow us to continue operations and improve our stocking program," explained Kit Brown, volunteer with the Lake Erie Salmon and Trout Club.
Community hatcheries stock fish that contribute to rehabilitation of fish populations and create fishing opportunities for Ontario anglers. Many hatcheries double as a learning centre in their local communities by providing education on fish ecology and conservation for youth and the general public.
Community-based fish culture is built on a foundation of passion, dedication and genuine concern for resource management. Whether volunteers are raising Walleye, Lake Trout or Chinook Salmon, their commitment to raising and stocking fish can now be reinforced with greater funding and technical support through CHP.