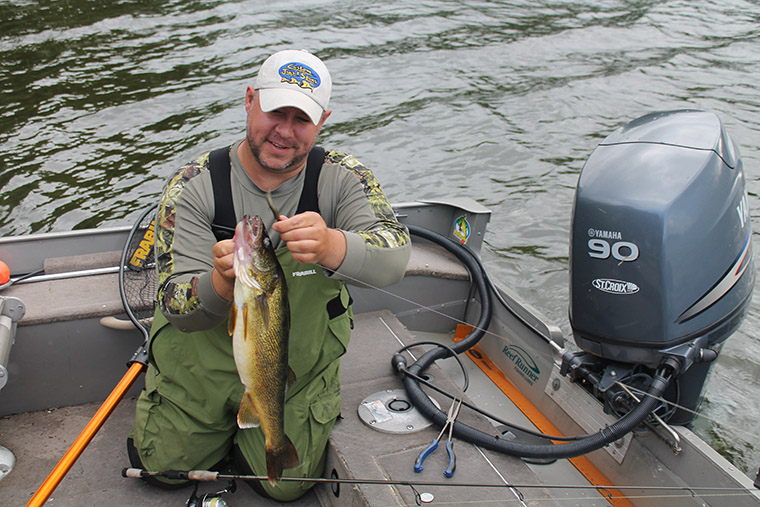 Fishing guides competing against anglers equipped with the latest in fish-finding technology can no longer rely solely on years of experience to attract business. They have to offer a more complete, catered experience in this evolving industry.
JP Bushey, Ontario OUT of DOORS columnist and operator of Bushey Angle Guided Fishing, has been taking anglers around Ontario waterways for decades. He says guides have had to adapt to changing environmental and economic conditions.
Today's guides have to understand the complexities of the Canadian dollar as well as the changing preferences of their customers. They must convince anglers that they can provide them with an experience beyond just catching fish.
"Anybody with a boat can take you out and help you catch a fish," said Bushey. "Where a lot of the good guides stand alone is personality and the ability to teach or coach. The guide has to keep in mind that this is the guest's day. You're a salesman; you're a teacher; you're a tour guide."
The economics of guiding
The days when Ontario fishing guides could rely on a steady stream of tourists, many from the United States, ended when the 2008 economic crisis hit. This, combined with a Canadian dollar close to par, kept Americans at home.
Those who did venture north often opted for cheaper fishing packages. No need to pay for a guide when you can outfit yourself with the latest GPS and a cellphone app that maps out your favourite lake. That's the kind of thinking camp owners and guides are working to change.
Although the recent rebounding of the American economy and rise of the U.S. dollar has helped the guiding industry, the heyday for Ontario guides seems to be over.
More than a fishing lesson
Bushey says a decade ago American anglers flocked to Ontario because they couldn't find fish closer to home. In recent years, the cleanup and stocking of many American waterways has revitalized the U.S. fishery. This has led Canadian guides to offer a more holistic fishing experience, ranging from lessons on different species to the latest trolling techniques.
Ben Beattie, another Ontario OUT of DOORS columnist and part owner, co-manager, and guide at Winoga Lodge in Sioux Lookout, says guides at most camps are also using high-tech fish-finding tools. Waypoints and drop-offs help guides get on the fish faster as well. Guides who just operate the boat, provide bait, and cook shore lunches are a dying breed.
Guides have to share local history, talk about the geography, and be prepared to swap stories. "You have to be a people person first and foremost," said Beattie. "If you spend 10 hours a day with somebody you have to find a way to relate to them on another level besides just fishing."
Customer service
Beattie says many anglers who start their trip without a guide change their minds and hire one after the first day. "They don't realize how big the lake is. They go out there and struggle on day one. They're looking at four days of that and will often say, let's make the most of this and hire a guide."
Generational guides, the guys who made a living at the same camps for decades, are being replaced by the likes of Bushey and Beattie. The new breed of guides promote their services online and take pride in hiring and training summer students to properly serve their customers.
"I only know a handful of guys with 20-plus years of experience," said Beattie. "It's not an easy job. You don't do it to get rich, you do it because you love the work."
Click here for some great fishing trip ideas.