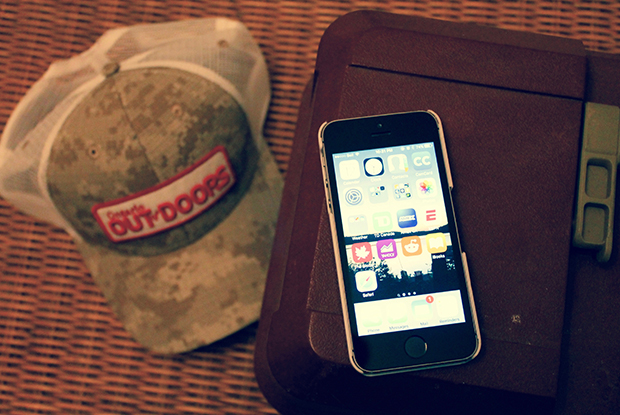 Computers aren't what they used to be. Sleek smartphones now pack the power of a PC in your pocket. Their incredible versatility and portability has given rise to hundreds of thousands of applications (or "apps"). We use them to selectively surf the Internet, find locations via GPS, control the temperature in our homes, watch TV, and more than ever, to go fishing.
We've looked into the rapidly evolving world of angling apps and come up with eight that are likely to improve your day on the water.

Scoutlook Fishing
Platforms: Android, iOS
Cost: free; has ads and in-app purchases
Developer site: https://www.scoutlookweather.com/fishing
The Scoutlook Fishing app uses the power of the Scoutlook Weather service, which makes sense, since fishing success is so often tied to the weather. Most impressively, it allows you to check precise conditions for specific GPS locations. As well, you can store your favourite fishing spots, log your catches, and scan map overlays such as radar, terrain, and basic water charts. It also comes with access to Scoutlook fishing articles and has a handy built-in tutorial.

Fishbrain
Platforms: Android, iOS
Cost: free; premium version: $7.95 U.S. per month
Developer site: http://fishbrain.com/
Fishbrain is like Facebook for fishermen. The free version allows you to post and share pictures of your catches as well as location, size, lure, etc. You can follow specific species of fish and check out pics posted by thousands of anglers. The premium version gives you access to specific map locations and the ability to mark and share locations.

GoFree Hooked
Platforms: Android, iOS
Cost: free
Developer site: http://www.gofreemarine.com/apps/hooked
This app was developed in conjunction with Lowrance and Simrad chartplotter. It doubles as a fishing log and personal tournament creator that keeps track of weather, wind, GPS location, time of day, etc., as you record and photograph your catches. Invite your friends to a mini-tournament; they'll just need to download the app. A live leaderboard helps keep the competitive juices flowing.

Fish Cacher
Platforms: iOS (iPhone only)
Cost: free; in-app purchases; pro version: $1.99 US
Developer site: http://fishcacher.com
Fish Cacher is similar to GoFree Hooked, but is available for iOS only and has no major industry affiliation. It's possibly the best fishing log available, as it tracks weather, wind speed and direction, water temp, GPS location, fish specie, size, lure type, depth fished, and so on. Once you've logged catches, you can go back and see which patterns worked and under which conditions. Serious anglers: the paid version includes a trip planner, which is worth the minor investment.

Orvis Fly Fishing
Platforms: Android, iOS
Cost: free
Developer site: https://www.orvis.com/app
Don't let the name fool you, this app isn't just for fly fishing enthusiasts. It has a great section on knots, including step-by-step instructions and animations, plus how-to articles, videos, and fishing reports for most states and provinces, including Ontario's Grand River and some northwestern Ontario lakes. Of course, it wouldn't be Orvis if it didn't contain a complete repository of flies, including when, how, and where to use them.

Pro-Knot
Platforms: Android, iOS
Cost: $1.99 U.S.
Developer site: http://www.proknot.com
Pro-Knot has one of the biggest knot repositories I could find. It has tons of useful fishing knots as well as rope knots, so it's handy for boating, too. Each knot has step-by-step instructions, illustrations, and how-to videos. Its "My Favourite Knots" feature houses 100-plus knots (102 in Android, 122 in iOS). If you're searching for a better knot, chances are you'll find it here.

Useful Fishing Knots
Platforms: Android
Cost: free; has ads
Developer: Neptuns apps (no site)  
If you want a really good fishing knot app for no cash, download Useful Fishing Knots. It has great illustrations and explanations for each knot, though it lacks a video tutorial. We found this to be the best free fishing knot app and least ad-saturated. It's easy to use and features over 40 knots, which are updated frequently.

Navionics US & Canada
Platforms: Android, iOS
Cost: Two week free trial; yearly subscription: $16.99 or $64.99 for U.S./Canada version, depending on features, up to 50% off in subsequent years
Developer site: http://www.navionics.com/en/mobile-pc-app
Navionics is a powerful boating app that offers a mind-boggling array of features, such as navigation charts, U.S. government charts, sonar charts, wind forecasts, markers, trip tracking, and so on. It also doubles as a GPS with a brain. And with constant community edits and chart updates, this app is as up to date as possible.

Get the most out of your fishing time with our guide to stress-free tackle organization here.