Rods, reels and lines are in fine form.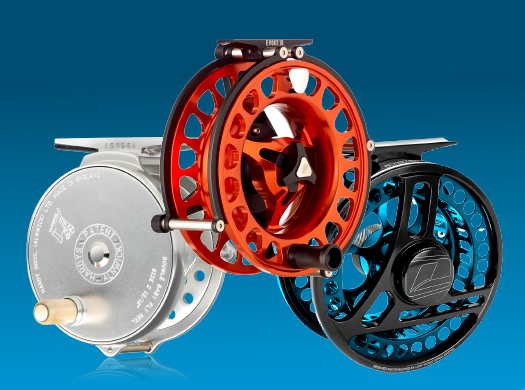 This is part 4 of 4. Read part 1 on rods, part 2 on reels and part 3 on lures.
With the product advancements that have taken place in the fly-fishing industry this year, writing about what's new on the market is quite simple. Covering it all in a couple pages, however, isn't. Here are some highlights.
Rods
If you've been too busy working that sipping brown trout on an undercut bank to notice, there have been some great advancements in rod design in the past few years. Technology has allowed designers to build lighter, stronger, and more durable tools. Some companies have focused on the resins that bind the graphite, with names like Nano Resin X (Loomis), Sintrix (Hardy), Powerlux, (Loop), and Fortified Resin Technology (St. Croix). Others, such as Winston (Boron), Sage (Konnetic technology) and Scott (ReAct technology), have forged different paths to advancement. Laminates, mandrels, and component advancements also play a major role in creating the best modern rods.
Scott's Radian won Best of Show honours at the 2013 IFTD show. Its ReAct rod is designed to counteract energy-sapping vibrations by speeding the recovery of the blank without stiffening the rod with more material. This puts the feel in fast, and that's a really good thing. They're available from 4 to 8 weights and from 81⁄2 to 10 feet.
Voted best Best Fly Rod at the 2013 ICAST show was the G. Loomis PR04x. "The new PRO4x rods are a perfect choice for anglers in the province," said Ontario G. Loomis pro staff Rick Whorwood, a guide and casting instructor. "These rods take advantage of all the research and development put into G. Loomis' flagship NRX fly rods, featuring a light, fast-recovering nano-technology tip section."
"The most notable trend in fly-fishing in Ontario in the last several years has been fishing with switch and Spey rods ­— mostly for steelhead and salmon, but including lighter rods, for bass and trout fishing," said Bob McKenzie Ontario rep for Sage, Redington, and Rio. "Sage has addressed that market with new rods in both the One and Method series, each featuring our Konnetic technology. Redington has developed rods that are astoundingly good for the dollar value, notably the Dually series of switch and Spey."
Guideline replaced the LeCie series with the LXi, a new high-end range. It's based on the same tapers and graphite mixes as the LeCie, but with a totally new look and small tweaks in actions and lengths.
Loop's Göran Andersson signature series is now made of Powerlux, following the lead of the company's successful Cross S1, which features a new 8-weight, 91⁄2-foot beauty. Loop is an industry leader in double-handed travel rods with the Cross S1 Travel series that break down into 5 and 6 pieces and easily fit into a pack.
Other new rods worth a mention are Winston's Boron III LS, Thomas and Thomas's ATS (Advanced Trout Situation) technical trout rod, the NS II series of fast-action rods, and TFO's Mangrove series that utilizes proprietary TiCr blank coating. Though designed for the salt, warm-water anglers in the province will have a ball with these.
Get a grip
If you're tired of cork grips, 2014 is for you. Redington partnered with Winn Grips (of golf fame) to create an entirely new PowerGrip handle for the Vapen Red. The non-slip polymer grip is designed to cast with more authority. The Vapen also won IFTD's Best Fly Rod in the saltwater category.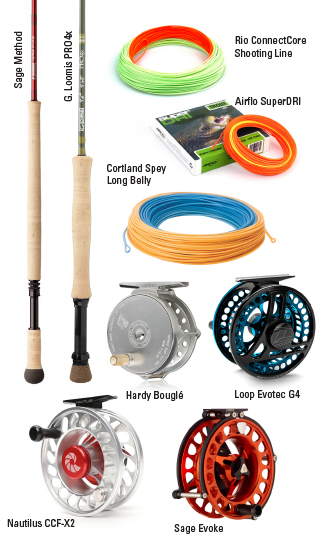 The St. Croix Legend X series comes with an Xtreme-Skin handle that repels water and dirt, and is made to provide angler comfort, casting efficiency, and sensitivity.
Reels
What's the point of buying a new rod if you can't match it with a great reel?
Nautilus' CCF-X2 won Best Reel in the saltwater category at IFTD 2013, but it's not overkill for Ontario's freshwater applications. It offers a dual-action drag system, smoothness, and limited start-up inertia.
New from Sage are the fully machined 3200 series, based on the proven 4200 model, and 2200 series, with the 2250 model that won Best Reel (freshwater) at IFTD 2013.
"Pure Fishing's commitment to the great history of Hardy cannot be more apparent than the recent repatriation of the Bouglé reel to once again be handmade in the UK," said David Bishop, eastern Canada sales rep for Hardy/Greys. "This is big news, especially for all of those steelhead enthusiasts in Ontario." The classic rolling-pillar reels designed by Frenchman Louis Bouglé are now available in a range of rods from from the Baby Bouglé to a 4-inch salmon/steelhead version. Even though Hardy is known for its classic looks, the company is producing some modern industry-leading reels, such as the new Ultralite SDS.
A little bit better
Some of this season's new offerings are about taking an existing line and adding a few improvements or filling a niche.
"The new Opti Strike reel from Loop is as compact as the Runner, but has the capacity of a heavy double-hand reel," said Chris Pfohl, Loop Canada's sales rep from Ontario. "It will no doubt become a fast favourite."
This year is Litespeed re-loaded for Lamson, with the Litespeed IV, refined to deliver a higher retrieve rate, improved ergonomics, easier line management, and less mass.
A Touch of Colour
Looking to brighten things up? A few companies have switched up the typical black or grey finish for colour.
Loop has put some splash into 2014 with the new Evotec G4 coloured reels. They're built on the same powerhouse design and a strong, yet smooth drag system.
Sage's Evoke features an eye-catching blaze reel with a modified full-frame design.
Lines
What can be done to improve a piece of fly line? Apparently a lot.
Rio has several new products for 2014, including Perception, winner of the IFTD Best Fly Line (freshwater) category. Also new are the Skagit Max, and the ConnectCore and GripShooter shooting lines. "Rio has revamped their fly-line offerings with new and revised lines, highlighting advancements in construction that feature our Connect Core Technology," said McKenzie.
Airflo's SuperDri technology has been developed for the serious floating line angler, with zone technology that minimizes friction during the cast for better distance and durability. It's available in several unique tapers.
Scientific Anglers (SA) is the latest company to make textured lines more angler-friendly. "Mastery Textured Series GPX is one of the best sellers in the Ontario market," said Pedro Bonifacio, SA rep for Ontario. "It's optimized for the colder water conditions of the province. The tip section has improved flotation (Dry Tip Technology), and texturing technology delivers low memory, improved casting, and increased durability — while maintaining the feel of a smooth line."
Cortland has introduced 3 new Precision SL fly lines: Big Fly, Salmon/Steelhead, and Carp Boss — made with Precision Shooting Technology (PST) coating that produces a harder finish and noticeably stiffer fly line coating to shoot through guides. Cortland claims they're virtually memory-free, even in cold weather, so the running lines handle predictably and resist tangling.
Also look for the Precision Indicator Nymph line, which is made to cast multi-fly indicator rigs more easily. For double-handed rods, Cortland has also released the Precision Compact Switch fly line (featuring a shorter head and over-sized tip) and 3 new Precision Spey lines, rated for rod length and line weight.
My wish for this season is to get enough time on the water to try out some of this year's new gear.
Do you fly fish?
Yes. (33%)
No. (35%)
No, but I want to give it a try. (32%)

Loading ...
A version of this article first appeared in the 2014 Ontario OUT OF DOORS Fishing Annual. Subscribe.