Grips, guides, and good ol' technique-specific sticks dominate.
This is part 1 of 4. Read part 2 on reels and part 3 on lures.
Fenwick's new HMG rods feature unique design in a full handle. The majority of the grip is TAC, a rubber-cork blend, with 2 EVA (ethylene vinyl acetate) sections. "You are getting the best of both worlds with this rod, the pivot point of a split-grip rod with the feel of a full handle," said Chip Jaggard, Pure Fishing Canadian marketing manager.
St. Croix's Xtreme-Skin handle is a groundbreaking grip. Made of proprietary materials, its finish repels water, dirt, and fish slime, while providing a sturdy hold for improved casting and sensitivity. Try it out on the Legend Xtreme Inshore and Legend Xtreme which won Best Saltwater Rod at ICAST 2013 and Best Freshwater Rod of 2012, respectively. Both models feature a laundry list of technical specs but Jeff Schluter, St. Croix vice president of brand management, believes the Xtreme-Skin handle helped seal the wins. "It's a radical departure in handle design, but perhaps a necessary next phase, something that feels instantly familiar and comfortable when you're fishing," he said.
Cutting-edge handle design is also evident in the new Shimano Jackall Poison Adrena series. The carbon-moulded grip utilizes Shimano's CI4 Plus material for a strong, lightweight reel seat. Below the EVA handle, a section of the carbon tape-wrapped blank is exposed for superior vibration transmission, while the rest is wrapped in carbon tape.
Designed largely for spincast reels, Zebco's new ATAC (Advanced Tactile) grip is found on the ATAC Spincast, 33 Black, and ZR33 Rhino combos. ATAC provides a low profile for palming the reel, and a hook set pad that's super-cushioned, with 5 open spaces to allow for direct touch of the rod blank.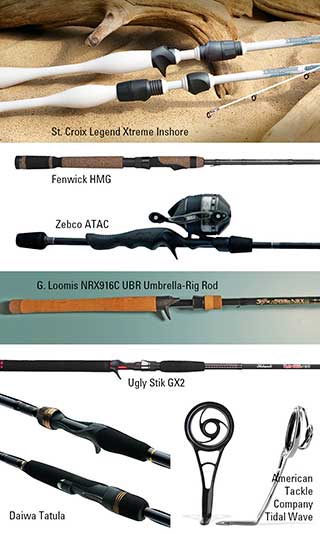 Attention-getting guides
Guide-train pioneering is an ongoing trend. American Tackle Company's Tidal Wave guides are creating a buzz with a hybrid version of the company's Microwave Guide System. Tidal Wave won Best Fishing Accessory at ICAST 2013 and Innovation of the Year Award 2013-14 at the European Fishing Tackle Trade Exhibition.
Designed for spinning rods, the stripper guide features 2 inserts in 1 to capture and control line immediately off the reel. And this is just the beginning. To increase casting distance and accuracy in a range of rod and reel sizes, the line also passes through the remaining transition and running guides. The Tidal Wave system is designed with exacting specifications and precise placement.
"The point of development was to increase performance of the angler as well as allowing the blank (rod) to perform at its optimal level," said Darrin Heim, vice president of the American Tackle Company.
The Airrus X-Entity series features triangle guides that have a rounded, triangular insert.
Micro-guides remain hot. They're on Abu Garcia's new Veracity and Bass Pro Shops' Johnny Morris CarbonLite Micro Guide rods, and Denali's Kovert series feature semi-micro guides.
Guide strength and durability are persistent themes. Case in point: Shakespeare's Ugly Tuff guides on the revamped Ugly Stik GX2. One-piece and stainless steel, the newly designed guides provide maximum durability and eliminate the worry of insert pop-outs.
Rapala Canada's new 2-piece Aeris rods "include premium stainless guides with ceramic inserts for virtually friction-free casting and great durability," said Tom McMurray, director advertising and creative Normark.
There's a rod for that
Technique-specific rods remain ever-present across the industry.
G. Loomis has expanded its NRX line. "We decided to start at the top and design the ultimate umbrella rig rod, the 7'7", NRX916C UBR," said Bob Mahoney, manager of Shimano's U.S. and Canadian marketing. It won Best Freshwater Rod at ICAST 2013 and Mahoney notes that in addition to rigging it for the umbrella, the rod is an excellent option for other heavy cover techniques.
"The lightness and sensitivity that NRX is known for has been refined for smallmouth anglers," Mahoney added, noting the 872S, 7'3" model is "a great tube rod" and the 902S, a 7'6" is "an incredible deep-water dragging rod."
Daiwa's Tatula bass rods are their new entries into the market. Greg McIntyre, Daiwa's Ontario sales representative is enthusiastic about the value they offer. "Priced at a MRSP of $149 to $169, they offer the same graphite (SVF) found in our Steez series. They look and feel amazing, but are available at attractive price points for weekend and tournament anglers." Their Lexa series is another newcomer that matches Lexa reels and retails for $100.
Other bass releases include the Megabass Destroyer X7 series, Okuma's Scott Martin Tournament Concept TCS bass rod, and Shimano's newly overhauled Cumara series.
Trolling enthusiasts should take note of Okuma's 10 new Cold Water Downrigger/Trolling rods. Okuma spokesperson Greg Shewchuk of Canada Pro Angling and Outdoors says the series meets the growing demand for better trolling rods that make fighting fish a more rewarding. "Some folks are using smaller, more compact-sized reels, especially for walleye and steelhead, and these light, responsive rods work well with them."
St. Croix's new Trout Series offers 5 rods ranging from 5'4" to 7'. All are 2-piece except the shortest model.
Ice expansion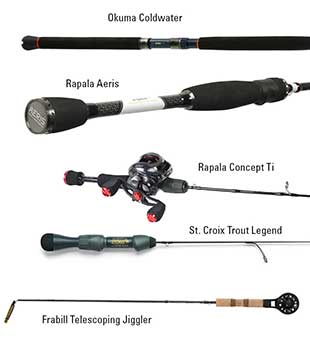 Ice fishing rods keep evolving. In a rare upset, Tampa-based 13 Fishing's Whiteout Ice Fishing Combo beat out open-water competition to win Best Combo at ICAST 2013. Matt Baldwin, 13 Fishing's business manager points out that the rods feature a lightweight, solid Toray carbon blank, a proprietary Black Jack reel seat, and Evolve Solo guides.
Rapala Canada is adding Concept Ti ice rods to its lineup. "We designed the actions to suit Canadian angling techniques, which lean toward heavier actions for power jigging larger target fish species, like walleye, trout, pike, and whitefish, but maintained sensitive tips for finesse fishing jumbo perch and frying slab-size crappie," said McMurray.
The Frabill Telescoping Jiggler Long rod is a recent arrival perhaps best described as finesse ice-fishing flipping sticks. The 54- and 64-inch rod lengths allow anglers to quickly leapfrog holes without reeling in line. Also, line flows through the blank, shielding it from coils, wind, and freeze-up.
St. Croix is releasing the Legend Silver and Gold ice rods, each featuring the company's patented spring-bobber strike indicator. the Gold models have a neoprene-skin handle for added comfort.
Clever design and choice components, along with technique-specific sticks, remain strong themes for rod builders. Prices range, but without question manufacturers are aiming to maximize value for dollar whether the price tag is $50 or $500.
A version of this article first appeared in the 2014 Ontario OUT OF DOORS Fishing Annual. Subscribe.