More features and lighter reels continue to be the rallying cry of anglers. And, as expected, manufacturers have responded.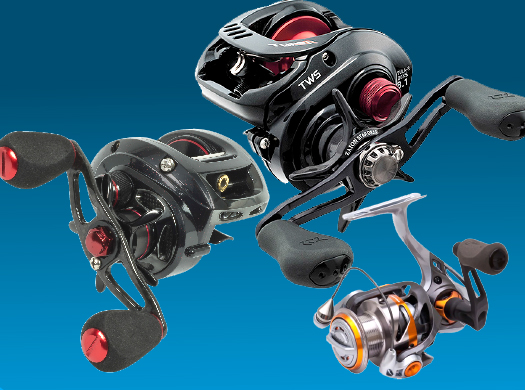 This is part 2 of 4. Read part 1 on rods and part 3 on lures.
Spinning
The Shimano Stradic Ci4+ spinning reel uses a new carbon fibre material that is 240% stronger than the original Ci4, introduced in 2009. In this latest version, Shimano has moved the pinion gear of the X-Ship feature closer to the centre of the drive gear, which adds power and a much smoother retrieve, especially under heavy loads.
Quantum's Energy Spinning reels have been completely redesigned to include state-of-the art features like the trademarked graphite hybrid Razor Rotor. Weight reduction was achieved in the rotor, stem, and crank handle by adopting technology used in higher-end EXO spinning reels, at a price within reach of most anglers.
Dave Neil of Normark Canada shared a sneak peak of their new Concept spinning reel that is scheduled to launch this summer. He wouldn't offer many details, but he did confirm that it will be a perfect match for their Elite series of Concept rods.
Wavespin's new Legend 250 reel is the top of the line in their gear-like, tangle-free spool series.
Baitcasting
Left-handed baitcasters continue to increase in popularity. Okuma offers 3 new baitcasters with the Helios being the lightest at 5.7 ounces. Some of the weight savings comes from the use of magnesium in the spool. Magnesium does not react well with saltwater, so these are specifically marketed for freshwater applications.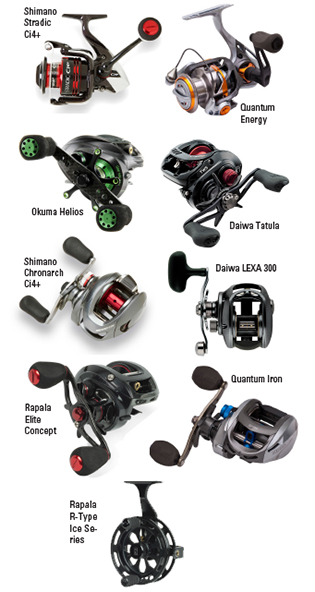 Daiwa recently had the biggest North American launch in its history, since their new products are traditionally unveiled in Japan. One of its flagship baitcasters is the new Tatula. "It is smooth, tough, and durable," said sales representative, Greg McIntrye. It also sports the company's redesigned T-Wing system.
Rapala has added a new baitcasting reel to their Elite Concept lineup. Key features include 13 ball bearings, PVA handle, micro-click drag, and carbon-fibre handle.
The Shimano Chronarch Ci4+, which won Best Freshwater Reel at ICAST 2013, uses the new Ci4+ and has X-Ship gearing. Shimano has also improved the braking system with a new SVS Infinity design that has an external dial to allow for fine-tuning. Bob Mahoney of Shimano Canada also alluded to a new Curado, that was scheduled to launch at the Bassmaster Classic in February.
Ardent continues its Made in USA tradition with 3 new reels: the Ardent Pro, Tournament, and Elite series. The Elite edition is their top of the line, which comes in 2 gear ratios (6.5:1 or 7.3:1), weighs 5.8 ounces, and offers right or left hand retrieve.
Pflueger's Patriarch has been redesigned from the ground up, and now features a carbon-fibre handle, EVA foam grips, C45 carbon-infused side plates, and titanium line guide.
The Abu Garcia Revo Rocket is another standout. Beyond its screaming shade of orange, it's got many of the high-end internals of the Abu MGX, but with a gear ratio of 9.0:1, which chews up a freaky 37 inches of line per turn of the reel handle.
Trolling
The lines between casting and trolling are blurring. Pike, muskie, and salmon anglers are driving a growing market for larger-sized low-profile baitcasting tackle that can be used for casting and trolling. To accommodate this, Okuma has added a 350 size to the Komodo and Citrix series, Daiwa added a 300-size LEXA low-profile baitcasting reel, and Quantum Iron has taken on a new lower-profile design.
Special mention
Also stepping outside the box is the R-Type Ice Series centre-pin reel, offering a ice fishing option. This type of reel generates less line twist than a spinning reel, which in turn reduces the amount of spin imparted to lures hanging directly below the hole.
A version of this article first appeared in the 2014 Ontario OUT OF DOORS Fishing Annual. Subscribe.