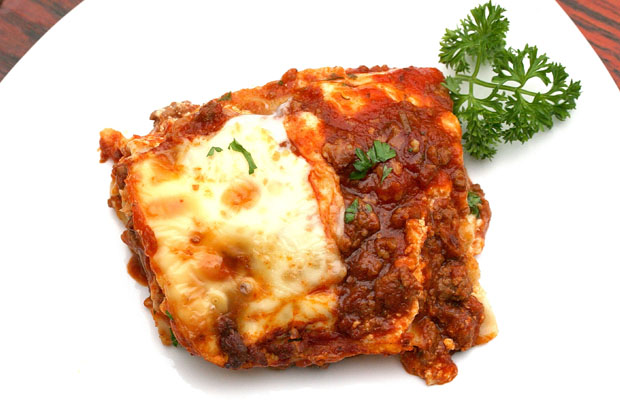 This recipe calls for sweet Italian sausage — you can use a venison sausage if you like — or you can just use one pound of ground pork. The point is not only to add flavour but also some fat to the recipe.
Ingredients:
1 pound sweet Italian sausage
1 pound ground venison
½ cup minced onion
2 cloves garlic, crushed
1 (28 oz.) can crushed tomatoes
2 (6 oz.) cans tomato paste
1 (13 oz.) can tomato sauce
½ cup beef broth or water
2 tbsp. white sugar
1½ tsp. dried basil leaves
1 tsp. fennel seeds
1 tsp. Italian seasoning
1 tbsp. salt
1 tsp. ground black pepper
4 tbsp. fresh chopped parsley, divided
12 lasagna noodles
16 oz. ricotta cheese
1 egg
1 tsp. salt
12 oz. mozzarella cheese, sliced
¾ cup grated Parmesan cheese
Directions:
1. In a Dutch oven, cook sausage, ground venison, onion, and garlic over medium heat until well browned. Stir in crushed tomatoes, tomato paste, tomato sauce, and broth/water. Simmer for five minutes. Add sugar, basil, fennel seeds, Italian seasoning, 1 tbsp. salt, pepper, and 2 tbsp. parsley. Simmer, covered for one hour, stirring occasionally.
2. Preheat oven to 375˚F. In a medium-size mixing bowl, combine ricotta with egg and remaining parsley. Add 1 tsp. salt. Cook noodles, drain and rinse with cold water.
3. Spread 1½ cups of meat sauce in the bottom of a 9×13-inch pan. Arrange six noodles on top of meat. Spread with half of the cheese mixture. Top with 1/3 of the mozzarella slices. Spoon on 1½ cups of meat sauce and sprinkle with ¼ cup Parmesan cheese. Repeat layers and top with remaining mozzarella and Parmesan cheese.
4. Cover with foil that has been sprayed with cooking oil (to keep the cheese from sticking to it). Bake for 25 minutes, remove foil and bake for another 25 minutes. Cool for about 10 minutes before serving.
Originally published in the Jan.-Feb. 2015 edition of Ontario OUT of DOORS magazine.