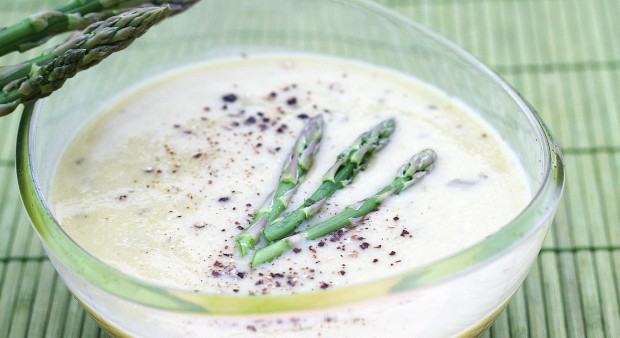 Spring, when asparagus shoots are young, is the perfect time to harvest them. Asparagus is a perennial, so once you find a patch, chances are it will be in the same place next year.
Asparagus soup always reminds me of the movie Bridget Jones's Diary, and how she made the soup blue by tying up her asparagus into a bundle with blue wool. Luckily, this recipe is simple. No tying needed just plenty of flavour.
Instructions
Place asparagus and onion in a saucepan with ½ cup of the vegetable broth. Bring the mixture to a boil, reduce heat, and let simmer until the vegetables are tender.
Remove a few asparagus tips, for garnish. Place remaining vegetable mixture in a blender, or with a hand-immersion blender, and puree until smooth. Set aside. Melt butter in the same saucepan to capture any remaining juices, and stir while sprinkling in flour.
Add salt and pepper. Don't allow the butter to brown. Heat for only 2 minutes, then stir in remaining vegetable broth. Slowly increase the heat and continue stirring until mixture thickens and comes to a boil. Stir in the puree, milk, and yogurt. Add in the lemon juice and heat through. Serve in bowls, garnished with reserved tips and parmesan cheese.
This was first published in the May 2014 issue of Ontario OUT OF DOORS.