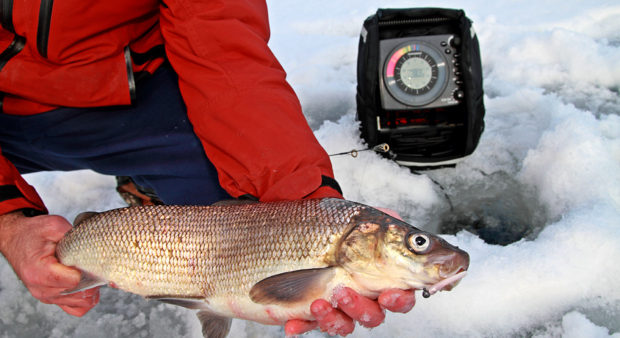 Arguably, the most important technological advancement for ice anglers has been the introduction and development of portable ice sonars.
There are essentially two technologies: the liquid crystal display (LCD) and rotary diode sonar. LCD is the most common type and is a computer screen with no moving parts. The rotary diode sonar has a rotating dial.
I can still remember my first ice-fishing unit, a Bottomline LCD, which I used on my boat and improvised for the ice during the hard-water season.
It was a bit crude by today's standards, but my new-found ability to scan for fish helped refine my presentation dramatically and improved my ice-fishing effectiveness.
Since then, manufacturers have continued to make incremental improvements, providing new models and options for ice anglers. Yet, there are still those who have not yet taken the plunge, possibly due to the limited number of uses hard-water sonars offer.
Versatility
Virtually any boat-mounted sonar can be adapted for fishing on ice. Both Lowrance and Humminbird make the conversion easy, with dedicated ice transducers and portable bases that fit a wide range of LCD models.
These units offer a relatively low-cost way to make use of equipment you already have, and many of the boat-mounted models also come with GPS and the option for map chips.
Rotary-diode designs
The advent of ice-specific diode units, or flashers, has overcome the minor issues presented by LCDs. These units provide real-time response rates, although on a circular screen.
Additional options also evolved to include specialized zoom features, multiple frequencies, noise reduction, wide and narrow beams, and small gel-cell batteries — along with rugged portable mounts designed to put up with cold, punishing conditions.
Target separation, which is the ability to differentiate objects that are close together, has also continued to improve, helping anglers determine whether they're looking at one big fish or several small ones close together.
LCD
More recently LCD is emerging on advanced ice sonars.
Initially, those of us using LCD on ice encountered a few issues, including a slight delay between real time and when the image of the lure or fish appeared to move. LCD screens weren't designed to function in sub-zero conditions, so the image tended to fade as temperatures dropped. Also, those with GPS drew considerably more power than those without, so battery life was reduced.
The Humminbird ICE 55, provides LCD readouts to compliment the diode speed and precision, while all Marcum's newest LCD units have faster refresh rates, specifically for ice-fishing applications.
The computerized interface of LCD units also allows data to be represented in a variety of ways, and even recorded for future viewing.
What lies ahead
Clear trends are emerging, and the consolidation of features is one of them.
GPS has already become a standard on many LCD units, with an application for ice anglers as well.
Both Marcum and Vexilar offer combo sonar and underwater-camera models. Greater features for recording and sharing video and sonar data are also expected to be part of future units.
Just as exciting is the potential to have broad-beam, or even full 360-degree scanning technology.
Whether you're looking at getting your first ice sonar, or upgrading your existing unit, there are plenty of factors to consider. Not the least of which is how much you're willing to spend, and just how much you need the newest fish-catching technologies.
If you haven't yet tried sonar technology on ice, consider making the move this winter. Any unit will vastly improve the number of fish you're likely to catch, and increase the knowledge and enjoyment you will get from your time on the ice.
Manufacturers