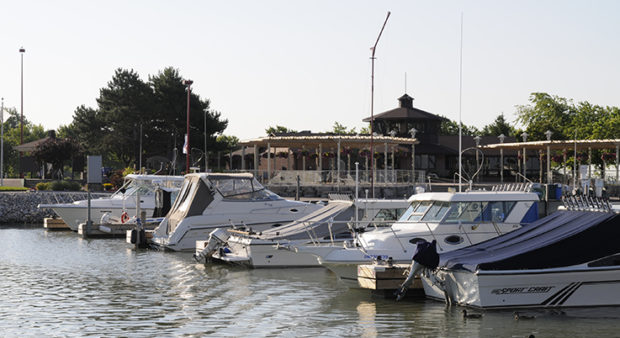 Rigged and ready for perch, we're heading for Grubb's Reef, a shoal off Point Pelee where 10-foot shallows rise from the surrounding 30-plus foot depths. I'm with Drifter II Charters' captain, Jim Fleming, and his friend and fellow captain, Terry Van DeWauwer. I would soon discover how thoroughly these men know the ways of Lake Erie's renowned culinary treat, the yellow perch.
Small ports along Erie's north shore offer access to the lake's perch fishery, the largest of which is Leamington. This picturesque municipality provides hotel, shopping, and of course, winery options for the travelling perch angler. From the middle of May until late June Fleming is based at the Leamington Municipal Marina, a first-rate facility with 292 slips, launch ramp for day users, and washrooms and showers for marine tourists.
As we approach the reef, Fleming says the key is to watch the depth finder until fish appear on the bottom, then anchor and see if the perch bite is on. Sometimes it takes a half-hour for the action to start. He gives a spot 45 minutes before moving on.
"If you get a lot of big sheepshead, move," suggests Fleming, explaining that large freshwater drum will spook perch. "White bass or silver perch won't hurt, other than they chew up a lot of bait."
Rigging up
We aren't anchored long before Fleming catches a perch. I follow with another. A short while later, my rod bends, and at first I think I have a good-sized perch. It turns out to be a 17-inch sheepshead, which Fleming says is small for the species that can reach 8 to 10 pounds.
For that reason, he uses tackle that would otherwise be heavy for perch. Fleming ties his own dual-hook rigs, incorporating two 20-pound-test fluorocarbon leaders that attach to a main line of 15-pound Fireline. He uses a No. 1/0 long-shank hook on the bottom line and a No. 2/0 longshank hook and attractor bead on the top line. Fleming's strategy is that using longshanked hooks will cut down on perch swallowing the hook. Both hooks are tipped with minnows.
Fleming uses level wind reels and 6-foot, 3-inch stiff rods with sensitive tips. He advises me to use a slightly different hook-set technique in deeper water with this rig. "When they grab it, they grab the whole thing. If you set the hook and pull it, you'll take it away from them. You have to lift up gently."
Getting in on the action
The bite heats up to the point that the action is constant, with the rig barely touching bottom before it's hit again, or the minnow is stolen on the way down. Not all are keepers, but it's fun just the same, with the perch averaging from 8.5 to 10 inches. The largest turns out to be a fat 13-incher.
When Van DeWauwer pulls in an even larger sheepshead than mine, a friendly rivalry starts. I believe I have one up, pulling in a 4-inch perch which I declare the smallest of the day. After releasing it, Fleming steals that honour with an even smaller catch. I counter with a 13.25-inch silver bass, and declare it the largest in that category.
I notice Fleming is catching doubleheaders and I comment on it. He shrugs, doesn't reveal any secrets, says it's luck. Van DeWauwer is also pulling up the occasional double.
We are five short of our 50-fish limit when I finally pull a doubleheader out of the water. Just as I comment on it, the top fish slips off the hook into the lake.
"I didn't see a thing," said Van DeWauwer. Fleming echoes that.
We hit our limit after two and a half hours of fishing, a little off Fleming's usual pace of 25 to 50 fish per hour.
The friendly competition ends with Fleming claiming the most doubleheaders but smallest perch, Van DeWauwer with the largest perch, and me with the largest silver bass. As for the largest sheepshead, I won't reveal the winner, as I might not be invited to go fishing again.
CONTACT INFO
Drifter II Charters, P.O. Box 662
Wyoming, ON N0N 1T0
519-845-1115
www.drifter2.com