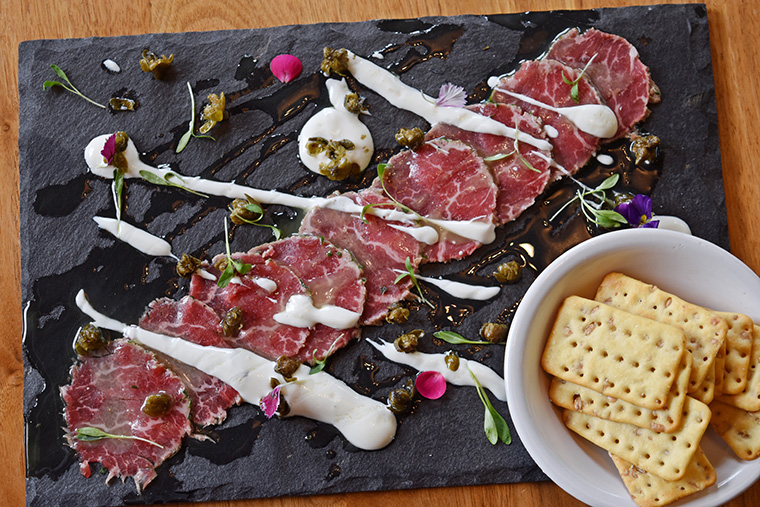 These thin slices of lightly-seared venison loin rolled in fresh herbs and drizzled with a delicious combination of cream and oil will delight the taste buds. Serve with a baguette, crackers, or toast points and a glass of bold pinot noir. This recipe will quickly become a camp favourite and makes a great fireside appetizer.
Ingredients:
• 6 oz. portion of venison back strap, trimmed of all fat and silver skin
• Salt and pepper
• 2 tbsp olive oil
• 1 tbsp Dijon mustard
• 2 tsp fresh thyme, chopped
• 2 tsp fresh parsley, chopped
• 2 tsp fresh chives, chopped
• Baguette, toast, or crackers
Fried capers
• 1/4 cup capers, drained
• 1 cup canola oil
Maple sour cream
• 1/2 cup sour cream
• 1 tbsp maple syrup
• 1 tbsp warm water
Lemon olive oil
• 1/4 cup extra-virgin olive oil
• 1/2 lemon, juiced
• Salt and pepper
Directions
Fried capers: Heat oil to 360˚F. Carefully lower capers into the hot oil and fry until bubbling almost stops and capers are crispy. Dry on a paper towel and set aside.
For maple sour cream: Mix sour cream, maple syrup, and warm water in a bowl. Whisk well to ensure water is fully mixed in. Refrigerate.
For lemon olive oil: Slowly whisk olive oil into lemon juice. Season with salt and pepper and set aside.
For venison carpaccio: Heat olive oil on high in a cast-iron pan until smoking hot. Season the venison loin with salt and pepper and very quickly sear all sides, about 10 seconds on each of the four sides, just enough to colour the meat a bit, but leave it fully raw inside.
Brush Dijon mustard on all sides of venison loin. Mix thyme, parsley, and chives together and sprinkle all over venison loin. Lay out a long piece of plastic wrap. Place the prepared loin in the middle and wrap very tightly to form a cylinder by twisting the plastic wrap ends and tying a tight knot with them. Freeze for 2-3 hours (or until you want to serve it).
Note: If you want to make this ahead, remove from freezer an hour or two before serving so it's easier to slice. With a sharp knife or deli slicer, slice very thin rounds. Arrange sliced venison like shingles on a serving platter. Season meat with a touch more coarse salt and pepper and drizzle with lemon olive oil and a bit of maple sour cream. Top with fried capers. .
Originally published in the November-December 2016 issue of Ontario OUT of DOORS magazine.
For more cooking recipes, click here