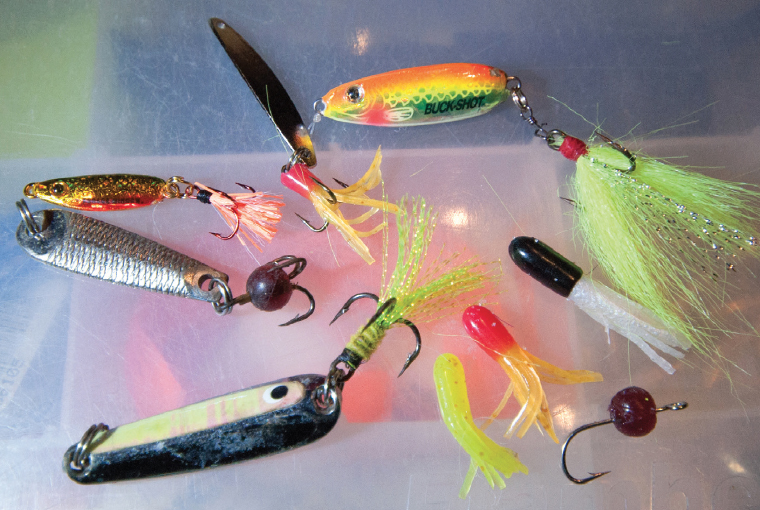 If you're not a tackle tinkerer, you should be. I have spent countless hours, sometimes in front of the TV, making changes to tackle to increase my catch. Modifications that are durable and keep you in the game are critical for capitalizing on that narrow window of opportunity when the bite is furious and you want to get your lure back into the strike zone quickly.
Perch are particularly fond of a well-presented jigging spoon and are notorious for pecking at a lure adorned with live bait. Sunfish are also masters of "tasting" the bait, which can leave your hands cold from constantly re-baiting to keep in the catch. Try these three simple but effective modifications to jigging spoons.
Beads
After discovering what is known as a "Russian hook" in the early '90s, I studied the action of the spoon and noted that once fish were attracted by the jigging strokes, the coloured bead became the primary target. I adapted that approach by removing the hook and sliding a soft plastic egg (try a Luhr Jensen Egg, Berkley Power Egg, MFC Otter's soft egg, or similar) over the shaft of the hook and then re-attaching it. My most productive colours are orange and pink, and glow.
Micro tubes
Panfish-sized plastic tubes are commonplace for spring crappie and other species. Micro one-inch versions are easily modified to slide over the shank of the hook by removing one half of the tube body. Slide the tube tentacles down over the treble hook shank and re-attach. The action of the spoon is not affected, and the tentacles pulsate freely when moved slightly. Use scissors to modify baits to create other appealing shapes and appendages.
Artificial hair
Experiment with basic fly-tying tools and materials to modify a soft-plastic, microtube presentation. Using materials sparingly, create any colour combination that mimics the body and tentacles, with the added benefit of outstanding durability. Craft fur and marabou are fine choices here as the suppleness of the material moves well in water.
Experiment with adding crystal flash for even more fish-catching appeal. Tie your "tails" long, so you can cut away excess material while fishing to achieve the best combination of profile and action. Pre-tying a hook allows for easy customization when you arrive at your destination. Don't be afraid to steal a feather or appendage from one lure and add it to another. There are no rules when it comes to tackle tinkering.
Originally published in the Jan.-Feb. 2018 edition of Ontario OUT of DOORS magazine
For more ice fishing news, click here
Click here for more outdoors news