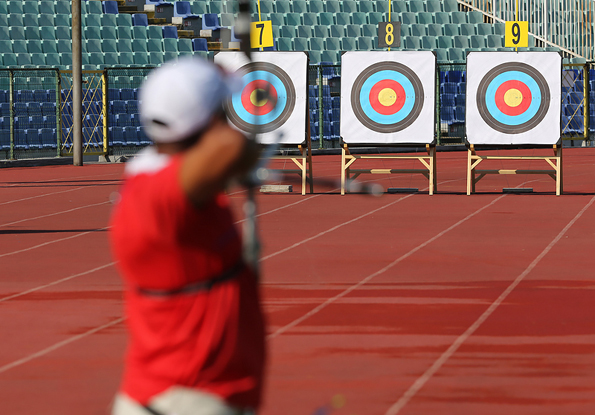 Two-time Olympian Crispin Duenas will lead Canada's archery team at the 2015 Toronto Pan American Games.
Duenas competed at both the 2008 and 2012 Olympics. The Toronto native is also a two-time Pan Am Games medallist, winning silver in the team event at Rio in 2007 and another silver in the individual event at Guadalajara in 2011.
In 2013, he became the first Canadian to win a world championship individual recurve medal in 42 years.
"Our team has been training hard to ensure that we perform at our A-game here in Toronto," Duenas said in a statement released Tuesday. "Canada has some outstanding archery talent and it is a dream come true for us to represent our country on home soil."
The announcement from Archery Canada comes after some controversy over team selection. The Toronto Star reported that 'ageism' may have played a factor in Kateri Vrakking initially being skipped over in favour a younger archer who qualified lower. Vrakking has been named to the team and the younger archer Shannon Davidson bumped from the roster. Archery Canada has since released a statement stating that upon consulting legal counsel they must maintain their 'original performance objectives'.
Rounding out the Canadian team is: Jay Lyon, Winnipeg; Patrick Rivest-Bunster, Montreal; Georcy-Stephanie Thiffeault Picard, Montreal; Virginie Chenier, Laval, Que.; and Kateri Vrakking, Toronto.
Canada is third all-time in archery medals at the Pan Am Games with 25 (two gold, 10 silver, 13 bronze), behind the United States (94 medals) and Mexico (29 medals).
The archery competition will take place July 14-18 at the University of Toronto's Varsity Stadium.