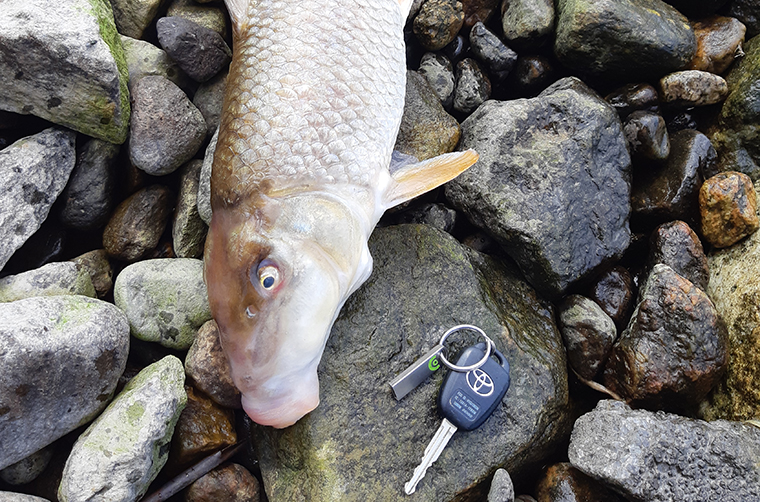 A toxic spill is most likely to blame for the deaths of hundreds of fish in the Ottawa River earlier this month, local media reported.
A wildlife health centre in Saint-Hyacinthe, Que. performed necropsies last week on a dozen carcasses of various species found from Cumberland to Rockland, CBC News reported.
No signs of infectious disease were found, leading to the conclusion the fish were exposed to a toxic agent dumped into the water, according to Stéphane Lair, director of the Centre québécois sur la santé des animaux sauvage.
Second wave
A second wave of dead fish east of the nation's capital was reported late last week.
Officials from Quebec's Ministère des Forêts, de la Faune et des Parcs told the CBC that a team of biologists and technicians didn't see more dead fish on the weekend and the water isn't dangerous for people.
Several river users have voiced safety concerns.
Officials believe the dead fish originated in the Du Lièvre River in Quebec, which flows into the Ottawa River at Masson-Angers across from Cumberland, CBC reported.
Only a water analysis taken at the time of the incident could have identified the toxic substance, Lair told Radio-Canada.
Samples of the fish and water were collected by officials from the Ontario, Quebec, and federal governments.
"Environment and Climate Change Canada's (ECCC) enforcement officials are aware of the situation with the Ottawa River and are gathering information to determine whether there has been contravention of environmental law," spokesperson Jenn Gearey stated previously.
Don't eat
Ottawa Riverkeeper is recommending no one eat fish from the Ottawa River until more information becomes available.
Patrick Nadeau, the executive director of the watershed protection group, said earlier this month that a lack of oxygen in the river may have been caused by a spill or leak.
Ottawa journalist and Ontario OUT of DOORS Walleye columnist Tim Allard reacted with concern, pointing out how the situation is a shame – especially after the troubles caused by record high waters in the capital this spring.
For more outdoors news, click here