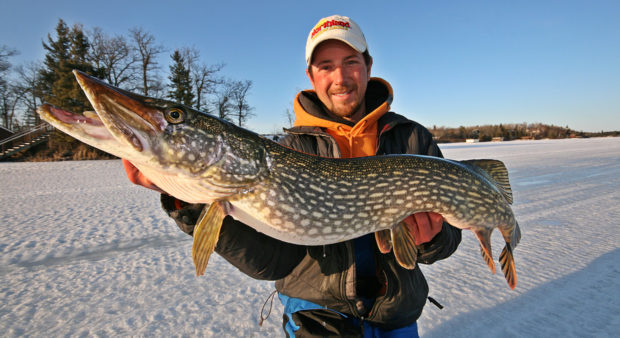 A good friend once told me that even if it was legal to fish 10 lines on the ice, he wouldn't sacrifice even one tip-up for a jigging rod for targeting big pike. That's quite a comment from the best pike angler I know.
Tip-ups, heavy line, quick-strike rigs, and dead bait are the way to ice big pike.
It's no secret that big fish eat big baits. And, with large predators like pike, this fact is amplified. Large cisco, smelt, whitefish, perch, and small walleye all keep the bellies of big pike happy throughout winter.
Since pike are a spring spawning fish, eating substantial meals during the winter to feed their growing eggs is important, especially for big fish that can produce up to 600,000 eggs.
The first thing you need to do to catch a big pike is get your hands on some big bait. The easiest bait to find in Ontario is frozen cisco and suckers. Use cisco as large as you can find and small suckers. A large pike can eat a 10-inch bait like a cookie.
Line and pole basics
Tip-ups generally function the same and come in two main designs: slender rail-types and the more modern round versions.
The rail models are basic and function just fine in most situations. Round models a designed to cover the hole and usually feature insulation that helps prevent it from freezing over while you play the waiting game for a fish to strike. In really cold weather, these are nice. Otherwise, you're constantly breaking ice out of holes so your spool doesn't freeze.
For line, the heavier the better. Most 25-pound-or-greater line will work fine, but special tip-up line is coated with plastic or other materials so it doesn't freeze, is thick in your hands to prevent cutting your fingers, and is easier to handle while pulling in. Besides, pike are generally not line shy.
The business end of the line has a quick-strike rig. Some anglers like in-line versions that lay the bait on bottom. I prefer a V-shaped rig that hangs the bait in a realistic manner.
One hook is placed in the head of the bait, another in the dorsal-fin area. Pike will nearly always strike these baits head first, so hook-up percentages are high.
A huge misconception is that when a tip-up flag goes off, let the fish run until the spool stops spinning. The reason these rigs are called "quick-strike" is because you should immediately hit the fish when your tip-up trips.
Anglers can easily make their own rigs, especially with the easy-tie wire available today. The secret to making your own rigs is to use No. 6 or even No. 8 treble hooks.
These small hooks catch up a lot better in a pike's mouth.
Bait style
The funny thing about winter pike is they seem to prefer dead bait over live bait. I've rolled into bait shops and walked out with a dozen large, lively sucker minnows, thinking I was going to crush big pike with them, only to discover that I caught fish 10 to 1 on dead baits.
I've found it the same with artificial baits. Sure, there are big pike caught every winter on artificial baits, but I fish a lot and nearly all of the big pike, especially the lunkers, are caught on dead baits rigged under a tip-up.
Tracking them down
Pike can be found in predictable locations throughout winter. From early to mid-season, look around main-lake structure, the same places you would fish for walleye.
As winter progresses and the ice starts to melt, pike action start to heat up as they move towards shallow spawning bays. Fish the mouths of bays during the last couple weeks of the season and you will have a chance to catch some of the largest fish of the year.