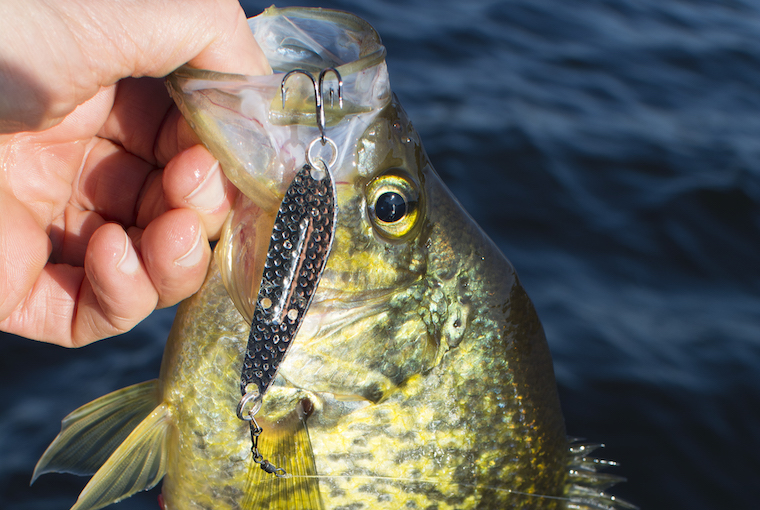 It's a crisp November day, and Derek Samson and I have a school of black crappie all to ourselves. The fish are suspending up 10 feet off bottom over a 30-foot deep flat. Samson is vertically jigging and video-gaming fish using the console's sonar. I'm casting a Williams Ice Jig off the bow. I let the spoon freefall for 10 seconds, then begin a retrieve of 12-inch lifts and pauses to let it flutter down tantalizingly.
It doesn't take long for a crappie to bite and we have another fish aboard for tonight's supper. As I drop my catch into the livewell, he tosses in another. "Doubleheader," he says with a chuckle. It would not be the last time we doubled up that day.
Chasing deep-water crappie in autumn offers the perfect mix of challenge and reward in my book. If I've piqued your interest, here's what you need to know to get on this fun late-season bite.
Locations and depths
There are two common patterns when it comes to autumn crappie locations in lakes. One is fish relate to deep, healthy vegetation close to deep water. The other, and our focus here, is fish orienting around structures and flats in 15 to 30-plus feet of water.
Mike Miller:
"In October and November, I have deer on the brain, so I would be lying if I said I'm an expert at fall crappie; however, I do have a method for them only because I like to get out and find some spots for ice fishing before freeze up," said Mike Miller, host of Angler & Hunter Television. "When the water drops into the 40s, I almost always find schools of crappies on outside weed edges nearest the deepest break, usually 16 to 19 feet."
Miller finds that crappie prefer the breaks of points tapering off flats as well as the steep drop-offs of saddles connecting to the last areas where weed growth occurs before the basin. Typically fishing during midday (when he's not in a deer stand), he regularly catches crappie from the bottom of the break. Late afternoon until evening, he notes crappie may slide up and position along deep weed edges.
Rob Jackson:
Southeastern Ontario fishing guide Rob Jackson is no stranger to catching fall crappie. He, too, catches deep crappie around structures jutting into the basin.
"Finding underwater rocky points is important," he said. "I often catch them on the second drop, where it kind of steps down from 15 to 30 feet before it goes into the basin."
Travis Stromness:
For Travis Stromness of Dryden, rocky points, isolated islands, and reefs near deep basin flats are common hangouts for crappie during autumn in Sunset Country lakes. These structures hold bait and crappie as they transition from their summer locations, consisting of bays and points, to deeper flats and holes where they'll spend winter, he explains.
"You can start shallow in early fall, looking in 12 to 15 feet for suspended fish," Stromness said. "Later on, I'll be looking in that 15 to 23-foot range, and possibly deeper depending on the water body."
By late fall, Stromness is catching crappie from deep mud flats in the 20 to 25-foot range. Crappie gather around subtle rises, ridges, and holes located on the dishpan terrain.
Sonar work
You need to use sonar. Traditional 2D sonar, along with side-imaging sonar (if you have it), is important for finding fall crappie. If you've ice-fished for crappie on deep structure, you know they can be glued to bottom or suspended. Keep both scenarios in mind when surveying areas. Be on the lookout, too, for schooling baitfish.
Use a GPS with lake contour maps to get on points, saddles, reefs, and other structures near the basin. Maps will also reveal the 20 to 30-foot flats, but rarely reveal the subtle features known to concentrate crappie.
"Lakemaster or Navionics charting doesn't show you those small rises or holes. It takes time to find those sweet spots," Stromness said.
Use waypoints to save the location of fish-holding gems. I also find my chartplotter's boat trail feature is a useful visual for deciphering crappie movement patterns on deep flats.
Baits
Mike Miller:
"I actually fish them the same way I would through the ice, VMC Tungsten Nymph and Luv Bug jigs and small Rapala Slab Raps fished vertically right overtop of them," Miller said. "I use my Humminbirds to find 'em and Minn Kota's Spot-Lock feature to stay over them. It's like my Lund is a portable ice shack."
Tim Allard:
I also catch fall crappie using various ice-fishing lures. I start with 1.5 to three-inch minnow imitating baits to appeal to aggressive fish. A Rapala Jigging Rap (size 3), or a similar gliding lure, along with jigging spoons are good places to start.
A lift-fall-pause-shake sequence is often all that's needed to convince a crappie to chew. Expect strikes as the lure falls or as it comes to rest.
Jigs also put a lot of crappie in my boat. When crappie are fired up, they'll eat a three-inch plastic. I've had success with Berkley PowerBait TwitchTail Minnows, Berkley MaxScent Minnows and Z-Man Hula Stickz trimmed down. If unsuccessful, I'll downsize and follow a similar troubleshooting sequence as Stromness (see below). Having friends in the boat experimenting with different baits quickens this process.
Rob Jackson:
When crappie are tight to bottom, Jackson says drop-shotting is effective. He runs a #1 hook about 18 inches off bottom. A small live minnow on this rig is irresistible. He also drop-shots a three-inch Berkley Gulp! Minnow. The artificial catches plenty of crappie and is more durable than live bait.
"Minnows are great if you are able to get them and keep them," Stromness said. "I'll go as big as a medium grade minnow on a 1⁄8-ounce jig when I am hunting for those hungry, jumbo crappie."
Travis Stromness:
Nymphs and other invertebrates comprise much of a crappie's diet in the lakes Stromness fishes. Not surprisingly, he does well with one and-a-half to two-inch tubes, minnows, crayfish, and other buggy profiled plastics fished on 1⁄16 and 1⁄8-ounce heads. Tied jigs also factor heavily in his arsenal.
Stay above them
"It is important to understand that crappie feed upward, so you want to always keep your bait above their head rather than bouncing bottom like you would for walleyes," Stromness said. Working the bait several feet above the herd draws interested fish up and out of the school, which means a hooked fish is less likely to spook the herd.
There are exceptions, though. Neutral mood crappie can require more finessing and may not be interested in rising far to strike a bait. In this case, start several feet over the fish, then progressively drop the presentation closer to the fish until you reach the strike zone.
3 baits for casting
After you've vertically jigged crappie for a while, the action can wane. Try making a few casts before moving on. Pitching and retrieving a lure shows fish something different. Also try staying back from a school and tossing a bait to them.
Suspending crappie will strike various lures retrieved over their heads. A few I've had good success with recently are the Williams Ice Jig (side hooks removed), Lunkerhunt Big Eye tail spin, VMC Hot Skirt Glow Jig, and the soft-plastic and jig combinations noted above.
It can take a little time to figure out the best retrieve. A slow one to two-foot lift followed by a controlled fall is one proven cadence. Slow reeling and lightly nodding the rod tip is also potent.
You have to put in the time
"It's okay to have slow days," Stromness said. "It allows you to exclude the dead water and work towards finding the productive areas of a lake."
I couldn't agree more and have been humbled by crappie in the past. What's important to keep in mind, to paraphrase Miller, is you don't need to be an expert to get on a crappie bite in autumn. Commit to putting in the time to explore deep structures and flats, and soon enough you'll be rewarded with fantastic fall fishing and tasty fillets for the frying pan.
Catch & keep
Anglers must be aware of the potential risks of barotrauma when catching crappie from deep water. Hooking fish off ledges in 16 to 19 feet of water is one thing, but bringing up a crappie from 30 feet is another and likely to end badly for the fish if released. Plan to harvest enough deep-caught fish for a meal, then move and try finding them around weed edges, switch to another species, or head to your deer stand.
Originally published in the Fall 2022 issue of Ontario OUT of DOORS