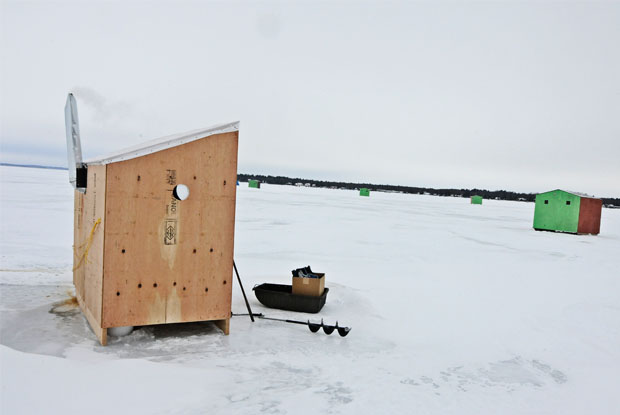 I've got one! I've got one!" my 8-year-old daughter Aliyah shrieked excitedly.
We weren't even completely set up when my youngest got into the first perch of the day, proving an old adage that claims the best ice fishing is at first ice. Over the years, I've enjoyed some fine ice fishing, but I'd never fished a prime spot at first ice. When the opportunity to fish Lake Simcoe's early ice came up, I jumped at the chance.
First ice action
Last season's extremely cold winter meant ice came early to Lake Simcoe. My wife Karen and I bundled up our children Aliyah, Abigail, and Collin and headed north to the town of Lefroy, on the banks of Lake Simcoe's Cook's Bay, where we met with Chad Paiero from Lake Simcoe Outfitters Ltd. Earlier, his wife and business partner, Sarah, told me this was their first day of the season.
As we snowmobiled onto the bay on a chilly, early January morning, there were just a few huts out, despite the fact that Lake Simcoe sees more anglers in the winter than in the summer. With Aliyah's first perch, we had one in the bucket. In between helping to bait hooks for my family I joined the action, and caught and released many small perch.
Tying into something bigger
The excitement was turned up a notch when Karen hooked into a fish, and her rod arced sharply. It was obviously not a small perch. By the fight it was putting up, I suspected she had a whitefish or lake trout on the line.
As Karen reeled up, adrenalin kicked in and her shrieks of excitement outdid her daughter's. When she pulled the fish out of the hole, we were surprised to see a lake herring, about 14 inches long. There isn't currently a season for herring on Lake Simcoe, so back down the hole it went.
In between smaller perch, we landed the occasional keeper, with Abigail and Collin adding to the bucket.
Again our expectations were raised when Karen's rod bent over hard. A few years ago, I had tied into one of Lake Simcoe's lake trout, and as Karen battled the fish, I was imagining the fun of pulling a 5 or 6-pounder through the hole. The scrappy fish turned out to be another lake herring, a little smaller than the first. I followed with one that was slightly bigger. Although we couldn't keep them, the excitement that accompanied the larger fish got our blood flowing.
Time to pack it in
As the morning slid by, the hut's camp stove began losing its battle to keep the cold from our bones. The action slowed down about 1 p.m. and we packed it in.
Afterwards, Chad told me that Lake Simcoe's jumbo perch often frequent his huts, but there are times when schools of small fish are predominant. He added that whitefish, pike, and lake trout are among the catch.
"It's ice fishing; you don't have the luxury of being able to switch spots," Sarah noted.
Chad grew up with the family outfitting business, which his father and mother started out of the Lefroy General Store. For a time, Chad and his brother ran it, renaming it Lucky Sons Ice Fishing, in tribute to their father, who was known as "Lucky." Chad and Sarah have operated the business for the last 10 years, and now have 20 day huts and five overnight units.
Even though our first ice experience didn't result in any jumbos, fishing is always great family time, and going home with enough perch for a couple of delicious meals was a tasty bonus.