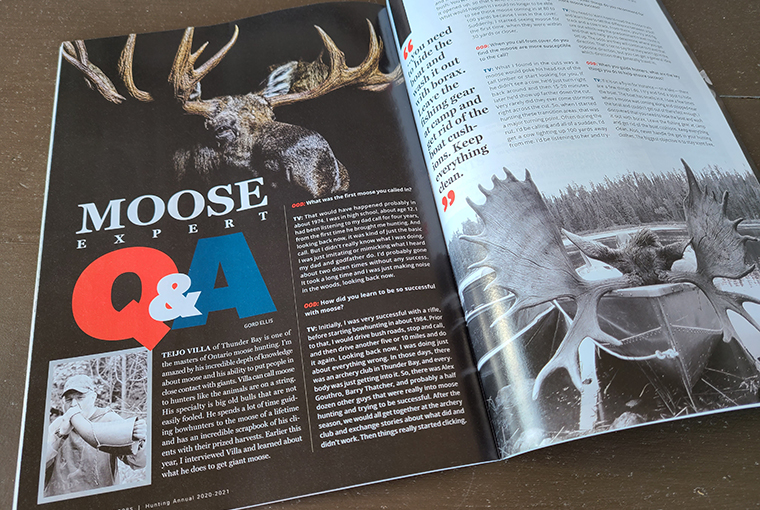 Ontario OUT of DOORS (OOD) has been shortlisted for a 2021 Canadian Online Publishing Award (COPA) for Senior Editor Gord Ellis' Learning from the master moose caller, a profile on Thunder Bay's Teijo Villa.
Ellis' question and answer, nominated in the Consumer/Best Lifestyle Article category, highlights what Villa has learned in his 50-plus years of hunting in northern Ontario, from utilizing a decoy named "Shady Sheila" to honing his moose-calling skills.
The recognition is well deserved.
"I've had the pleasure of working with Ellis for most of those three decades, watching him become one of our country's most accomplished outdoor writers," OOD Editor/Associate Publisher Ray Blades stated. "We are very fortunate to have him as Senior Editor."
Nod third in a row for mag
OOD is a COPA finalist for the third straight year. In 2020, Assistant Editor Steve Galea was a finalist in the same category for his feature on the return of the spring bear hunt, How the spring bear hunt was lost and won.

In 2019, contributor Matt Gurney was shortlisted in the Consumer/Best Service Article/Series category for his feature, Canadian gun laws and the media.

OOD was named Gold Winner for Best Digital Publication (consumer magazines and websites division) in 2015, and a finalist for Best Article or Series, and Best Blog or Column.

The 2021 COPA award winners will be announced during a two-day hybrid in-person/virtual event on Feb. 9 and 10, 2022.
Click here for more outdoors news

For more hunting stories, click here