"How many kids have shot a bow?" Tim Watts, the National Archery in the Schools Program (NASP) coordinator, asked the students in front of him.
Nearly every hand went up, in all six classes Watts spoke to that day.
But this wasn't always the case, according to Watts. He said when he first started with the program, a hand up was rare. He credits such movie franchises as Lord of the Rings, the Hunger Games, and Disney's Brave with archery's newfound popularity.
However, these students were also from an area where hunting is popular.
NASP is a non-profit initiative that works to integrate archery into physical education curriculums for students in grades four through 12. It was developed in the state of Kentucky in 2001 and has expanded to countries outside of the U.S., including Canada, Australia, and the UK.
The goal is to improve student motivation, as well as teach outdoor skills to encourage children to spend more time outside.
Watts was promoting the program in Minden at Archie Stouffer Elementary School in what he called "a fun day." It was a free opportunity for the school to try out the equipment under the supervision of a certified trainer. A "try before you buy" opportunity as Watts called it. Schools that decide to sign on to the program must first secure the approval of their school boards. There is also a fee for the equipment and initial training, which is delivered at cost in Ontario by the Ontario Federation of Anglers and Hunters.
The equipment included several colourful bows, and arrows, plastic floor quivers, targets with puncture holes from past fun days, and a safety net.
The bows are specially designed Genesis compound bows that anyone of any size can use without adjustment. This means students can take turns, easily passing the bows between them.
"I think it's awesome with the equipment they've brought," one teacher, Kevin Buchanan said.
The students seemed to agree. They buzzed with excitement and bragged to one another about times they'd shot a bow in the past.
Before they could shoot, Watts went over the safety regulations.
"I'm not trying to be a big meanie," he said. But he made it clear archery is a shooting sport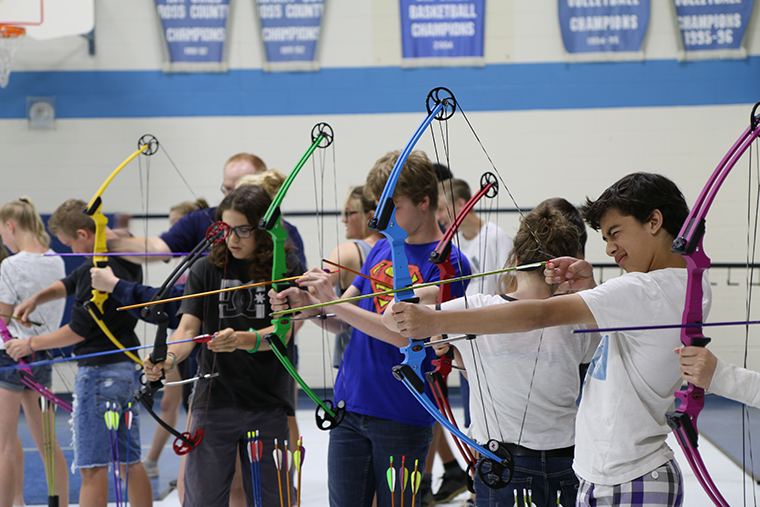 and if the students don't follow the rules, someone could get hurt.
He told the students that archery was the second safest sport after ping pong, as long as everyone listened to his instructions and continued listening as they shot.
"The instructor's great with kids, you can tell that he's done this before and safety's primary," Buchanan said. "What else could we want?"
After learning the rules, the students raced to line up behind a quiver.
Watts blew his whistle once, which meant fire. The shrill noise created a silence as the students figured out how to notch an arrow.
A cheer went around as one student hit the target.
"They're all supporting each other with positive comments," another teacher, Jessica Folds said. "My favourite part is that everybody's included; everyone's able to do it."
For a school to get NASP, it has to have permission from the school board, a letter stating the program will be offered from the principal, and at least one staff member trained as a certified NASP archery instructor. All teachers planning to add NASP to their curriculum must complete eight to 12 hours of archery training. Then the school orders the equipment through the program and they're ready to go.
"I hit the red! I hit the red!" one girl said, spinning around to find someone to share in her accomplishment.
A boy replied that he'd hit the yellow (the bullseye), not to be outdone. Only a handful of minutes into shooting and they were competitive.
The students are required to fill out a survey at the end of the day, outlining whether or not they'd done archery before, if they enjoyed themselves, if they wanted to do it again, etc. The overwhelming answer to the last question was "Yes."
A number of schools across Ontario have NASP: 35 elementary schools, 27 high schools, and nine that run as both according to Watts. 71 schools in total.
With the help of the fun day, Watts hopes to bring even more schools into the program. He and a couple other trainers in Ontario have visited 52 potential schools so far this year.
However, not all the schools Watts visits under the fun day incentive will be able to afford the program, even if they want it, he said. It depends if the school or school board can fit it into their budgets. Grants to get started are available in some circumstances. Watts said outside groups within the community have been known to donate funds as well.
Money aside, though, the program is a hit, at least at Archie Stouffer.
As teacher Michelle Kernohan said, "The archery program itself seems to engage some students that aren't always engaged in gym class and appeals to different kids and different types of athletes."
For more information about NASP, visit their website here.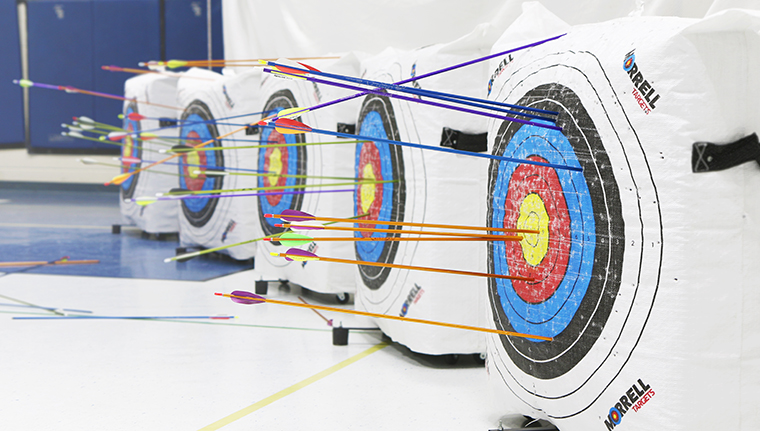 Click here to learn tips on prevention and early detection of Lyme disease